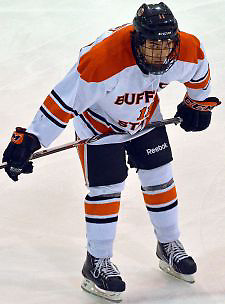 Hockey can be a crazy game at times, but it's rarely tinged with insanity.
That is if you were to apply the common notion that insanity is defined by repetition followed by an entirely different result.
That said, Buffalo State's hefty 7-2 thumping of Brockport in Wednesday's SUNYAC quarterfinal did not defy any logic, even though it followed, by a few days, a 3-2 win by Brockport over the Bengals in the regular-season finale.
The difference?
Attention to detail, that according to Buff State coach Nick Carriere.
"We had chances," said Carriere. "And if we had executed on a few more of those chances, we wouldn't have been hanging our heads [after the game]. The difference [Wednesday] is that we played our game and executed our systems. The fact that we did that gave us more chances."
Nick Berst and Dan Turgeon both cashed in a pair of those opportunities as the Bengals ripped open a 4-0 lead midway through the second stanza, then tucked the game away with three unanswered in the third.
That earned Buff State a spot in Saturday's semifinal with top seed Geneseo, who beat the Bengals in both regular-season meetings.
And what about the time-worn notion about beating an opponent three times in a season?
Geneseo coach Chris Schultz isn't buying it.
"I don't really believe in that old maxim," said Schultz. "This game that we play is about being prepared for your next opponent. It doesn't matter if you play a team seven times in a season. We are focused on controlling what we can control and attempting to give our very best on a nightly basis."
What Schultz does put strong stock in is the value of home cooking.
The road to the SUNYAC crown runs through Geneseo, as long as the Ice Knights win on Saturday, that is.
"Earning home ice is incredibly important to this team," said Schultz. "Our fans are phenomenal and sleeping in our own bed is just as important. Buffalo State is a very talented hockey team and they are especially good on their ice surface, so it is beneficial for us to be playing at the Ira on Saturday."
Unlike Buff State, No. 3 Oswego had no easy path to the semis.
Instead, the Lakers eked out a 3-2 win quarterfinal win over Fredonia, with Matt Galati's third-period goal proving to be the difference.
"It was ugly win," said Oswego coach Ed Gosek. "Fredonia played a smart, hard playoff hockey game. The positive is our guys found a way (to win). Over the last month they have really stuck together and shown resiliency to battle thru adversity."
Oswego's reward is a long bus trip North to No. 2 Plattsburgh for Saturday's semifinal.
Playoff meetings between the two are almost a rite of winter as they've clashed in five of the past six years (all of those with the SUNYAC title on the line).
The Lakers proved they can win in Plattsburgh by eking out a 3-2 victory there on the last day of the regular season. The teams tied 3-3 in Oswego early in the season.
"Oswego is a very good hockey team," said Cardinals bench boss Bob Emery. "Like any team that is well-coached and starts off with lots of freshman, they are getting better each game. They are creative and have good special teams. They are real good at manufacturing scoring chances."
The line of respect leads both ways, according to Gosek.
"Platty is a very balanced team," Gosek said. "Very good goaltending [with senior Mathieu Cadieux], a solid deep defensive core and four lines with no drop off. They don't give up many grade-A attempts, so when you get the chance, you need to capitalize. We will have to be opportunistic. Both games so far could have gone either way, I would expect the same tight checking game as the first two meetings."
Anything else would be something of a shocker.