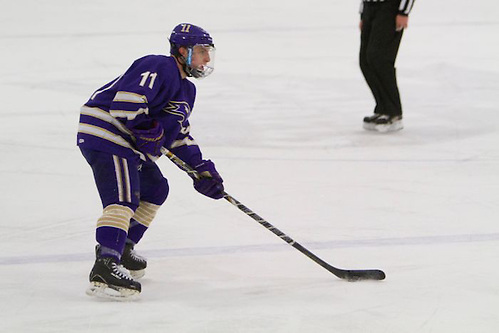 The Northeast-10 announced its year-end awards this week and Southern New Hampshire had two winners.
First, Joe Collins was tabbed player of the year and Ken Hutchins took home the award for coach of the year.
Collins has 17 goals among 38 points going into this Saturday's Northeast-10 championship game against St. Michael's.
Also winning league honors were St. Anselm senior Greg Merrill (defender of the year), Stonehill junior Chris Tasiopoulos (goaltender of the year) and St. Michael's freshman Danny Divis (rookie of the year).
In addition, the conference also named its All-Conference First and Second Teams and an All-Rookie Team.
All-Conference First Team
| Player's Name | Position | Class | School |
| --- | --- | --- | --- |
| A.J. Pieprzak | F | Jr. | St. Michael's |
| Joe Collins | F | So. | Southern New Hampshire |
| Jim Gabrione | F | So. | Southern New Hampshire |
| Robbie Dorgan | F | So. | Stonehill |
| Greg Merrill | D | Sr. | St. Anselm |
| Danny Divis | D | Fr. | St. Michael's |
| Chris Tasiopoulos | G | Jr. | Stonehill |
All-Conference Second Team
| Player's Name | Position | Class | School |
| --- | --- | --- | --- |
| Johnny Daniels | F | Jr. | St. Anselm |
| Joe Tebano | F | Sr. | St. Anselm |
| Bryan Rooney | F | Sr. | Stonehill |
| Nick Riccio | D | Sr. | Southern New Hampshire |
| Travis Army | D | So. | Stonehill |
| Nick Dries | G | Sr. | St. Anselm |
All-Rookie Team
| Player's Name | Position | School |
| --- | --- | --- |
| Ryan Gomez | F | Assumption |
| Aaron Blaker | F | Franklin Pierce |
| Brett Oldaker | F | Franklin Pierce |
| Josh Dickman | F | St. Michael's |
| Jay Sylvia | F | Southern New Hampshire |
| Peter Sikalis | D | St. Anselm |
| Danny Divis | D | St. Michael's |
| Sean McTiernan | D | Southern New Hampshire |