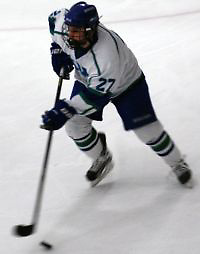 Salve Regina had a chance to lock up an ECAC Northeast tournament quarterfinal bye this past weekend.
Had a chance.
With Wentworth's 4-0 loss to Suffolk on Saturday, that left the door open for the Seahawks on Sunday to capture the No. 2 seed with a win against rival Johnson and Wales
Johnson and Wales had other plans, though, and avenged an earlier loss in the season with a 2-0 victory.
Now, Salve Regina will face Curry on Saturday instead of having the weekend off, something coach Andrew Boschetto said has both its positives and negatives.
"Looking at last year, seeds go out the window when playoffs start," Boschetto said. "Last year, we were the fifth seed and we ended up in the finals. Basically, it's one and done. If you don't show up, [you can have a long summer] and if you do, you get to live another day. I think that's the excitement of playoff hockey. Having the weekend off would that be nice to rest some guys up, yes. The flip side is you get 10 days off [and] if you have things going in the right direction, that can sometimes hurt you."
The Seahawks are on a roll right now, winning four of their last five games after losing 11 of the previous 13 games before that.
In that losing streak, Salve Regina played Utica, Oswego and Trinity – some of the top teams in the country. It was a wake-up call to a team that started out 6-1.
"You are 6-1 in that stretch, you start playing teams on a national level [and] we might have thought we were better than we we were," said Boschetto. "Our guys were excited, we were 6-1, the best start Salve has ever had. At the same time, looking at the big picture, what's the big goal? Obviously, we wanted to win the divisional championship. I told the recruits when they came in here and every guy that's ever going to play for me, we will pick a fight with anyone."
Boschetto said he liked how his team handled the adversity and likes his team's chances in the postseason.
To get the ECAC Northeast postseason crown, the Seahawks will have to first get by the Colonels on Saturday. The Seahawks swept the season series with a 6-3 win on Nov. 19 and a 3-2 overtime victory on Feb. 8.
The Colonels have had a better second half of the season and Boschetto knows they can't look past Curry.
"They have definitely improved from the first half; they had a lot of freshmen," Boschetto said. "Obviously, they are starting to come together. If you look at their last four or five games, they have had three in overtime. That's kind of similar where we were last year."
If Salve Regina wins, te Seahawks will face Wentworth on Wednesday, March 5, and if Curry wins, the Colonels will take on top-seeded Nichols, also on March 5.