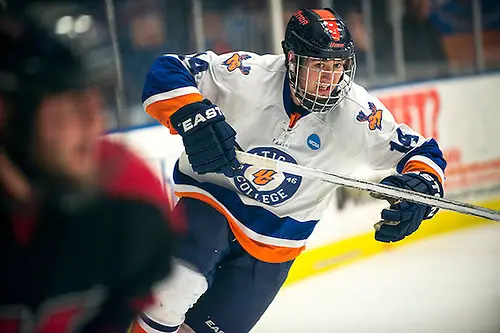 Fans hoping for a quarterfinal round upset – and certainly those of Neumann and Nazareth – were left disappointed after Wednesday's ECAC West playoff lid lifters.
Thus, we now have the top four seeds (in order) Utica, Elmira, Hobart and Manhattanville set to square off in the weekend's semifinal tilts.
Manhattanville kept its season going with a 5-2 triumph over Neumann, a result that on the surface would have seemed to be a bit of a romp.
Not so, said Valiants' head man Arlen Marshall.
"It was a hard-fought game," said Marshall. "Any game with Neumann is going to be, and we knew that going in. We split the season series with them. Both sides played hard and we ended up getting a couple bounces go our way."
Those bounces came on the strength of a 42-22 shots advantage and a three-goal third period finishing kick.
The Valiants, who will travel to top seed Utica on Sunday, certainly have the attention of Pioneers' coach Gary Heenan.
"Manhattanville is a veteran team that is physically strong and dangerous on the rush," said Heenan. "Their goalie [junior Alex Scola] has been very strong against us the last several years. It's a team that seems to love playing in our rink, stemming back from 2005 and as recently as last year's semifinal."
Or even a week ago, when Manhattanville pulled a split out of the Aud of the season-ending two-game set.
"Utica is going to be a tough game," said Marshall. "Every game we have had with them this year has been close – either a one-goal game or an empty-netter. They are a top hockey team and finished first in the conference for a reason. I expect it to be another great hockey game. Adding 4,000 fans into the environment should only add to the excitement of what is at stake."
Heenan put it even more bluntly.
"This has the making of another classic," he said.
Such could also be the way to describe Wednesday's other quarterfinal, Hobart's 2-1 squeezeout of Nazareth.
The Statesmen – thanks to sophomore goalie Lino Chimienti – withstood a 46-shot barrage (21 of them fired in the second period) to button down the win.
Chimienti's work allowed first period goals by Tommy Fiorentino and Nick Bingaman to hold up.
That sets the stage for Saturday's clash with No. 2 Elmira, over whom Hobart held a 2-1 season-series edge, including two overtime wins in Elmira the final weekend of the year.
"Saturday's game will be even more intense," said Elmira coach Aaron Saul, "because we know the loser's season is over."
ECAC West announces season honors
The league announced its 2013-14 major award winners, headed by player of the year, Utica forward Trever Hertz.
Other honorees include co-defensive players of the year Anton Racklin (Manhattanville) and Neumann goalie Braely Torris, co-rookies of the tear Ben Blasko (Nazareth) and Shayne Morrissey (Neumann) and Saul, tabbed coach of the year.
The ECAC West All-Conference teams were also revealed.
First teamers include Hertz, Josh Burnell (Elmira) and Luc Van Natter (Manhattanville) at forward, Racklin and Terrence O'Neill (Hobart) on defense and Utica goaltender Nick Therrien.