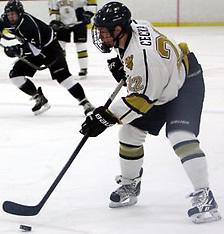 The Division III playoffs are in full swing and one loss means the skates are hung up for the rest of the season.
Who moves on and who gets set for golf season? Let's put that in the collective hands of our D-III columnists.
ECAC East – Tim Costello
There is nothing like the feeling of nailing every pick, especially at this time of the year.
An incredible 4-0-0 (1.000) pick week has things looking up heading into the conference semifinals. That brought the overall season to 42-23-6 (.634), which is still short of my 70 percent target.
Not many games left, but will throw in a bonus Northeast-10 pick for their championship weekend and see if that helps the cause.
Here are this week's picks:
Saturday, March 1
No. 5 Castleton @ No. 1 Norwich
The Cadets have established their own tradition in the past couple of seasons of making things miserable for their in-state rivals in the semifinal round of the conference tournament. Different Castleton team with a different coach, but unfortunately, the same result, albeit closer than the past two seasons. Home team has better balance and experience in big games and that is when it matters the most. Norwich 3-2.
No. 3 Massachusetts-Boston @ No. 2 Babson
The fact is these two team always play high-intensity hockey and both have the same passion and desire to move on to next weekend for a shot at the conference title. It is hard not to go with the home team that has ridden the hot goaltender and overall team game to great success all season. Not convinced it might take some extra time to determine the winner, but someone out of the norm usually does that for the team in green. Babson 2-1.
NE-10 Championship
No. 4 St. Michael's @ No. 3 Southern New Hampshire
Upsets dominated the semifinal round as SNHU knocked off the defending four-time champs in St. Anselm and St. Michael's strong play at the end of the season continued when it eliminated top-seeded and previously-unbeaten Stonehill. Dave Donzanti has been terrific in goal down the stretch and Danny Divis continues to impress offensively as the ECAC East and NE-10 rookie of the year. The Purple Knights host hardware after a hard-fought game. St. Michael's 4-3.
It's a pretty elite group remaining and no team is looking ahead to anything but this week's opponent – drop the puck!
ECAC Northeast – Nathan Fournier
Quarterfinals
Saturday, March 1
No. 6 Curry at No. 3 Salve Regina
This will be a very intriguing matchup as both teams have had a solid second half. The second game between these two clubs was closer than the first game. Salve Regina won both games, but the Seahawks needed overtime to win 3-2. I think this will be an offensive game, but I will take Salve Regina in a 5-4 game.
No. 5 Suffolk at No. 4 Johnson and Wales
Johnson and Wales has been one of the more consistent teams in the conference. Suffolk has played well against the top competition in the conference, including a 4-0 win over Wentworth this past Saturday. I expect this to be a close game for two periods, but I think Johnson and Wales has too much depth and will come away with a 6-3 win.
ECAC West – Dan Hickling
Semifinals
Saturday, March 1
Hobart (14-8-4, 7-5-3) @ Elmira (14-10-1, 9-5-1) – Elmira 4, Hobart 3
A week ago, Hobart skated into Elmira and took away two overtime wins. This time, the Soaring Eagles will make home ice a true advantage.
Sunday, March 2
Manhattanville (13-11-2, 5-8-2) @ No. 14 Utica (15-6-4, 10-4-1) – Utica 5, Manhattanville 1
The Pioneers have the look of a defending champion ready for another postseason roll. It's M'ville's misfortune to be standing in the way.
MASCAC – Nathan Fournier
Quarterfinals
Saturday, March 1
No. 6 Worcester State at No. 3 Westfield State
The Owls have swept the season series this season against the Lancers. The Lancers have lost six out of their last eight games. Although it's tough to beat an opponent four times in a season, I expect this to be a closer game than the regular season, but I will take Westfield State in a 3-1 game.
No. 5 Fitchburg State at No. 4 Framingham State
Another matchup where there was a season sweep as Fitchburg State won all three games this season against Framingham State. The two teams just met last week where it was a 3-2 contest. I expect it to be another close contest. I think Framingham State will come away in this game in a 4-3 game.
MIAC/WIAC – Brian Lester
It's playoff time in the MIAC and WIAC.
This is the time of the year where the action heats up to another level and I've decided to look at the Concordia (Minn.)-St. Olaf matchup and the Wisconsin-Stevens Point/Wisconsin-Eau Claire matchups, while trying to predict what next week's league championship games will look like.
So here are my picks – enjoy the playoffs!
MIAC
Concordia at St. Olaf
The Cobbers and Oles played two tight games during the regular season, with St. Olaf winning 5-4 in the first game. The second game ended in a 2-2 tie.
Concordia needs to get big performances out of Caleb Suderman and Andrew Deters. Suderman has come through with 16 goals and 14 assists, while Deters has tallied nine goals and 21 assists.
The Cobbers are fairly balanced as 14 players have scored two or more goals on the year. Chris Neamonitis owns a 2.57 goals-against average and has racked up 551 saves.
St. Olaf has won four of its last six games and is 6-2-3 at home this year.
Dan Cecka will be counted on to help lead the way in this playoff battle. He comes in with 17 goals and 12 assists on the season.
Peter Lindblad has tallied 14 goals and seven assists. The Oles, like the Cobbers, are balanced offensively as a total of 15 players have scored two or more goals.
Because of that similarity in balance, defense could be the key to success. St. Olaf has Steve Papciak in goal. He has played in 21 games and has allowed 52 goals, while making 532 saves.
Although St. Olaf is at home, I'm going with the upset in this one. Concordia, 4-3.
St. Thomas gets the winner of the Concordia-St. Olaf game, while St. John's will battle Gustavus Adolphus. Ultimately, I think we will see St. Thomas and Gustavus play for the MIAC title next weekend.
WIAC
Wisconsin-Eau Claire at Wisconsin-Stevens Point
It will be a battle of national powers one more time as the Pointers and Blugolds face off in a two-game series in Stevens Point.
The Pointers have won three of their last four and swept the Blugolds during the regular season.
Stevens Point has scored 123 goals on the year and five players have scored 11 or more goals. Garrett Ladd leads the way with 18 goals and 21 assists, while Kyle Sharkey and Joe Kalisz have tallied 13 goals apiece. Scott Henegar and Nick D'Avolio have tallied 12 and 11 goals, respectively, for the Pointers.
Brandon Jaeger has been solid in goal, allowing just 45 goals and racking up 502 saves.
Eau Claire is the defending national champion and its hopes of defending that title likely hinge on winning this tournament.
The Blugolds have struggled down the stretch, losing three of their last four, but you can never count the champs out. Eau Claire has been led by Joe Krause and Jon Waggoner. Both players have tallied 10 goals apiece.
Tyler Green has spent most of the time in goal, having tallied 473 saves. He has allowed just 36 goals and owns a 2.14 goals-against average. Jay Deo has played in eight games and has racked up 172 saves.
Eau Claire is going to need a tremendous defensive effort to win this series and advance in the tourney. I could see this going down to a third and decisive mini-game, but my money is on the Pointers. Only time will tell, I guess. Stevens Point 4-2, 5-3.
As for the rest of the tourney, I don't expect Wisconsin-River Falls to have much trouble taking care of business against Wisconsin-Superior. I'm expecting River Falls and Stevens Point to play for the WIAC championship next week.
NCHA – Katie Carito
Semifinals
Lake Forest at St. Norbert
Fourth-seed Lake Forest (15-11-1) will travel to top-seed St. Norbert (23-3-1). The two teams played a home-and-home series earlier this season. The Green Knights held the Foresters to just two goals that weekend as they won 9-1 and 4-1. In this single-game elimination format, I think St. Norbert will advance to the finals. St. Norbert 3-2
St. Scholastica at Adrian
Adrian (22-1-4) traveled to St. Scholastica (15-8-4) in January. The first game of the series saw the two talented teams end in a 1-1 overtime tie. The second game of the series again saw overtime, with the Bulldogs getting the 4-3 win. Adrian has a fantastic home record. Adrian 4-1
NESCAC – Tim Costello
Now that is what I call a bounce-back week!
An awesome 5-0-0 (1.000) week left my overall season at 45-18-8 (.690), so now let's see if, like the teams themselves, I can stay hot when it matters most in the playoffs.
Here are the picks:
Saturday, March 1
No. 8 Wesleyan @ No. 1 Trinity
The third game between these two teams in just nine days begs the expression about familiarity breeding contempt. Trinity swept both games last weekend – one in a defensive battle and one in an offensive barrage. Don't expect anything but close in this one because it's hard to beat a team three times, never mind in a 10-day span. Trinity 4-2.
No. 7 Connecticut College @ Amherst
The two teams played to a tie just about two weeks ago in a game that had all the makings of a playoff game. It was low scoring, tight-checking and limited shots by both teams. See a repeat with an empty-netter creating the final score. Upset alert, upset alert! Connecticut College 3-1.
No. 6 Colby @ No. 3 Williams
The Ephs have really struggled down the stretch and will need to refocus on their game come playoff time. Colby can claim equal struggles over the past few weeks, so who is likely to return to form quicker? I am going with the home team and Sean Dougherty backstopping a win. Williams 3-2.
No. 5 Bowdoin @ No. 4 Middlebury
It is the time of the year when you expect the most from your most experienced players. Boy, have Colin Downey and Louis Belisle from Bowdoin and Middlebury, respectively, delivered for their teams down the stretch with big goals. Not sure if either factors into the decision here, but the guys in the crease surely will and the Panthers are on one of their runs against the defending conference champs. Nothing comes easy and maybe there is bonus hockey in this one. Middlebury 3-2.
At the end of the day, about any team could come out on top in any of these games – drop the puck!
SUNYAC – Dan Hickling
Semifinals
Saturday, March 1
No. 12 Oswego (18-6-2, 10-5-2) @ No. 4 Plattsburgh (12-2-2) – Plattsburgh 2, Oswego 1
If it's March, it must be time for a playoff clash for these two SUNYAC titans. This will be the sixth such meeting in the past seven years, but just the first in that time as a semifinal. The Lakers won in Platty just a week ago, but twice in a row would be unlikely.
Buffalo State (10-11-5, 6-6-4) @ No. 10 Geneseo (20-5-1, 14-2-0) – Geneseo 3, Buff State 2
If the Bengals had been hotter down the stretch, one could see an upset in the works. Instead, it's Genny that seems to peaking, and at just the right time.