Welcome back to the USCHO Hobey Watch, ladies and gentlemen. This week, we're back in familiar territory for the Watch, partly inspired by a question I was asked last week on USCHO Live!, and partly by a comment on last week's Hobey Watch.
The comment pointed out that I had omitted Wisconsin goaltender Joel Rumpel from my two-part Hobey Baker Award "Watch List." It was an excellent point, because as a top-10 goalie in both save percentage (.936, fifth in the nation) and GAA (1.83, third) for a team that's in the thick of the hunt for an NCAA tournament berth, Rumpel is certainly deserving of consideration for a spot in the Top 10, quite possibly more so than his Badgers teammate, senior forward Michael Mersch.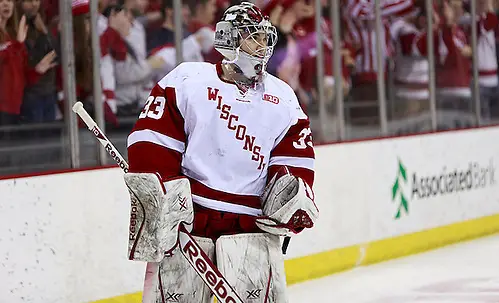 However, it begs an interesting question: Just how many goalies could we see among this year's Hobey finalists?
We've focused on goalies quite a bit this season in the Hobey Watch, particularly when you consider that the current Hobey frontrunner is a forward (yes, Boston College's Johnny Gaudreau is still looking like the most likely winner … but you probably knew that). And, in a past column, we identified a handful of goalies deserving of consideration: Minnesota's Adam Wilcox, Ferris State's CJ Motte, Denver's Sam Brittain, Northeastern's Clay Witt and Massachusetts-Lowell's Connor Hellebuyck. That's five right there, and when you add in Rumpel, you get six.
No more than four goaltenders have ever been named Hobey Baker finalists in the same year, and the last time it happened was 2005 (Cornell's David McKee, Harvard's Dov Grumet-Morris, Northern Michigan's Tuomas Tarkki and Bowling Green's Jordan Sigalet).
Is it possible that we could see as many as five netminders among the Hobey top 10? Yes, but given the crop of talented skaters who are also in contention for the award, I wouldn't expect it. That, then, begs the question of who's in and who's out.
Motte is, perhaps, the most likely finalist of the bunch, given that he's the only viable Hobey candidate on his team and probably in the WCHA (with the possible exception of Minnesota State's Jean-Paul LaFontaine).
For a time, Brittain appeared to have a similar leg up on his competition, but with Denver fading in the NCAA hunt, it's harder to see him having an edge over an NCHC rival like Josh Archibald of Nebraska-Omaha, who could easily be the conference's leading Hobey candidate on the strength of his 26 goals in 30 games, the second-highest total in the country.
Witt has the best save percentage in the country, with Hellebuyck just .002 behind him. So, among those four, figure Motte as a near-lock, and Witt and Hellebuyck highly likely. That leaves the two Big Ten netminders vying for what is most likely just one spot.
As our commenter pointed out last week, Rumpel has the statistical edge. Wilcox, meanwhile, has been the key player for the most dominant team in the West. The Hobey is an individual award, but it's also fairly rare to see a team that's been as strong as the Gophers have been strike out on Hobey finalists.
Who's in? Who's out? There isn't an easy answer.
Of course, no matter how many goalies there are among the Hobey top 10, we're still looking, in all likelihood, at a Hobey race that will be won by Gaudreau, which leads me to the question I was asked last week, and certainly one that's been a theme through six seasons of the Hobey Watch: Can a goalie win it, or did Ryan Miller ruin it in 2001?
I certainly think it's possible for a goalie to win, and I also think it's possible that David LeNeveu could have won for Cornell in 2003 had it not been for Peter Sejna and his 82 points. After all, no Hobey candidate exists in a vacuum. There are always external factors, and while it would certainly make for a more interesting race if one of this season's goalies had Ryan Miller numbers, I think it's fair to say that Gaudreau would still be the clubhouse leader.
That's why I'm glad that college hockey now has the Mike Richter Award, recognizing the nation's top goalie. We've had so many talented goalies come through college hockey over the years, and given how rare it's been for a goalie to win the Hobey, I think it's great that there is a trophy to recognize the nation's top netminder.
Of course, given the field that we're looking at, the voters for that award probably have their work cut out for them, too.