As the final weekend of games dawned on the 2013-14 Atlantic Hockey regular season, fans and pundits became amateur mathematicians in determining what would need to take place in order to get their favorite team into a preferred position.
In Atlantic Hockey, it meant looking at the top of the standings with four teams looking for three slots for a first-round bye.
The Connecticut Huskies and Bentley Falcons earned first-round byes, but it didn't come without minor anxiety. Both teams needed to go through Sacred Heart over the last two weeks of the season in order to get their bye. And both teams nearly fell into nightmare scenarios as the Pioneers swept the Falcons before splitting with the Huskies.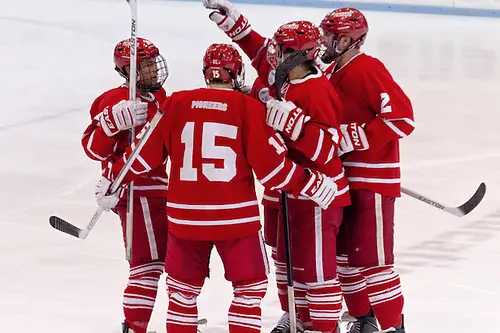 It's a revolution of Sacred Heart hockey this season. Starting with Game 3 of the 2012 playoffs, the Pioneers went on a 29-game winless streak, one that resulted in an 0-26-2 start last season. Entering this season, they were the unanimous pick to be the last-place team in the AHA, a team coming off one of the worst seasons in NCAA hockey history.
But any questions about a third consecutive year of struggles were eradicated when Sacred Heart shocked the preseason No. 1 team in the nation, Massachusetts-Lowell, on the season's first date. The energy created by that game continued, even though requisite growing pains, and the Pioneers ended the regular season with a 12-22 record.
Atlantic Hockey playoffs
See the tournament bracket and get links to schedules and stories at Atlantic Hockey Playoff Central.
Their 11-16 conference record had them in the hunt for home ice until the final weekend, and their ability to beat anybody will make them a team to watch as the playoffs open up on Friday.
"We have some new confidence," said coach CJ Marottolo. "We have a lot of new bodies this year, and it's really led to an attitude that feels like a clean slate. Our returning guys created a culture that really involved learning from one another and competing against each other. It's created an environment that's really great, and this has turned into a team that's extremely fun to coach."
While the statistics for the team don't shine in the national spotlight, they've converted into a team capable of belying their statistics and grabbing victory on any given night. They swept second-place Bentley this year, and they won the season series with Connecticut. They took games from Niagara and Canisius, and they enter the playoffs as one of the league's hotter teams. Starting with their first series in February, the Pioneers are 6-4.
"We are definitely growing a team," said Marottolo. "We're dealing with the momentum surges much better, and we're playing better. One of the things we've done much better is remain in a position where we keep playing our game. Even if teams are able to make a comeback or score some goals, we've been able to remain in our game and not come out of that."
Marottolo credited his upperclass leaders with that charge, in particular Will Rayner, Neil Fachini and Chad Filteau.
Statistically, they've been buoyed by one of the best freshman classes in the league — Justin Danforth had 29 points in the regular season and is among the front runners for the AHA rookie of the year award. Jeff Carroll and Jordan Minello rank among the team's top scorers, and they've helped develop players like junior Drew George as a complete scorer.
In goal, Alex Vazzano stabilized a position with a reputation for volatility, and the Vermont transfer scored seven wins this year, the most since Steven Legatto won 19 four years ago.
The Pioneers enter this weekend as the 10th seed in the AHA, but they finished just three points out of a home series. They'll head to Canisius to take on the defending playoff champions in the last Griffs home games at Buffalo State Sports Center. Canisius moves into the new HarborCenter next season.
The final record For Gensler
For the Bentley Falcons, this whole season has been about redemption. The preseason pick to finish ninth by the coaches, they returned their entire core from a team that won 16 games two years ago and came within a game of the AHA semifinals after finishing sixth.
Chief among the returnees was senior Brett Gensler. The 2012 winner of the Walter Brown Award as the top American-born Division I men's player in New England, Gensler became the first 50-point scorer in the school's Division I history.
He scored consecutive 40-point seasons with his performance last year despite the team's disappointing 10th-place finish. And as his team started winning games this year, he overcame a slow start to march into the Bentley record books.
He broke the school's career Division I points record, then the goals record. He started nearing in on the assist record when he recorded his third 40-point season.
And last weekend, he scored an assist and a goal on Friday night against American International to step one point ahead of Pierre Luc-O'Brien from Sacred Heart as the conference all-time leading scorer.
His next point will make him the first AHA scorer to ever have 160 career points, and he is looking to become just the second Falcons player to ever reach the mark. The all-time point record at his school was set over the Division II/I transition by his head coach, Ryan Soderquist, who had 179 points.
But perhaps the greatest testament to his performance is that his teammates are also nearing records. Linemate Alex Grieve and power-play linemate Andrew Gladiuk are tied for the team lead in goals with 22, one off the single season record set by Gensler in 2011-12.
Gladiuk shattered the school's power-play goals record with 16, and Grieve became just the fourth Bentley skater to register a 40-point Division I season (joining Gensler, Soderquist and Dain Prewitt). If Gladiuk can score four points before the season's over, Bentley can join Boston College as the only team in the nation with three 40-point scorers.
While they were at it, Bentley drew 1,000 fans at their home rink in Watertown, Mass., for the first time ever — 1,089 on Friday against AIC.
But Gensler preferred to deflect his record to the effectiveness of his team, which set a school Division I record for regular season wins with 18.
"Getting the [AHA all-time scoring record] is truly an honor for me," he said, "But I couldn't have done it without all of the great players and teammates I've had over my four years at Bentley. It feels even better to get the record on a winning team and to be part of something special like we have accomplished this year."
Bentley is off this weekend after finishing second, but if it can win its first series in the quarterfinals, it will become the first Division I Falcons team with 20 wins. No doubt the Falcons would like to get to 22 and record another program first: AHA champions.
"The record to me has no reflection on our goal as a team this year," said Gensler. "The record is a great individual honor but any player on our team would tell you that a team trophy is greater than having an individual accomplishment any day. We have had one goal from the beginning of spring training last year — to win an Atlantic Hockey championship."
Who's hot, who's not
So much gets made about team tendencies entering the playoffs. So let's take a look at teams on the rise and the ones falling as the playoffs get set to open up on Friday:
Hot
Army picked up steam by splitting its last four games. The Black Knights' split over their last four was (finally!) a breakthrough after winning three of their first 27.
Bentley secured the second seed despite being swept by Sacred Heart. Those losses were also the Falcons' only ones through their last seven games, where they beat opponents by an average of 3.2 goals.
Connecticut won three of its last five to sew up a first-round bye, rallying from down 1-0, 2-1 and 3-2 to Sacred Heart to pick up an overtime win last Friday.
Holy Cross earned home ice in the first round the old-fashioned way: winning its way in. The Crusaders swept American International two weekends ago to put a stranglehold on the eighth seed, then split with Army to clinch a sixth consecutive playoffs with a home game.
Mercyhurst clinched the top overall seed with a week to go in the season. Hard to argue with that.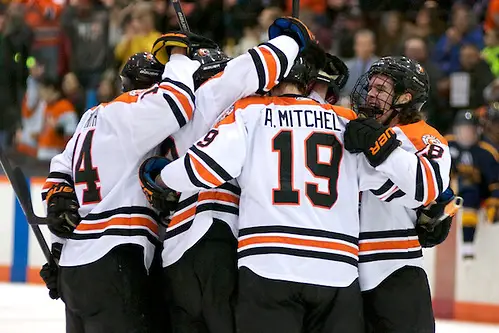 After going on a nine-game winless streak to fall out of a home series in the playoffs, Rochester Institute of Technology won its last three games in thrilling fashion. While it wasn't enough to grab an extra final home game at Ritter Arena, the Tigers will head to Holy Cross for one heckuva series.
Sacred Heart is 6-4 since the start of February and closed out the season going 3-1.
Not
Air Force uncharacteristically limped into the playoffs by going 1-3 in its last four games and 3-3 in its last six. The Falcons managed to get a bye, but they slipped to the fourth seed and needed a win on the season's last day to avoid the first round.
American International controlled its destiny for a first-round series after sweeping Army three weeks ago, but it split with Sacred Heart, then was swept by both Holy Cross and Bentley to finish 11th. The Yellow Jackets have gone 1-5 over their last six.
Canisius won just two games in the entire month of February and was swept by then-11th place RIT over the season's last weekend.
Niagara might've had the sixth seed clinched before the last week of the season, but it tried like heck to lose it. The Purple Eagles enter the playoffs on a 1-3-1 slide.
Robert Morris was one of the hottest teams in the league in the second half of the year. But the Colonials fell short of clinching a first-round bye by going 0-2-1 over their last three games and 2-3-1 in their last six. They'll draw a sneaky strong Army team in the first round.
Playoff primer
Here's a look at the different matchups coming into this weekend. Teams will play at campus sites in a best-of-three series:
No. 12 Army at No. 5 Robert Morris
How they got here: Army sealed up the 12th seed early on in February when it was a 3-26 hockey team. But since then, as mentioned above, the Black Knights have gone 2-2. It's similar to how Sacred Heart ended last year. The Colonials, meanwhile, were the last-place team on Jan. 1. Since then they're 11-4-3. They were in the hunt for a first-round bye until the season's final day, but an 0-2-1 finish robbed them of a chance to be off this week.
Outlook: Army is one of the worst statistical teams in the nation, ranking 55th in scoring offense and 57th in scoring defense. The Black Knights also struggled on special teams, ranking 58th in combined stats. Robert Morris, meanwhile, finished as the 14th-best offense in the nation. On paper, the Colonials should win big, but Army's toughness was enough to take games from two teams with byes. A big X factor for this series could be Black Knights goalie Parker Gahagen, who's been virtually unstoppable over the past three weeks.
No. 11 American International at No. 6 Niagara
How they got here: Two weeks ago, American International controlled its destiny and belonged in the first round. But the Yellow Jackets have really struggled to close out the season and finished back in 11th place, our preseason prognostication for the team. Niagara finished sixth thanks in part to a 5-1-1 stretch at the end of January, but it won once in its final five games.
Outlook: AIC is the one team that can get absolutely crushed in a game and somehow win … or get absolutely crushed. The Yellow Jackets absorbed an average of nearly 40 shots on goal and over four goals per game, yet they were in position to be playing at home in the first round and beat Bentley, Air Force, and Hockey East opponent Massachusetts. They did, however, find ways to give up six goals to Connecticut, Mercyhurst, Providence (10), Maine and Sacred Heart. Niagara struggled to overcome the loss of its stellar defense from last year, allowing over three goals per game. When it all came together, the Purple Eagles were able to beat Air Force, Robert Morris, Bentley and others with good results. Head-to-head, Niagara won the first night 6-2 but lost the second night 5-0. That's as good an indicator of this series as anything.
No. 10 Sacred Heart at No. 7 Canisius
How they got here: The defending champs are entering the playoffs exactly the same way they did last year. Before ripping off its playoff run, Canisius finished the season on a 4-7 run, including a stretch where it lost five in a row. This year, the Griffs are coming in on a 2-6-1 run, and they finished seventh, the same spot they occupied last year, because of a tiebreaker scenario. Sacred Heart, meanwhile, bumped off Bentley and UConn to finish the year on a 4-2 clip. The Pioneers put some heat on Holy Cross for a home series until the Crusaders clinched on the season's final day.
Outlook: This series has some serious potential for an upset. The Pioneers scored at least five goals in four of their last six games while allowing just over three goals per game. Canisius is allowing just about that clip, but its offense went on a major power outage that left it with over three goals just once over the 1-4 finish. The X factor in this series is goaltending. Tony Capobianco and Keegan Asmundson are a duo that backstopped a championship team, but Alex Vazzano is stabilizing a position that was an Achilles' heel for last year's last-place team.
No. 9 Rochester Institute of Technology at No. 8 Holy Cross
How they got here: RIT finished ninth by picking up some much-needed points despite a second-half fall into the pit of the Sarlacc. The Tigers rebounded enough to give their fans some hope, but the second-half struggles resulted in their first road first-round series since joining the AHA. Holy Cross remained remarkably nondescript and consistent, winning six of its last nine and five of its last eight.
Outlook: Consider this the movable object meeting the stoppable force. Holy Cross's offense ranked in a tie for second-worst in the league by averaging 2.24 goals per game, but RIT's defense finished 51st in the nation with a 3.35 GAA. The difference in this game could be special teams — RIT's power play ranked eighth in the nation, while Holy Cross finished 51st. The Tigers' combined special teams finished 10th-best in the NCAA.
Men of the week
The league office delivered this week on its players of the month, and I'll deliver them to you accordingly.
Players of the week — Bentley's Alex Grieve and Mercyhurst's Nardo Nagtzaam: Grieve became just the fourth player in Bentley's Division I history to score 40 points in a season when he put together a four-point night on Friday against American International. His 22 goals rank just behind teammate Brett Gensler's record set two years ago. Nagtzaam had five points to tie a season and career high in the Lakers' 5-5 tie with Robert Morris on Friday. He has 15 points in his last 10 games after missing two months with an injury.
Goalie of the week — RIT's Mike Rotolo: Rotolo pulled his team out of its second-half doldrums with a titan performance. He stopped 53 of 54 shots to sweep Canisius and help the Tigers finish the season in ninth. It was a good redemption story given his 5-7-3 start, and it helped him win three consecutive decisions to finish the season over .500.
Rookie of the week — Army goalie Parker Gahagen: I've been on the Gahagen bandwagon since seeing him with my own eyes. He made 76 saves, including 45 in Friday night's win, as the Black Knights earned a weekend split with Holy Cross. He's reached the 40-save threshold twice in just eight starts in his rookie year, and he made 31 saves again on Saturday despite a 2-0 loss. He enters the playoffs averaging over 30 saves in conference play.