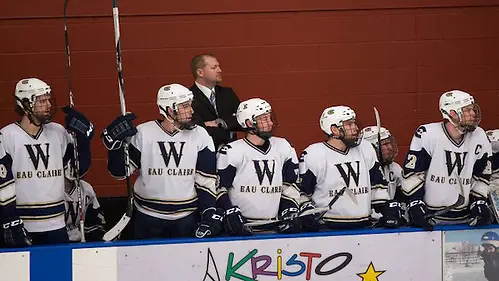 In some ways, the odds weren't tilted in the favor of Wisconsin-Eau Claire and Wisconsin-Superior in the WIAC tournament.
The Blugolds, despite being the defending NCAA Division III national champions, were the third seed in the tourney. The Yellow Jackets were fourth.
But in the end, both found a way to defy the odds and set the stage for a showdown in the WIAC tournament title game this Saturday at Eau Claire.
Eau Claire lost its tourney series opener to Wisconsin-Stevens Point, but rallied to win two consecutive games for the series win. Superior swept its series with top-seeded Wisconsin-River Falls.
"This is definitely what we hoped for, to be playing our best hockey at the end of the year," Eau Claire coach Matt Loen said. "We are playing well at the right time and I thought our team did a great job of playing well on the road against Stevens Point. It's a great accomplishment to be in the championship game."
Superior has struggled with consistency throughout the season, but like Eau Claire, it seems to be hitting its stride at the right time.
The Yellow Jackets have won four of their last five games, including three in a row.
"We've been inconsistent this year, but we are coming together and playing good hockey," Superior coach Dan Stauber said. "We had a great weekend against River Falls and we are excited to be playing for the championship."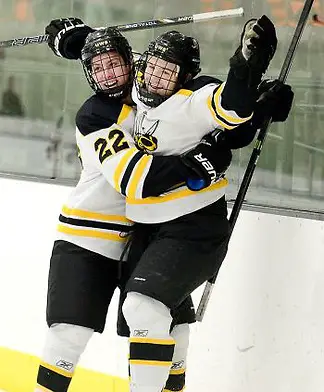 Eau Claire stumbled through a three-game losing streak in mid-February, a stretch that included back-to-back losses to Stevens Point. But the Blugolds (18-8-1) closed the regular season with a win over nationally-ranked River Falls and then took down the Pointers in the opening round of the playoffs.
"We played average in that first game against [Stevens Point] – it wasn't our best game," Loen said. "But our guys knew we had an opportunity for revenge the next night and we were able to make some plays to earn the win and then win the mini-game. Everyone was focused on getting the job done."
Eau Claire has scored 90 goals on the year and has given up 50.
Joe Krause leads the Blugolds with 11 goals and nine assists, while Jack Callahan has tallied five goals and 14 assists.
Jon Waggoner has come through with 10 goals and eight assists. Jay Deo, who notched the 1-0 victory in a 1-0 series-tying win on Saturday, has given up just seven goals on the year and has racked up 201 saves. Deo has played in nine games, winning seven times.
Tyler Green has won 11 games and has given up 40 goals. He has tallied 505 saves.
Loen said it will be business as usual for the Blugolds this week.
"We won't make any changes – we will stick with what got us this far," Loen said. "Our goal was to be in this game and we feel good about our approach to the game. We're ready to play."
Superior (11-14-3) has scored 70 goals on the season and has given up 77.
Michael Ray has paved the way with 15 goals and 12 assists. Pat Dalbec has tallied 12 goals and 15 assists. Cody Hotchkin has come through with five goals and 16 assists and Jeff Forsythe has scored four goals and dished out 10 assists.
Dayn Belfour has started the last three games in goal and has allowed 35 goals on the year. He has made 357 saves, while goalie Drew Strandberg has come up with 367 saves.
The playoff sweep against River Falls marked the first time all season that Superior has swept a series and it's also the first time since the 2010-11 campaign that the Yellow Jackets have swept a playoff series.
"Our guys have really matured during the season," Stauber said. "A lot of guys have stepped up and are making plays. We know Eau Claire is a very good team and we will have to play well to win against them."
Stauber said the experience of playing in the WIAC title game is not only a reward for the seniors on the roster, but it's also beneficial to the younger players.
"I'm happy our seniors will get a shot to play in this game – it's great to be in a position to win a championship," Stauber said "And for our young players, this is a chance to get a taste of what it's like at this level. It's something they can build off of for next season."