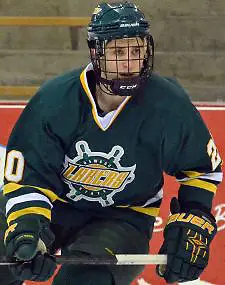 Halley's Comet?
No, it's Oswego as an underdog.
Having been cast as perennial favorites in the SUNYAC – with the last four (and six of the last eight) league regular-season crowns locked in the trophy case – the No. 3 Lakers (19-6-2, 10-5-1) come into Saturday's championship game at No. 1 Geneseo (21-5-0, 14-2-0) as chasers instead of chasees.
Understandable, when you notice a whopping 19 freshman on the Lakers' roster.
"We are excited to have made it this far," said Oswego coach Ed Gosek, who guided to his team to runner-up finishes in each of the last two Frozen Fours. "The guys are having a lot of fun."
Geneseo, which garnered its first-ever SUNYAC regular-season title, took both regular-season meetings with the Lakers, 7-4 (at home) and 3-2 (on the shore).
"Obviously," said Gosek, "based on the last two meetings, we don't match up well. They have the No. 1 offense in our league for a reason – No. 1 scorer (Stephen Collins) and No. 2 scorer (Zachary Vit) in our league, and five out of the top 10 in scoring in our league. As well, (they have) a power point that has great movement with and without the puck. They have the second best defensive team in the league [behind Plattsburgh] and a hot goalie (sophomore Nick Horrigan)."
"Both teams match up well," said Geneseo coach Chris Schultz. "[Oswego] is very well-coached and their strength is speed and skill. They have always done a great job of getting up ice with speed and skill. Their special teams are always very good.
"Our focus is always on us. We have to do the things that have made us successful all year long. We are solely concerned about us. Our objective is to control the things that we can control and give our very best effort. I'm expecting an exciting college hockey game."
SUNYAC award winners bandied about
Who knows the players of the SUNYAC than the coaches who have to game plan against them?
It would be hard to find someone who does.
Prompted by Russell Jaslow, the previous curator of this space, the league's nine bench bosses weighed in on their choices for the SUNYAC's premier group of rookies.
Leading the list is Fredonia goalie Jeff Flagler, who grabbed hold of the Blue Devils' crease and led his team into the playoffs.
Up front, the selections were Stephen Collins (Geneseo), Matt Galati (Oswego) and Taylor Pryce (Buffalo State). Collins, who played club hockey at Arizona State last year, led all goal-getters in SUNYAC sniping with 12 tallies.
We're told that the blue line voting was hanging chad close among several worthies, but that Patrick Hermans (Plattsburgh) and Stephen Johnson (Oswego) ultimately prevailed.
Also, a pair of Plattsburghers, junior defenseman Brandon Beadow and junior forward Michael Cassidy, were singled out by the coaches for their defensive prowess.
Beadow has been so honored in each of his three seasons at Platty.