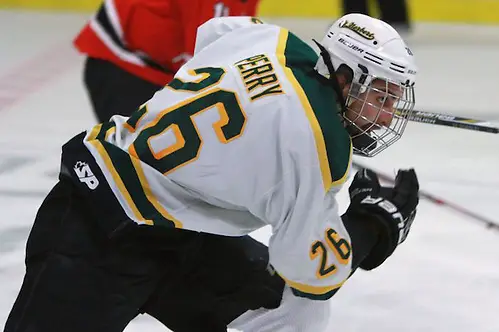 Like St. Scholastica has done so many times in the past, the Saints will visit St. Norbert for a road game this weekend.
However, this weekend will have a new twist.
The two teams will be playing for the Harris Cup for the first time in each of their program's history.
After the WIAC schools left the NCHA at the end of last season, St. Norbert and St. Scholastica joined the MCHA. After some deliberation, it was decided that the reorganized league would take the NCHA name and adopt the Harris Cup as their playoff championship trophy, a tradition of the MCHA.
"I think it's been good, it's different. We are going to new rinks, teams that we don't have a history with," said St. Scholastica coach Mark Wick. "That is going to continue to grow and rivalries will form. Some of that is missing right now, but I think at the end of the day, the level of play has all been very positive. We are very happy the way things have gone."
Although the Green Knights and Saints have each began forming new rivalries this season, this weekend will provide the two very talented teams a chance to battle it out for the conference playoff prize.
St. Norbert is currently leading the nation in team offense, averaging 4.71 goals per game, but that isn't what has kept the Green Knights at the top of the polls weekly.
"Well, our game is not really an offensive game, we feel that all of our offense is created through our defensive pressure," Green Knights' coach Tim Coghlin said. "Most of the games that we play were within one or two goals games and then a team cracks a bit, then we'll get some offensive output towards the end of the game."
The Green Knights not-so-secret weapon this season has been junior goaltender David Jacobson.
Jacobson is the nation's leading goaltender, with a 20-1-1 record. He holds a 1.21 goals-against average, while toting a .938 save percentage.
"We don't ask him to make a ton of saves, but he's got to make five or six, sometimes 10 really critical stops," said Coghlin. "It takes a really special goaltender to play for us, some guys get really heated up when they make 50 saves. You aren't going to get that with him, he has to be very focused."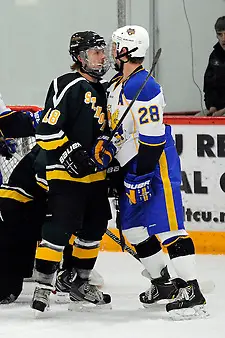 While St. Norbert's defense has carried them this season, St. Scholastica's success can be directly attributed senior forward Brandon Nowakowski.
"Brandon is our captain, he's one of the top leaders we've had in the program here," Wick explained. "He brings it
every night. He has really made progress and he took his play to another level last year. He is our leader, we go where Brandon goes. Fortunately, that has worked out for us."
Nowakowski has been a top-five scorer for the Saints since his sophomore season. He has played 100 games as a Saint, scoring 44 goals with 37 assists for 81 career points.
"It is very nice in March to still be going to practice and playing games," said Wick. "In the beginning of the year, a goal of ours was to be competing for Harris Cup and that is exactly where we are. To still be standing this weekend is something to be proud of, a big thing for our program."
St. Norbert and St. Scholastica have played each other three times this season. The first game, which went down as a nonconference tilt, saw St. Scholastica getting the 4-2 win.
The Green Knights played a road series later in the season and took two wins from the Saints, beating them 3-0 the first night before a 2-1 overtime win.
"They are a very good hockey team, they are a big hockey team who play hard," Coghlin said. "I know their coaching staff very well [and] I have a high regard for Mark. Our teams have a lot of similarities."
Wick echoes Coghlin's remarks with his admiration for his opponents this coming weekend.
"I think that it's been a team that we match up very well against, it's a team that we know well," said Wick. "It is two teams that have a tremendous amount of respect for each other, we look forward to playing them. It is always a good and clean hockey game.
"We know what they are going to do, they know what we are going to do, there are no secrets. It'll be a matter of who does a little bit better come Saturday night."