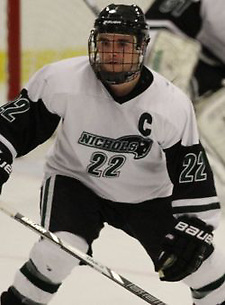 The ECAC Northeast conference championship game will be a battle of consistency throughout the season and a team getting hot at the right time.
Top-seeded Nichols has been at top of the conference for the majority of season with a 17-6-3 overall record (9-3-2 ECAC Northeast). Wentworth, the defending league champions, had a rough first half of the season, but since Jan. 18, the Leopards are 8-2-1. Overall they are 12-12-2 (9-5-2 ECAC Northeast).
In Wednesday's semifinals, Nichols defeated Curry 4-3, while Wentworth defeated Johnson and Wales 4-0.
Both teams had last weekend off as the top two seeds in the conference and for Nichols coach Kevin Swallow, it was nice to get the legs some relaxation.
"I think sometimes that can backfire on a team, too much rest, too much time off," said Swallow. "Guys can get out of routine. I think it was beneficial and our guys got some rest."
For Wentworth coach R.J. Tolan, he said he couldn't be more happier for his team this season.
"I would say this group in particular has worked through a lot of adversity and worked unbelievably hard, even when we started winning games," Tolan said. "It was a total team effort and it was a battle right down to the wire. I don't think anything has come easy to them, so I don't think I have ever been more proud of another group to earn an opportunity to play a great team like Nichols."
Tolan said his his two seniors, Lawton McCracken and Andrew Yarber, have played a pivotal part in their recent success.
"Our two seniors have both have amazing seasons as players, as leaders, as people who I feel we've been very lucky to spend four years at our school," Tolan said. "They really have done a great job with our team and has helped us stick together to where we are now."
Yarber, a forward, led the team with nine goals and seven assists, while McCraken had five goals and two assists on the blue line.
Swallow said it's been the guys on the back end who have been the Bison's unsung heroes.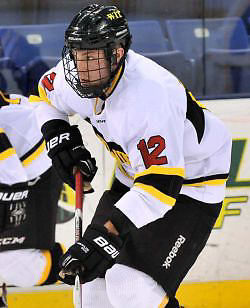 "I think our [defensive] core overall, they don't get a whole lot of recognition," Swallow said. "We have a lot guys back there that do all the little things, blocking shots, winning battles. Those guys might not show up on the score sheet, [but] they are winning games as much as the guys scoring goals."
Nichols won both contests this season, 4-3 on Nov. 16 and 5-3 on Feb. 11.
"They beat us on those two days [and] were better than us on those two days," Tolan said. "I don't think there are any law of averages like that. I do believe our team has the ability to beat them the same way they can beat us."
Swallow noted that in the game in February, Nichols jumped out to an early lead and the Leopards battled back in a back-and-forth game.
"They are hitting their stride at the right time of the year," Swallow said of Wentworth. "I know early on they struggled a little bit. That doesn't really matter because they are playing their best hockey at this time of year, which is what you want to do – peak around championship time. They have been on a roll and it will be a great game."
Tolan said the Bison are strong from top to bottom and they compete hard.
His counterpart had the same thing to say about Tolan's team.
"I think the fact [is that] they are deep," Swallow said. "I would say right on through all four of their lines, their six defenseman and even their two goalies, they are very deep in all positions. They can roll all four lines."