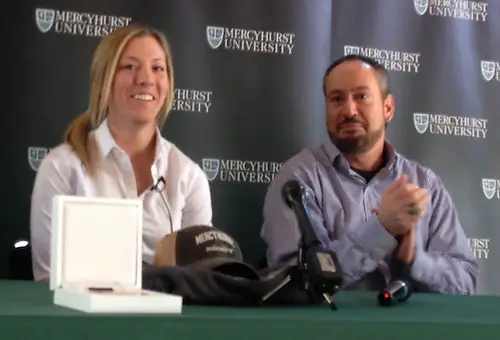 ERIE, Pa. — Of all the international stages she has been on, Meghan Agosta was nervous sitting in the student union at Mercyhurst University.
"It's just so nice to be back and be part of this great thing and look over there," she said pointing to a banner in the back of the room. "It says 'Welcome Home, Meghan.' They really are inspired by what I've done and I'm so proud to say I'm from Mercyhurst."
Agosta was already an Olympic gold medalist when she arrived on the campus in Erie, Pa., as a freshman. She took a year off to be with the Canadian Olympic team, and win a gold medal, in the 2010 Vancouver Games.
She returned, earned her degree in criminal justice, polished off setting the NCAA scoring record and made sure that the Mercyhurst women's program maintained its place on the national collegiate stage.
And as she was winning her third Olympic gold medal with Canada in Sochi last month, the name "Agosta" continued to be intimately tied to Mercyhurst. So much so the university deemed Friday "Meghan Agosta Day" as the Lakers prepared to host the CHA tournament.
Agosta was scheduled to drop the puck for the ceremonial faceoff when the Lakers met Syracuse in the CHA semifinals. With no automatic bid for the league until next season, Mercyhurst is on the edge of the final at-large berth into the NCAA tournament. It would be its 10th straight trip to the postseason.
And though she is three years removed, it still feels in many ways like the program that Meghan Agosta built.
"It's pretty crazy. It's kind of surreal," Agosta said after an official news conference Friday morning. "I mean I've had a lot of success but I wouldn't have been able to be successful without the coaches that I've had or my family supporting me. I'm so happy to be able to say I went to Mercyhurst.
"It's a small college but they did great things and they still are going to do great things with the help of the coaching staff here at Mercyhurst. They put so many hours to be in the best they can be and trying to teach something new every day."
The tradition has continued for the Lakers, who have made nine straight NCAA tournaments without the benefit of an at-large bid. They enter the CHA tournament with a 22-7-4 overall record and sit at No. 8 in the USCHO.com Division I Women's Poll.
Senior Christine Bestland ranks sixth in the country in scoring with 50 points (20 goals, 30 assists) in 33 games. A top-10 finalist for the Patty Kazmaier Award, she is tied for national lead with five short-handed goals.
Agosta played with Bestland back when Agosta was a senior and Bestland a freshman. She's well acquainted with Bestland's game from Mercyhurst and her time with the Canadian Under-22 team.
"She's a great hockey player. She's super fast, shifty. Super-skilled," Agosta said. "She's played on the Under-22 team for Canada. She has a bright future in women's hockey and she's also brought this team to the next level. I know I only played with her for a year but the skill that she has is definitely very dominant. She can be a game-changer. I'm pretty sure she had an amazing four years here at Mercyhurst. She has a lot of stories and memories but that kid has a bright future for sure."
The future for Agosta remains wide open. At 27, she is thinking about the 2018 Olympics but also would like to work for the Ontario Provincial Police and think about starting a family with her husband, Marco Marciano.
But wherever life takes her, she wants to be an inspiration to young girls, wants to talk about following your dreams and wants to talk about how special Mercyhurst is.
"I think a lot of people don't look at Mercyhurst as being a great school strictly because it's a smaller school," Agosta said. "But they've done special things here. They've made it to the final eight almost every year. They've made it the Frozen Four. I just hope that a lot of people open their eyes to this school because it is an amazing school both hockey-wise and community-wise."