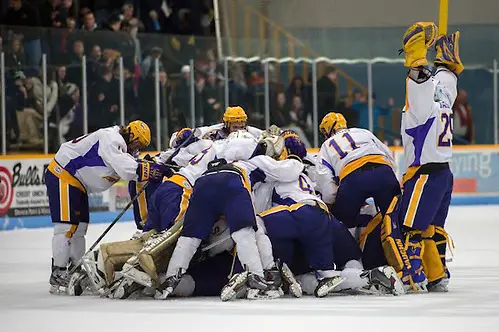 When St. Thomas and Wisconsin-Stevens Point battle on the ice Saturday night in their quarterfinal NCAA tournament game, it will be a rematch of a game played earlier this season.
The Pointers defeated the Tommies 3-0 on Nov. 15, but the game means little at this point.
"It doesn't really give you any advantage in preparing for them because they are a different team now and we are, too," Stevens Point coach Chris Brooks said. "We've turned the page from that game. It's a new game and a new opportunity."
St. Thomas coach Jeff Boeser has similar thoughts and he calls the Pointers one of the best teams his Tommies have faced all season.
"We've seen them play and we have an idea of what kind of team they are," Boeser said. "To be honest, they are one of the best teams we've faced all year. They are very skilled. It's going to take a great effort to win."
The Pointers (20-5-2) are one of the four at-large teams in the tourney and are in the midst of their first 20-win season since the 1999-00 campaign. Stevens Point hasn't been to the NCAA tourney since 1998 when it finished as the national runner-up.
"It's exciting for the players," Brooks said. "This is why players came here. They wanted this chance to compete for a championship. Our expectations are high and we're looking forward to seeing what we can do in the tournament."
Stevens Point did not get an opportunity to play for the WIAC tournament championship as it was beaten in a three-game series by Wisconsin-Eau Claire.
The fact that the Pointers spent last week unsure of their fate and no opponent to get ready for made things interesting in practice.
"We practiced last week, but we didn't prepare," Brooks said. "It was a difficult week because we weren't sure what was going to happen, but we got through it and our guys are focused and ready to go."
The Tommies (21-4-2) are coming off a 2-1 win over Gustavus Adolphus in the MIAC tournament championship game.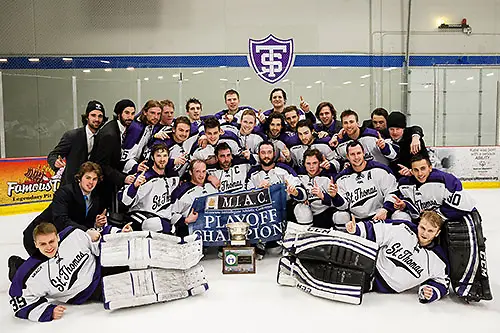 St. Thomas, which also won the regular-season MIAC title, is in the tourney for the ninth time in the last 15 seasons. This is its first trip to the tournament since 2012.
"It was a really good hockey game," Boeser said. "We were fortunate to win it. Our goaltender [Drew Fielding] came up big and we were able to get one extra goal to come out with the win."
Fielding won his 20th game of the season and ranks third in the nation in goals-against average (1.38). He has recorded seven shutouts and has tallied 612 saves.
"Drew has played very well," Boeser said. "He is very focused and he trusts his teammates in front of him."
The Tommies have scored 82 goals and Alex Altenbernd leads St. Thomas with 11 goals and 14 assists. Nick Nielsen has tallied seven goals and 17 assists. Alex Niestrom has scored 10 goals.
"The players are excited," Boeser said. "The guys are smiling at practice and are ready to play. We haven't gotten too high or too low. We have stayed even and have gone about our preparation the way we have all season. Not much changes as this point."
The Pointers are led by WIAC player of the year Garrett Ladd, who has scored 18 goals and dished out 22 assists. He is tied for fourth in the nation in points on an offense that has cranked out 127 goals.
Kyle Brodie has tallied seven goals and 17 assists, while Kevin Gibson has come through with six goals and 17 assists.
Brandon Jaeger has been solid in goal as he owns a goals-against average of 2.00 and has tallied 559 saves on the year.
"We have to just play to our strengths and force them to react to us rather than us react to them," Brooks said. "We have to be ready to play 60 minutes because we are up against one of the best teams in the country. If we are focused and we play our game, we'll be in a position to win the game."