Matthew: Hello and welcome to this week's edition of Tuesday Morning Quarterback. Normally this is where Jim Connelly and Todd Milewski opine thoughtfully on goings-on around the college hockey world, but as Todd's unavailable to take part this week, he's asked me to fill in to give the Western perspective on things.
Jim, living out here in the Midwest, I had a keen eye on the final weekend of NCHC play, and I think you'll agree congratulations are in order for the Huskies of St. Cloud State after they won outright the first NCHC regular season championship.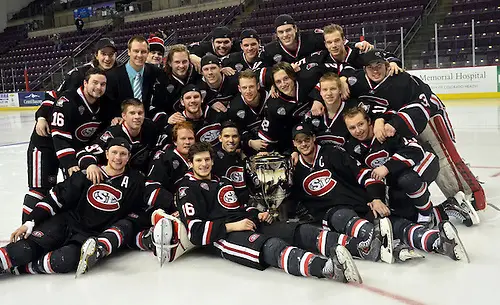 It was looking for a while early on in the season as though St. Cloud State might be the only team from the league that would make the NCAA tournament, but the Huskies had to fend off some stiff competition from a surging North Dakota squad and a surprise from Nebraska-Omaha nearer the end.
Watching that league from out East, Jim, what did you make of that league's first regular season? Any pleasant surprises or major disappointments in your mind?
Jim: First off, welcome to Matt. Nice to have him part of TMQ again. As for your question, I would say that to me the NCHC as a whole hasn't been a major disappointment but certainly somewhat of a disappointment.
When you put eight powerhouse teams together, obviously all of them can't have success but the overall lack of dominance by the NCHC has surprised me. With Miami and Colorado College both having off years, that's been part of the reason. But a lack of consistent out-of-conference success is something I didn't expect.
All that said, beginning this weekend, the NCHC can begin turning heads. If one of the teams from the middle-to-bottom comes out of nowhere to win the league tournament, that will be a surprise. And then there is the NCAA tournament where, if one of the members comes out victorious that will make up from all the shortcomings of the regular season.
Matthew: I think the league's teams' nonconference woes is a fair criticism, but in terms of intraleague games, what we saw this regular season in the NCHC really didn't surprise me much. I remember speaking with you and Ed on USCHO Live! at the start of the season about how, since this is a league smaller by a third than both the WCHA and CCHA were and it's at least that much stronger top to bottom, this was going to be a league where teams were just going to beat up on each other every week and someone would have to finish at the bottom of the totem pole.
Obviously, that's what happened, but I'll certainly admit that Miami wasn't the team I was expecting to see in the league basement.
A couple of the leagues out here in the West finished out their regular seasons last weekend, but of course the playoffs have already begun in Atlantic Hockey, ECAC Hockey and Hockey East.
You've got your ear to the ground with Hockey East, so I'm curious as to your views on what happened in the first round there. On the surface, at least, it doesn't appear as though there were any surprises.
Jim: I wrote in the Hockey East Blog on Monday that, to me, the biggest surprise was that there were no surprises. That didn't mean there weren't close games as all three of the new single-elimination games were, in essence, one-goal games (Maine scored an empty-netter).
Vermont and Massachusetts were tied at 1 late until Connor Brickley scored to break the tie. And Boston University came up just short despite playing a solid game against Notre Dame.
What's most interesting in Hockey East is that now the quarterfinals don't only set up matchups of the league's top eight, but also seven of the nation's top 20 according to the USCHO.com Division I Men's Poll. All eight remaining teams still have ambitions for an NCAA at-large bid (though Maine and New Hampshire have long roads). Needless to say, this is going to be one competitive quarterfinal round in Hockey East.
Matthew: So now, of course, we've got each of the top eight seeds still in with a chance of going to Boston and winning the Hockey East playoff title. It'd be interesting if that keeps going chalk like it did in the first round, but obviously we can't really expect it to.
Let's move now to ECAC Hockey, where there weren't any big surprises in the first round apart from perhaps Dartmouth going on the road and taking out Rensselaer. We do get Quinnipiac hosting archrival and defending national champion Yale in the quarters, though, and I think you'll agree that's going to be the biggest quarterfinal series to keep an eye on there.
Jim: I think that two of college hockey's newest rivalries will be on display this weekend in the quarterfinals. Certainly, Quinnipiac and Yale seems like an old rivalry compared to Boston College and Notre Dame. But both came to be out of restructuring of leagues over the last decade.
The Bobcats and Bulldogs really will draw the ultimate attention after the two met for the national title last season. This time, however, the TD Bank Sports Center will be clad in yellow as Quinnipiac has home ice.
Now with all this tournament talk, it's easy to forget that the Big Ten still hasn't wrapped up its season. Minnesota had a chance to sew up the title last Saturday but couldn't get a win against Ohio State, instead losing in a shootout. Thus, Wisconsin still has a glimmer of hope if it can sweep Michigan State while the Gophers drop two against Michigan. Is it just me, or has Minnesota seemed a bit more mortal down the stretch?
Matthew: Yeah, I think you're right about Minnesota. I don't see the Gophers dropping two this week against Michigan, even though the games are in Ann Arbor, but we aren't that far removed from Minnesota's sweep at the hands of Wisconsin in early February.
Don Lucia's men did just sweep Michigan at home a few weeks ago, however, and they haven't lost a game within 65 minutes since the Badgers beat them 2-1 in Madison on Feb. 7.
Is the Gophers' shootout loss at Ohio State last Saturday cause for alarm? Perhaps a little, but I think Minnesota has enough of a points cushion and enough left in its energy reserves to get what it needs this weekend against the Wolverines and finally lock up the Big Ten regular season title.
The Minnesota-Michigan and Wisconsin-Michigan State series will be interesting tilts to watch, but what else stands out to you this weekend, Jim? Sticking out West, I think Denver at Nebraska-Omaha could be a really interesting series to watch, as although UNO is 3-1 so far this season against the Pioneers, DU has a senior goalie in Sam Brittain who has been one of the best college netminders in the country when healthy and he'll want to end his time with the Pios on a high.
It's too bad I'll be out of town on another assignment later this week, because that's a best-of-three that I think will definitely be fun to watch and easily could go the limit.
In the WCHA first round, Michigan Tech going to Bowling Green is an intriguing pairing, and I can also see Alaska's series at home against Alaska-Anchorage — the Alaska Plan lives, eh? — going to three games. Something tells me UAA could make its way to Grand Rapids, Mich., for the WCHA championship weekend, and I think that'd be fitting for the Seawolves considering Matt Thomas really ought to be in the consideration for national coach of the year honors.
Jim: Well, we've looked at a lot of the matchups this weekend, now I pose this to you: Give me one major upset you think could happen in any of the playoff series this weekend.
Matthew: I think St. Cloud State needs to go into this weekend on high alert. Miami finished in last place in the NCHC this season, but Blake Coleman has hit the ground running after coming back from a fairly long-term upper-body injury.
I think that if the RedHawks' defense and goaltending can come through, Enrico Blasi has enough weapons in his team to pull off an upset. I'm probably going to get roasted by Huskies fans for saying that, but it's something I could see happening.
What about you, Jim? Any favored teams out East that you'd put on notice for this weekend?
Jim: I can't help but look at Boston College. The Eagles are the top seed in Hockey East, No. 2 in the PairWise Rankings and will face a Notre Dame team that not only beat them on the final day of the regular season but also sits ninth in the PairWise and is, along with BC, one of the two hottest teams in the conference.
I know BC has the weapons to win this one, but I don't think in any way, shape or form it will be as easy as a 1 vs. 8 matchup should be.