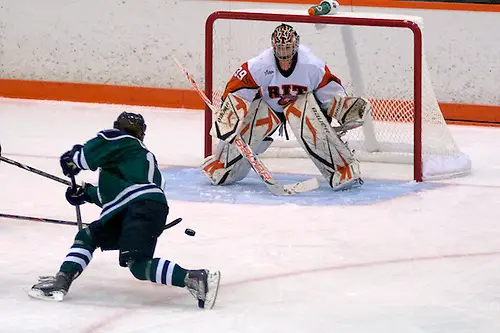 RIT coach Scott McDonald knew that when his team made the jump from Division-III to Division-I, his future included some tough times. The surprise may be that there weren't that many in the first season.
Sure, Mercyhurst jumped on RIT in its first D-I game in October of 2012, taking a 6-0 lead after 25 minutes, including a pair of goals in the first 18 seconds. But thanks to sharing a six-team conference with a pair of members that were even more green, a few games with Sacred Heart, and a veteran squad that was accomplished at winning hockey games, the Tigers posted a very respectable 16-16-5 record in their first season in their new surroundings. Not that it didn't require an adjustment for a team that had only experienced losing three times over the previous two seasons.
"We're not going to be the most skilled team anymore," McDonald said. "We're going to be the underdog and love the challenge. And if that's the attitude teams are going to come in with when they're playing us, we're going to give it our all."
That "all" included a bit less at the start of this season. Gone was a class of six seniors, including three of the team's top four scorers, all of whom had eclipsed the 100-point mark as collegians and served as the team's captains.
"We knew going into the start of the year, you schedule Clarkson early on, they're going to be a top-five team in the country, and we have 10 new players on the team," McDonald said. "It's like, 'Hey, this is it; this is the best of the best right now.' They'll be in the [national] tournament again this year. You can't ease into this; it's Division-I for a reason."
RIT faced Clarkson on Sep. 28 in Potsdam, N.Y. The Golden Knights fired 44 shots on goal, and more than a quarter of them found their way into the net.
"It's the best thing that ever happened to us," McDonald said. "I actually said that to the Clarkson coaches right after the game, 'Don't apologize for the score. That's the best thing that ever happened to us just to wake us up and get us going.' Ten players take a while to gel to together. You've got to get to know each other. As the season went along, we really talked that, 'OK, you're going to be playing your best hockey at the end of the year, not in September.'"
While it will remain a mystery as to whether the Tigers would have shown similar development without the benefits of suffering a 12-1 pasting, they did improve from that point. The 2013 portion of the schedule was largely unsensational. Friday wins were too often followed by Saturday losses, but there was a foreshadowing of what was to come with the program's first win over Mercyhurst on Nov. 22 by a 2-1 score.
"That's a key highlight in the year where the players started believing, like OK, you know what, the season is a grind and it's starting to pay off," McDonald said. "We're starting to see results now, and just giving us that belief that you play your A-game and you bring it the whole time, you can win these games."
Junior Kolbee McCrea scored both goals, and her classmate Ali Binnington made 42 saves to preserve the win.
RIT closed the first half with a 6-2 loss to Clarkson, notable for being played outdoors at Frontier Field and for the improvement over the earlier meeting with the Golden Knights, on the scoreboard if not the shot chart.
McDonald believes that one key in the strides being made was the team's new captains, senior Melissa Bromley and juniors Celeste Brown, Lindsay Grigg, and Morgan Scoyne.
"Just kind of letting them mature throughout the year and figure out the difference of being a lead-by-example type leader to now more of a vocal role as well," he said. "There's some adjustment to that. Then our senior class in general, just having them kind of step out of the shadows maybe of the class before them and taking that leadership role. Seeing them kind of come down the stretch where it seemed like every big goal that was scored was by a senior. Just seeing them kind of mature over the four years was spectacular."
The first series of 2014 provided more lessons.
"Coming off the Christmas break and heading to Union, certainly we thought a different outcome was going to come from that weekend," McDonald said.
In the first game, a third-period lead became a 2-1 overtime loss, and the Tigers returned home with a 1-1 tie in the finale.
"We blew both those games," McDonald said. "We lost it late, and then into the overtime with the first game. And even the second game, I thought we outplayed them, we just couldn't score. Hey, those are the games that you can outplay a team and you don't win. So lesson learned, you need to play well and capitalize on chances. Don't leave it in anyone else's hands; take care of your own business."
The Tigers responded by going 4-1-1 over the next three series.
"We just kept learning and learning as the year went on, and started putting it together," McDonald said. "After that weekend, I think that just woke us up in general."
In the first game of the series at Penn State, Binnington had to leave with an injury, with a trip to Erie for a rematch with the Lakers looming next.
"The first Mercyhurst game, I thought the score wasn't really indicative of the play," McDonald said. "I thought the play was actually pretty even. The second day, we were totally outplayed; there was no getting around that. Ali Binnington wasn't in net for either of those games. So when you're not the skilled team on the ice and you're missing a big piece of the puzzle, it makes a difference. There is just a little difference in the attitude and the confidence of the team when you have your starting goaltender on the ice."
After being out for the 5-1 and 5-2 losses at Mercyhurst, she returned to the net when the Tigers came home to host Robert Morris. Binnington's 35 saves weren't enough, as the Tigers fell to RMU, 2-1, in the opener. They wouldn't lose again.
"At the beginning of the season, we had a lot of new faces, and I think by the end, the biggest difference was we were just able to all come together and play as a team," Binnington said. "That can beat any team that has individual skill when everyone is playing together."
Binnington made 22 saves and Brown scored the game's only goal as RIT salvaged a split versus the Colonials.
"Every game was tough," McDonald said. "I think it was 21 one-goal games, and it's figuring out a way to win those games. Every person on the team counts. We don't have that one goalscorer that can take over a game. We won't next year either. We preach team here and that's it. Scoring by committee seems to be working for us. We're not the high-flying offense that some teams are around the country, but when it comes to team defense, I think we do a pretty solid job of it."
RIT swept a home-and-home series from Syracuse to close the regular season and followed with a sweep of Penn State in a CHA quarterfinal, a win in each coming in OT. That brought the team's record to 3-4-3 in overtime games.
"We've really rallied around the fact that we're a gritty team that will find a way to win," McDonald said. "And even if we're losing a game, take the Clarkson game at the start of the year, I don't care if we're losing 12-1, the girls will not stop playing. They won't quit regardless of what the score is. If we're winning 1-0 or losing by 10, they won't quit."
By the time the Tigers took the ice for the CHA semifinal with Robert Morris, Mercyhurst had defeated Syracuse and was awaiting the winner in the final.
"We had wins against both those teams earlier in the year, so we definitely knew it was possible," Binnington said. "Games against Mercyhurst earlier in the season were both one-goal games, and the games against Robert Morris were all close games as well. So we definitely knew going into the weekend that we were capable of anything, and we knew that we could go all the way."
RIT scored its second-consecutive victory over the Colonials, 4-1, with Bromley, Carly Payerl, Kourtney Kunichika, and Cassie Clayton providing the goals.
"Coming from Division-III, I thought we always had those girls that were overlooked, girls that had something to prove that they could play at this level," MacDonald said. "Being in the championship game year two, yeah, that's surprising. But I thought we started matching up well with teams in our league. Maybe not size-wise, but speed-wise and certainly grit-wise, we were a good matchup for some teams. I think Mercyhurst is still the leaders of the pack; there's no question about that with their speed and skill. But we thought we'd just put together a different game plan together for them and stick to the defensive end of things, take care of that."
Each defense was strong. The game was scoreless until Erin Zach broke the ice in the final minute of the second period, but the Lakers got the goal back early in the third period. Meanwhile, Binnington was busy. She had 47 saves by the end of regulation time, with the score still 1-1.
"In the first overtime, there was a shot from the slot and the rebound went to the post," she said. "That girl was right on the post backdoor. I don't know how I got over there and made that save. I think that was probably the biggest save for me of the game."
Mercyhurst had a 14-4 advantage in shots through 20 minutes of overtime, and its margin for the game had swelled to 61-18.
"It was a game that on paper we're not supposed to be in, and I think we fought hard all year to get there," McDonald said. "We figured if we kept hanging around, anything could happen when you're in an overtime situation. We said, 'Just stick to the game plan that we had, and sooner or later, something will give.'"
The second OT commenced, and finally, the ice started to tilt the other way and the Tigers gained a territorial advantage.
"As the game went on, I think I got more and more confident and believed more and more that we'd be able to pull through," Binnington said. "In that second overtime, we started outplaying them, getting more shots to the net, and I knew that we'd finish it that period."
With 13:43 elapsed in the second OT, Grigg fired home a slap shot from right point for a 2-1 RIT win and the CHA Championship, its first title since conquering NCAA Division-III two years ago.
"Honestly for me and my personal memories, this win was almost more important than that national championship," Binnington said. "I was a freshman that year when we won at a D-III level. I didn't really play all that much that year. I wasn't in net and wasn't involved all that much in that final win. It means more to me almost getting this championship because for me it shows how far I've come over the three years."
Her 62 saves in the final gained Binnington MVP recognition for the tournament.
The CHA does not yet have an automatic bid into the NCAA Tournament, and because it is transitioning from a Division-III program, RIT would not be eligible for the national tourney in any case. Thus, its season ends with an active seven-game winning streak.
"We're just preparing for next year," McDonald said. "Now that we know that we can win that game, the focus now will be the same focus next year. We won't even talk NCAA berths until we take care of our league first."
McDonald can take comfort in knowing Binnington will be back for a senior season.
"She's the backbone of the team," he said. "From a recruiting standpoint, you always want to start with the goalie. If you can score five goals a game, great, but if you're giving up six, then it doesn't really matter. That's been an emphasis here since I've started with this team. You start with the goalie, and then work your way out. Ali's a part of a big class right now. We'll have eight seniors on the team next year, so we're looking forward to next year already. We can't wait to be the defending champs of the league."
His players are of the same mindset.
"We're losing three key players with our seniors graduating, but at the same time, looking forward to getting some new faces and continuing our success," Binnington said. "We know we're going to have targets on our back. Robert Morris and Mercyhurst are both going to want to come out flying against us the first time we play them next season. It's just already looking forward to that competition and trying to keep the trophy in our rink again next year."