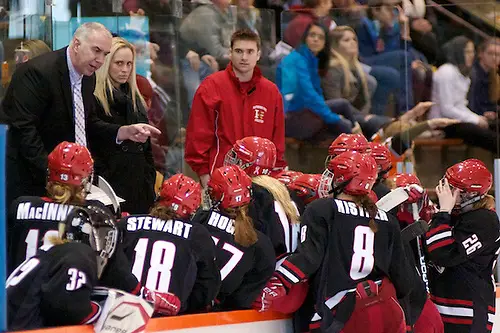 Combined, Plattsburgh's Kevin Houle and Norwich's Mark Bolding have won seven of the past eight women's Division III national coach of the year awards.
And both are nominees again this season.
Ten coaches are up for the award and to be eligible, a coach must have been named their conference's coach of the year or reached the D-III semifinals.
Houle won the award last season, as well as three straight years from 2006 to 2008. Bolding was honored from 2010 to 2012.
The winner of this year's award will be announced on Thursday, March 20, at the D-III women's banquet in Plattsburgh, N.Y., and formally presented at the AHCA convention on Friday May 2, in Naples, Fla.
2014 D-III Women's Coach of the Year Finalists
| Coach's Name | School | Nomination |
| --- | --- | --- |
| Mark Bolding | Norwich | NCAA semifinalist |
| Joe Cranston | Wisconsin-River Falls | NCAA semifinalist |
| Meghan Gillis | Williams | NESCAC coach of the year |
| Kevin Houle | Plattsburgh | ECAC West coach of the year, NCAA semifinalist |
| Jamie Kivi | Marian | NCHA tri-coach of the year |
| Kerstin Matthews | St. Anselm | ECAC East coach of the year |
| Rob Morgan | St. Norbert | NCHA tri-coach of the year |
| Ann Ninnemann | Wisconsin-Stevens Point | WIAC coach of the year |
| Tom Palkowski | St. Thomas | MIAC coach of the year, NCAA semifinalist |
| Carisa Zaban | Lake Forest | NCHA tri-coach of the year |