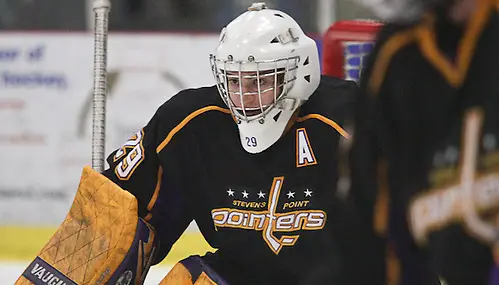 Wisconsin-Stevens Point has been pushing all season for a shot at a national championship and the Pointers moved one step closer to that goal on Saturday with a 3-0 win over second-ranked St. Thomas.
The fourth-ranked Pointers are now headed to the final four where they will take on Oswego on Friday night, marking the first trip to the national semifinals in 16 seasons.
Stevens Point coach Chris Brooks is pleased with how his team handled its opening-round game against the Tommies.
"St. Thomas is a great team and I thought we did a great job of handling the challenge," Brooks said. "We were able to get rolling and get a few goals and rode the momentum to a win."
Preparation for Oswego won't be easy. The Pointers (20-5-2) won't have video to go over this week, but Brooks doesn't believe that will be much of an issue.
"We don't know too much about them, but right now we are focused on ourselves," Brooks said. "We will work on what we need to do to be successful. We have a great opportunity in front of us and we can't wait to play this weekend."
One of the reasons Brooks isn't concerned about not having a lot of information on the Lakers is because his team has been good at adapting to situations all year.
"We are very good at adjusting and adapting as a game goes on," Brooks said. "We want them to have to play our game and adjust to what we are doing as a team."
The Pointers, who have scored 130 goals and have allowed just 54 on the year, aren't looking ahead as they get set for the weekend, but they know they are one step closer to accomplishing a goal that has been on their minds all season.
"It's been a goal to win a national championship since day one," Brooks said. "We have worked very hard to get here and we're looking forward to the opportunity to win one."