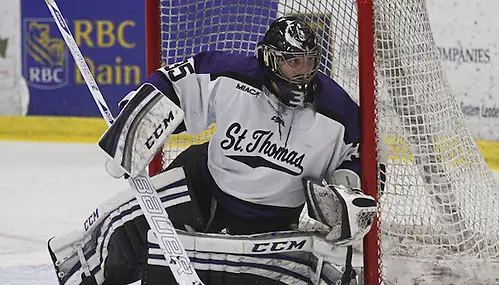 It wasn't the way St. Thomas wanted to end its season, but despite the 3-0 loss to Wisconsin-Stevens Point in the NCAA tournament on Saturday, coach Jeff Boeser is pleased with the effort his team gave against the Pointers.
The Tommies and Pointers were scoreless through two periods, before Stevens Point scored three goals in the third to put the game away.
"We played a very talented hockey team, but our guys gave a great effort," Boeser said. "I felt that had we scored first, we would have been in a better position to win, but we played hard the entire game."
St. Thomas (21-5-2) had a stellar season and was one of the top teams in the nation all year. The Tommies won the MIAC regular-season title and won the MIAC tourney championship as well.
The Tommies finished with 82 goals on the season and allowed only 41 behind the solid play of goalie Drew Fielding, who owned a goals-against average of 1.43. Alex Altenbernd was the leading scorer for the Tommies as he tallied 11 goals and 14 assists.
"Those things aren't easy to do," Boeser said. "We've had a lot of success over the years here and we continued that success this year. Teams always give us their best shot and that is good for us because it makes our guys want to come out and play hard in every game."
St. Thomas is poised to be just as good next season as the Tommies lose only three seniors in Bryce Walker, Tyler Gubb and Alex Niestrom.
"A lot of our guys will have experience winning a conference championship and playing in the NCAA tournament," Boeser said. "Every year is different, but the experience should pay off."