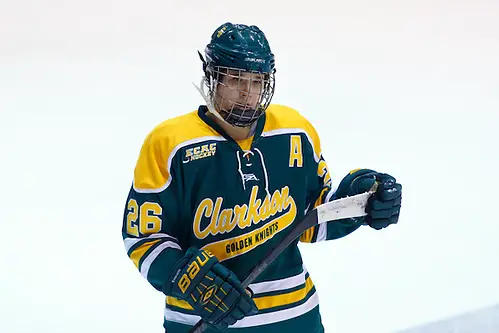 HAMDEN, Conn. — It's not all about Jamie Lee Rattray for Clarkson.
The Patty Kazmaier Award finalist is certainly a star on the Golden Knights and obviously one of the top players in the country. She leads the team and is second in the nation in scoring (28-36-64), picking up two assists in Clarkson's 5-1 win over Mercyhurst in the semifinal round of the 2014 women's Frozen Four.
However, Rattray did not score a goal in tonight's game.
Five different players lit the lamp for Clarkson — Renata Fast, Vanessa Gagnon, Christine Lambert, Brittany Styner and Shannon MacAulay on an empty-netter.
"It's been a key for us all season," Clarkson co-head coach Matt Desrosiers said. "We always talk about the depth on this team. You can go through our lineup. There are a lot of special players and they all have a particular role and they all play them well. Not only tonight, but throughout the season. Obviously, against a team like Minnesota, we have to have everyone playing at their top level. Just like we've done all season."
It's not just a matter of spreading the wealth around and taking the pressure off Rattray, for this weekend it is also about filling in for the loss of Erin Ambrose.
Ambrose is the team's top offensive blueliner, their second-leading scorer and the nation's eighth-leading scorer (14-36-50). However, she is out the final weekend with an injury, though officially listed as day-to-day, giving Clarkson fans hope for an appearance on Sunday.
"Other players have stepped up without Erin in the lineup," Desrosiers said. "Our defense has done a great job not letting up that many goals. A lot of players have stepped up and had to go to different roles."
All this has put Clarkson one step away from making North Country history — winning the school's first national championship in any sport — in a small community where hockey reigns.
"We got a great reaction from the community," Desrosiers said. "They have come out and supported us really well. Before we left campus, we had a little gathering to send us off with a police escort. It's a small community up in the North Country and hockey means a lot. It will be a huge deal to bring back a national championship. But I know even if we don't, I know the community supports us."
The closest Clarkson has come was when the men's hockey team reached the NCAA finals three times in 1962 (lost to Michigan Tech, 7-1), 1966 (lost to Michigan State, 6-1) and 1970 (lost to Cornell 6-4).
The irony if Matt and his co-head coach and wife, Shannon, bring a national title to Clarkson, is they both played for the Golden Knights' North Country archrival, St. Lawrence.
In order to do so, everyone, Rattray and company, will have to, as Matt Desrosiers said, "Bring their 'A' game."