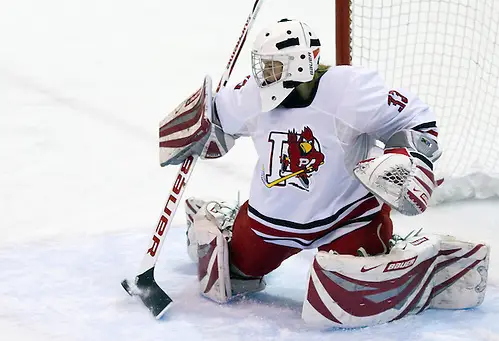 Sydney Aveson traveled across the country to play college hockey and the miles paid off Thursday night as the senior goaltender from Plattsburgh has been named the winner of the 2014 Laura Hurd Award, given by the AHCA to the Division III women's player of the year.
Aveson, a three-time All-American and the ECAC West Player of the Year from West Covina, Calif., has posted spectacular numbers this year: 20-1-1, 0.54 GAA, a .971 save percentage and 13 shutouts. She has allowed just 12 goals in 22 games.
She will lead her Cardinals against St. Thomas in Friday's first semifinal game (3:30 p.m. EST) of the national championship in Plattsburgh, N.Y.
"Sydney Aveson has been the backbone of our team over the past three seasons," said Plattsburgh coach Kevin Houle, the 2014 national D-III women's coach of the year, in a news release. "Syd has saved her best for last."
This season, Aveseon leads the nation in goals-against average, save percentage and shutouts.
In the classroom, she has a GPA of 3.50.
"Syd is focused on her studies as she is on her play," added Houle. "She is the most competitive goalie I have ever coached. Sydney is active in the community, as she has volunteered at the Tramati Brain Injury Center on campus. She has also volunteered her time with the local youth programs as well as the soup kitchen here in Plattsburgh. She excels and gives 100 percent to whatever she does."
Aveson is the third Plattsburgh player to win this award, following Danielle Blanchard (current Plattsburgh assistant coach) in 2008 and Teal Gove last year and is also just the second goaltender to win the award.
The runner-up for this year's Hurd Award was Norwich senior forward Tori Charron.
The award is named in honor of former Elmira star Laura Hurd, who died in a car accident shortly after graduation.