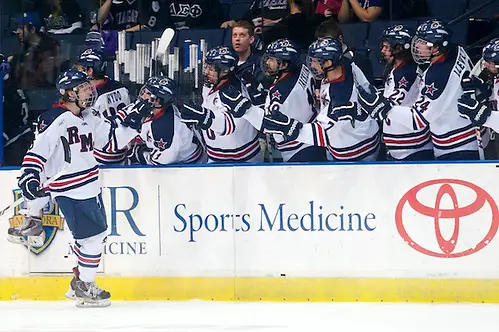 ROCHESTER, N.Y. — In early February, when Robert Morris was in Rochester to play Rochester Institute of Technology, Robert Morris coach Derek Schooley took his team on a surprise detour.
He took his players for a visit to Blue Cross Arena, site of the Atlantic Hockey championships.
Atlantic Hockey playoffs
See the tournament bracket and get links to schedules and stories at Atlantic Hockey Playoff Central.
"We've never played here, never been in the building," Schooley said after his team defeated Niagara 5-4 in overtime to advance to the title game.
"We wanted to see what we wanted to be our destiny. We wanted to make that goal more concrete."
It's working so far. The Colonials lost a two-goal lead with just under three minutes to play in regulation but rebounded to win the game on a goal by Scott Jacklin at 14:56 of the extra period.
"Scott got out his 9-iron," joked Schooley on Jacklin's shot, which he partially missed but got just enough on it to get over the goal line.
"We had our heads down [in the locker room after the third period], said Schooley. "I told them we're going to win this hockey game and who wants to be the hero?
"I thought with a two-goal lead we started playing not to lose and in the overtime we played to win."
There wasn't a lot of winning early this season for the Colonials, who were 2-12-2 at the end of December.
"We were abysmal at the Three Rivers Classic [on Dec. 27 and 28]", said Schooley. "After that, we had an attitude change. I had everybody write down their failures on a piece of paper and we burned them. We had a bonfire in the snow."
[youtube_sc url=http://youtu.be/HCW7ZZmtEhw]
The Colonials are 16-4-3 since, including four in a row to get them to the championship game against defending champion Canisius.
RMU was 17th in last year's PairWise Rankings, the last team left out of the NCAA tournament. The Colonials lost in the AHA quarterfinals last year but kept practicing in hope of a reprieve. This time, they control their own destiny.
"The goal you set at the beginning to win a championship," said Schooley. Right now [in Division I] there are 12 teams left playing for championships. To win it we're going to have to beat the champs, and that's the way it should be."