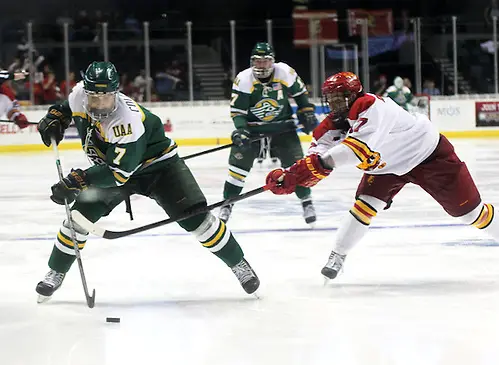 GRAND RAPIDS, Mich. — Alaska-Anchorage first-year coach Matt Thomas refused to let the thought of pulling goaltender Rob Gunderson enter his mind during the first intermission, despite the Seawolves senior giving up two goals on four shots.
When Thomas finally did make the shift to fellow senior netminder Chris Kamal during the second intermission, he turned to the memory of his former mentor at Maine — the late Shawn Walsh, who died of cancer in 2001.
WCHA playoffs
See the tournament bracket and get links to schedules and stories at WCHA Playoff Central.
"I got to coach under Shawn Walsh," Thomas said. "If anyone knows the story, he won a national championship and pulled his goalie going into the third period and you would think he was nuts to do it and they won a national championship. For every moment I was making that decision, I was thinking about him and what he did. Sometimes you have to do that."
Thomas didn't get the same result Walsh did, however, as the Seawolves fell 5-4 in overtime to top-seeded Ferris State in the WCHA Final Five semifinals at Van Andel Arena.
Kamal finished with 10 saves on 11 shots, with the lone goal surrendered being the game-winner by Ferris State freshman forward Gerald Mayhew 2:38 into overtime.
"Chris Kamal, to come in and do what he did, his first shot was a breakaway, he makes a stop," Thomas said. "That was awesome.
"I knew Chris Kamal would step up and I knew Rob Gunderson understood."
Kamal last played for the Seawolves on March 7 in Fairbanks, Alaska, in the first of five consecutive games against the rival Alaska Nanooks. He gave up seven goals on 32 shots in a 7-2 loss to Alaska.
Gunderson started the next five games, leading Alaska-Anchorage to a 3-1 win the following night to force a shootout for the Governor's Cup — won by the Nanooks — and to a 3-2 series win over Alaska the following weekend to reach the WCHA Final Five.
Gunderson gave up four goals on 12 shots, however, Friday night, so Thomas turned to Kamal to try to save the day.
"I almost thought about going with [Kamal] after the first period, but I didn't want the thought to cross my mind because Rob Gunderson had been so good," Thomas said. "He had a couple tough ones, but sometimes, it's just not your night. Unfortunately in that goaltending position, I always say a forward can get away with it, a D gets pretty exposed and a goaltender, everybody in the building knows."
Kamal came in and stopped Bulldogs senior forward Garrett Thompson on a breakaway. Kamal was then forced to make a save on a short-range shot by Ferris State junior forward Justin Buzzeo moments later.
Even though Kamal got an early heads-up he was going into the goal, the nerves were high, he said.
"It was a little nerve-racking," Kamal said. "I knew at the start of the intermission so I had a chance to get focused and get the jitters out of me. At the same time, I knew that my team needed me to come in and make saves."
Kamal said it was nice not to cap his college career with the 7-2 Governor's Cup loss to Alaska, however, giving up the game-winning goal to Mayhew still stings.
"It's the dagger in a season," Kamal said. "It just ends it right there. It's never an easy pill to swallow, even if it was Sidney Crosby who scored an unstoppable goal, it's still going to sting. It's tough.
"I'm sure looking back I'll be a little bit more positive about it, but right now, it just does sting."