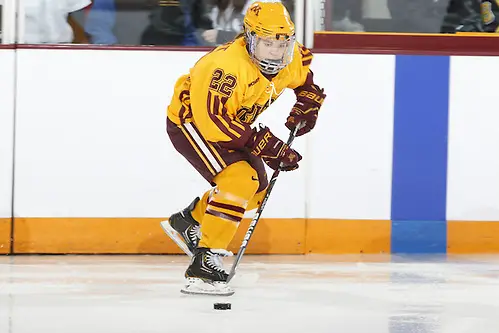 HAMDEN, Conn. — Minnesota is headed back to the national championship game for the third straight season after a 5-3 win over Wisconsin Friday night.
Junior Rachel Bona spoke after the game about how she wasn't sure if she would even get the chance to play for a national championship in her career, much less three.
"I didn't know if I was going to get one, but now on Sunday, I'll be playing for my third in three years," Bona said. "Me and Sarah Davis were talking in the locker room. It's unbelievable that we're here again. We got through this game and now we're headed to our third national title."
Minnesota withstood a flurry of opportunities from Wisconsin, as the Badgers held leads of 1-0 and 3-2. Neither of these leads, however, would stand as the Golden Gophers prevailed.
"They preserved and started playing the way we know that they can," Minnesota coach Brad Frost said. "They believed that they could get the job done and they found a way to do it. I'm not sure if I've ever been a part of something like that, a hockey game like that."
"Belief" was one of the key themes emphasized by Frost, Bona and sophomore Hannah Brandt after the win over Wisconsin, a team they defeated for the fifth time this season.
"Belief is a huge thing – I remember five years ago when Wisconsin just owned us," Frost said. "They just believed they were going to beat us and we found a way to not win. Right now, we've got that belief. I don't know what their mindset is or was, but to come back like that, our kids just kept believing."
Trailing 3-2 going into the third period, the Golden Gophers knew they could rely on their upperclassmen who have been with the program the longest.
"We tried to lean on our upperclassmen because as freshmen, they've never been here before and this is obviously the biggest game they've ever played in," Bona said. "Our sophomores, they've been here one other time and they had a thriller last year against BC in overtime, so they kind of knew what it was like, but I think just our leadership came through during that last period."
In a span of 2:30 early in the third period, Minnesota went from trailing 3-2 to to leading 4-3.
"It just didn't look good at least from my standpoint," Frost said. "All of a sudden, they flipped a switch and once we got that tying goal, everything started to happen for us and we found another gear that we didn't have in the first two periods."
Both Brandt and Bona came through for Minnesota, as they scored their 23rd and 22nd goals of the season, respectively.
"Rachel doesn't get all the recognition, Hannah obviously does, she's leading the country in points, but Rachel's had an unbelievable year," Frost said. "We challenged our seniors, our All-Americans and our [Patty Kazmaier] finalist [Brandt] to step up there in the third and I thought all of them did that."
Although Minnesota hasn't trailed too many times in the last couple seasons, Brandt knows that the team can rely on each other to survive.
"We don't really get too nervous, I think," Brandt said. "One thing is we always have a belief in each other and ourselves that we're going to get the job done. I think that's probably the biggest reason why we've been so successful even when we're down."