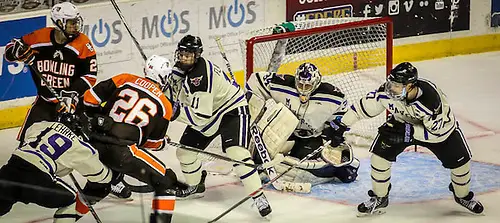 GRAND RAPIDS, Mich. — Minnesota State knew it had to shut down Bowling Green's power play in Thursday's WCHA Final Five semifinal.
"Had some sleepless nights watching that video tape," said Minnesota State coach Mike Hastings, "where it looked like they had it on a string multiple times over the last couple of weekends."
WCHA playoffs
See the tournament bracket and get links to schedules and stories at WCHA Playoff Central.
That's because the Falcons have scored eight power-play goals in their last six contests, including two that held up to be game-winning goals. Coming into the WCHA Final Five, Bowling Green was 21st in the nation for power-play percentage, tied with Minnesota at 19.6 percent.
On the other side of things, the Mavericks gave up four power-play goals in their playoff sweep of Northern Michigan last weekend — but still entered the weekend with the sixth-best penalty kill in the nation (85.9 percent).
"It was something we needed to get better at," said Hastings. "We had a couple opportunities to block some shots and we didn't."
The Mavericks held the Falcons scoreless on six power-play attempts and netted a short-handed goal themselves, Bryce Gervais' 16th goal of the season at 12:47 in the second.
That goal made it 2-0, something that was a bit of a game-changer, Falcons forward and captain Ryan Carpenter said, in what turned out to be a 4-0 Mavericks win.
"It was definitely hard, a 1-0 game," said Carpenter. "I think it was a little bit of a momentum killer. We tried staying as positive as we can, tried bouncing back from it as quick as we can, but obviously we didn't. I think we got outworked on the power play today."
Gervais said his goal was all about listening for an opportunity — there was "a little miscommunication" between Falcons goaltender Tommy Burke and a teammate on the penalty kill and Burke wound up leaving the puck for Gervais — and about being in the right place at the right time, by design.
"That was actually one of our keys, to get pressure on the penalty kill and get a good forecheck," said Gervais. "I was just listening and tried to get pressure on the goalie and the defenseman. I'm just trying to beat that defenseman there and get the puck and hold it below the goal line there and kill off a little more time."
The Falcons' power play never seemed to click, with just five shots on goal with the man advantage. In the third period, Bowling Green negated 15 seconds of its own power play when the Falcons were called for too many men on the ice during a sloppy line change.
"I think the power play was the mirror image of our team today, unfortunately — just not sharp, just not what we had been the last four games," Bowling Green coach Chris Bergeron said. "[W]e've been a little inconsistent [this season] but we seem to have been peaking at the right time, but I don't think our level of execution today was even close to what we've been, and our power play was just a mirror image of that."