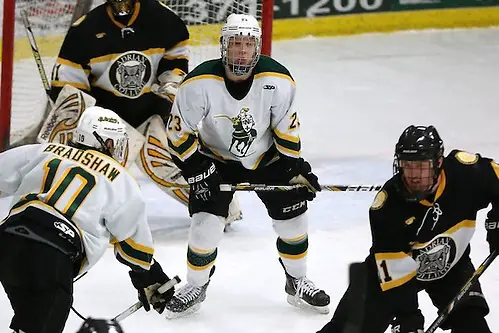 It goes without saying that St. Norbert has a storied program.
The Green Knights have made the NCAA tournament 15 times and the Frozen Four nine out of the last 12 years, winning the national title three of the last seven.
The seniors on the team have two national championship rings, earning the title in 2011 and 2012.
Making it to the Frozen Four is par for the course for St. Norbert, while their opponent on Friday, Geneseo, is not as experienced this late in the season. It is the Knights' first appearance to the final weekend of the season, despite qualifying for the tournament three times in the past.
This season, Geneseo captured the SUNYAC regular-season title.
There will be countless strengths on the ice for St. Norbert, which maintained a 23-6-0 overall record while going 14-2-0 in the NCHA. Their conference effort was good for the regular-season title.
In the postseason, the Green Knights trounced their opponents, winning the Harris Cup as NCHA tournament champions.
St. Norbert leads the nation in team offense, averaging 4.80 goals per game. Not only an offensive powerhouse, the Green Knights also lead the nation in team defense, keeping goals at 1.43 against per game.
Backstopping St. Norbert in goal for the season has been junior goaltender David Jacobson. Jacobson's 22-1-1 record, 1.24 GAA and .935 save percentage will be a key to success for the Frozen Four.
On Thursday, Jacobson earned the 2014 Sid Watson Award, voted upon by the nation's coaches as the best Division III player. He has earned seven shutouts this season, including two shutouts during the NCHA postseason tournament.
Taking a look at the competition
If the Green Knights can defeat Geneseo and advance to the national championship game, they will take on either Oswego or Wisconsin-Stevens Point.
The Lakers most recently met the Green Knights in the NCAA 2012 national title game where the Green Knights won 4-1.
Stevens Point and the Green Knights are old conference foes. St. Norbert holds the 44-11-3 all-time series advantage. They met earlier this season, ending in a 2-2 tie.