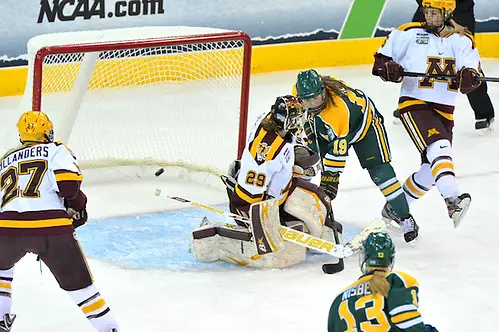 HAMDEN, Conn. — There are four colleges in St. Lawrence County in the far northern reaches of New York, all located within 11 miles of each other. In Canton, there is SUNY Canton and St. Lawrence University. Up State Route 11 in Potsdam is where Potsdam State and Clarkson are.
Going into Sunday's women's Frozen Four championship game, despite how big hockey is up there, none of these schools had won an NCAA hockey title (SUNY Canton used to be a two-year technical college and won numerous JUCO national titles).
Counting all sports, there are four Division III national winners among the four schools. SUNY Canton is in the process of becoming a member of the NCAA, so it has none. St. Lawrence won it all in wrestling in 1988 and in men's soccer in 1999. Potsdam has two basketball championships (1981 and the undefeated 1986 season).
Clarkson had none. Until now. They won the golden one — in hockey and on the Division I level.
"It's a close-knit community and they all rallied around the success we've had," Clarkson co-coach Matt Desrosiers said.
"We've had great support all year," Clarkson captain Carly Mercer said. "We owe a lot to our fans. They're loyal. They're positive. They stuck behind us through adversity."
The hosts
Quinnipiac formed in 1929 in New Haven. It is now located on three campuses in the Hamden area. The main one, Mount Carmel, originated in 1966 and includes the law school. There is a South Haven campus which is where the medical schools are located.
The York Hill Campus, where the TD Bank Sports Center stands, is the newest one, the Sports Center being the first building to open in 2007. The remaining buildings on York Hill (and it's a steep hill to get up there) are residence halls and townhouses for upperclassmen.
In sports, Quinnipiac started out at the Division III level. It gradually moved up to Division II then Division I. Of course, hockey fans know one of the top Division I successes for the Bobcats was last year's championship game appearance for the men's hockey team, losing to nearby rival Yale.
One of the reasons I wanted to cover the women's Frozen Four this year was to see the new TD Bank Sports Center. I was not disappointed. The whole complex was brilliantly and efficiently designed with a basketball and hockey arena not only connected by a common lobby, but a common suite/hospitality area. There is not a bad seat in the house for either venue with great standing room as well.
Plenty of locker rooms, offices, a large trainer room and excellent fitness center punctuate the facility. What really stands out are the scoreboards. They are the ones you see in the new major league arenas — four-sided, massive HD video boards with a circular section below that. In fact, the company that put these in also put the one in the Pittsburgh arena.
All-tournament team
F Rachael Bona, Minnesota
F Hannah Brandt, Minnesota
F Jamie Lee Rattray, Clarkson
D Renata Fast, Clarkson
D Shelby Nisbet, Clarkson
G Erica Howe, Clarkson
Note: Amanda Leveille was originally announced as the goaltender, but that was a mistake. It was later corrected to Howe.