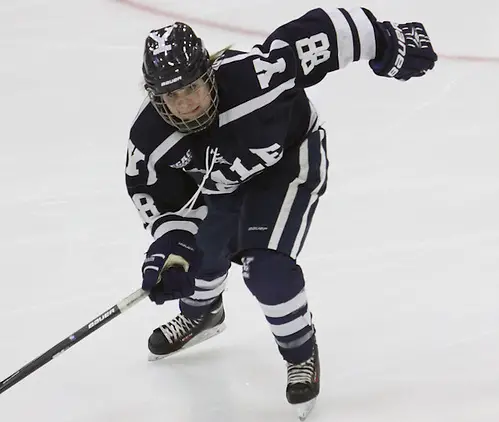 A number of stars burst onto the college hockey scene as freshmen.
Robert Morris goaltender Jessica Dodds didn't lose in her first 19 decisions on her way to being named CHA rookie of the year. She had tough competition for that honor from teammate Brittany Howard (17 goals, 24 assists, 41 points), who led the rookies in scoring. Andie Anastos (14-21-35) was the latest Boston College player to be named Hockey East's top rookie, while Dani Cameranesi (19-17-36) was tabbed for that award in the WCHA.
However, none shone brighter than Phoebe Staenz of Yale, USCHO's rookie of the year for 2014.
Staenz (11-15-26) had the most points for Yale since Crysti Howser in 2007-08, and she did so while playing in only 20 games for the Bulldogs. Just 10 of those games were in conference play, but that was enough to convince ECAC Hockey that she was the top rookie in that circuit as well.
The lightning-quick freshman from Zurich, Switz., had a hand in more than a third of her team's goals, although she dressed for less than two thirds of its games. Yale was 7-7-6 with Staenz in the lineup, but only 2-9-1 without her.
While away from New Haven, she was displaying her scoring touch elsewhere. Staenz helped her Swiss team to a surprise bronze medal at the 2014 Winter Olympics in Sochi, Russia. She scored two goals and paced her team's offense with 26 shots on goal during the tournament.
She returned to Yale in time to compete in her team's first playoff series since 2008. Staenz had an assist as the Bulldogs stunned Harvard in double overtime in the first game, and then she scored both goals for Yale the next day as it extended the Crimson to a second OT once again. Despite falling short in the decisive third game, Staenz and the Bulldogs established themselves as opponents nobody will want to face in coming seasons.