With this year's tournament field in place, let's take a look at some of the more interesting facts and figures that bind the 16-team field together with along with some of the records they may chase during a run to the Frozen Four title game.
0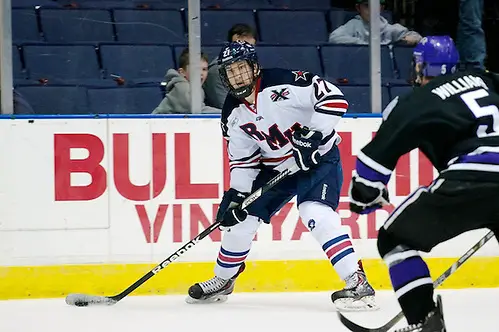 Two teams — Robert Morris and Ferris State — have zero NHL draft picks on their roster this season. Conversely, four teams — Boston College, Minnesota, North Dakota and Notre Dame — each have at least 10. North Dakota leads the pack with 15.
1
One NCAA tournament qualifier comes into this tournament still searching for its first victory after multiple visits. Minnesota State has twice made appearances in the tournament (2003 and 2013), but the Mavericks have yet to come away with a victory. Robert Morris also has never won an NCAA tournament game, but 2014 will mark its first appearance.
2
Much of Robert Morris' offense revolves around forward Zac Lynch. Eleven times this season Lynch has been held without a point, and the Colonials have just two wins in those games.
4
The most short-handed goals scored this season by an individual skater was four. Two of the three players that did it — Kellen Jones of Quinnipiac and Lynch of Robert Morris — will compete in the NCAA tournament.
Vermont's leading scorer, Chris McCarthy, comes into the NCAA tournament having been held scoreless in his last four games. Four also has a positive meaning for McCarthy, as he picked up a season-high four points in a game against Merrimack on Feb. 21.
5
North Dakota forward Rocco Grimaldi was involved in five consecutive game-winning goals for his team between Dec. 7 and Jan. 11. He scored two goals during that stretch.
6
The fastest opening goal in NCAA tournament history was scored on March 25, 1990, when Boston College's David Emma struck just six seconds into a quarterfinal matchup with Minnesota.
Six has meaning for Wisconsin forward Nic Kerdiles as well. He opened his season on a six-game point streak, scoring four goals and eight points. Coming into the NCAA tournament, he is on another six-game point streak, collecting four goals and 13 points.
7
The most points scored by one player in an NCAA tournament game is seven by Minnesota's John Mayasich. In a national semifinal game against Boston College on March 11, 1954, Mayasich scored three times and added four assists.
The lucky number seven comes again in the record books as the shortest amount of time between consecutive goals between opposing teams. Looking to spark his Minnesota Golden Gophers in the national semifinal on March 26, 1981, Aaron Broten answered a goal from Michigan Tech's Bill Terry in just seven seconds.
8
The team with the most overtime wins in NCAA tournament history is Maine with eight. Minnesota (six), Wisconsin (six), Boston College (five) and North Dakota (five) could match or beat that record this season. Maine also has the best overtime winning percentage of any team that's played five or more OT games at .727.
11
The Notre Dame Fighting Irish will be looking to their 11 seniors for leadership as they begin their search for a Frozen Four title. Only one other school, Wisconsin, fields a team with more than seven.
Denver fields one of the youngest squads in terms of experience. The Pioneers head into the tournament with 11 freshmen on their roster.
12
The longest current streak of consecutive trips to the NCAA tournament is 12 by North Dakota. That's still 10 away from Michigan's record of 22 from 1991 to 2012.
22.61
The oldest squad in this year's NCAA tournament is Minnesota State at an average age of 22.61 years.
23
The most goals scored by one team in a Frozen Four weekend is 23 by Colorado College in 1950. Included in that barrage was a 13-goal night against Boston University on March 18, 1950, in which the Tigers struck 10 times in third period.
24
The most NCAA tournament appearances by a head coach is 24 by Jack Parker of Boston University. Current Boston College coach Jerry York will be just three back of that total when his Eagles take the ice Saturday against Denver. York holds the record for most coaching wins with 37.
27
The record for most shots in a period in an NCAA tournament game is held by Minnesota with 27. On March 28, 2003, the Golden Gophers reached that mark in a West Regional tangle with Mercyhurst.
38
The toughest night for both offenses to find room came on March 14, 1968, during a semifinal game between Denver and Boston College. The teams combined for just 38 shots on goal. The Pioneers had the better of the luck, getting 29 shots on goal. Boston College ended up with just nine, which also set the record for fewest shots by a team.
49
The most dangerous power play in the NCAA tournament may belong to Minnesota State. At 25.3 percent, the Mavericks have the second-best power play percentage in the tournament, but they boast a pair of skaters with a combined 49 power-play point in Matt Leitner (24) and Jean-Paul LaFontaine (25).
52
In 34 appearances, the Minnesota Golden Gophers have the most NCAA tournament victories with 52.
54
Robert Morris is the 54th team to play in the Division I men's NCAA tournament, leaving six programs still waiting to make their debut: American International, Army, Bentley, Connecticut, Penn State and Sacred Heart.
62
The record for most saves in a Frozen Four game belongs to Chris Terreri of Providence. He came up with 62 in a triple-overtime affair between Providence and Boston College on March 28, 1985. Two years earlier, Terreri came up with 52 in a third-place game against Minnesota.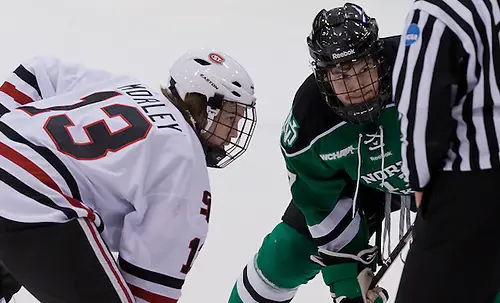 62.3
The highest faceoff winning percentage by a skater competing in this year's NCAA tournament is 62.3 percent by St. Cloud State forward David Morley. He has won 170 of 273 draws this season.
.657
Based on a 15-game minimum, North Dakota has the best NCAA tournament winning percentage among all teams, .657, thanks to a record of 44-23.
89:29
If Minnesota and Massachusetts-Lowell make it to the Frozen Four title game and history repeats itself, we could be in for one of the longest games in tournament history. On March 27, 1994, the two teams met in a West Regional game that went 89:29 before Jeff Nielsen of Minnesota found the back of the net to help the Golden Gophers advance.
98
The top shot-blocker in the NCAA tournament this season is North Dakota defenseman Dillon Simpson. His 98 blocks rank third among all skaters this season.
149
Terreri's 62-save performance was certainly impressive, but two efforts in a single regional game dwarf it. On March 26, 2000, Rick DiPietro of Boston University and Derek Gustafson of St. Lawrence combined to make 149 saves in an East Regional game. The four-overtime marathon saw DiPietro break Terreri's single-game record with 77 saves, while his counterpart stopped an equally-impressive 72 pucks.
Sources
College Hockey Inc. filtered stats database
NCAA Frozen Four Records Book 1948-2013