For only the second time in the 23 years of regionals in the NCAA tournament, Minnesota is the No. 1 overall seed and will play close to home in St. Paul, Minn.
The Golden Gophers were atop the bracket in 2007 but lost to North Dakota in overtime in the West Regional final.
They have to hope that playing in the Twin Cities this season, however, will be as good to them as it has been in NCAA tournaments over the last 11 years.
In 2003, 2005 and 2012, Minnesota advanced to the Frozen Four via a regional at either Mariucci Arena or the Xcel Energy Center.
Notre Dame, St. Cloud State and Robert Morris have designs on making sure the Gophers don't add 2014 to that list.
St. Cloud State won its first NCAA tournament game at the Xcel Energy Center in 2010. Robert Morris is making its first appearance in the national tournament this weekend.
And Notre Dame being in the field makes things a little easier on the Lucia family. Don Lucia coaches Minnesota, while his son Mario is a sophomore forward who shares the Fighting Irish lead with 16 goals.
Here's a look at the teams in the 2014 NCAA tournament West Regional: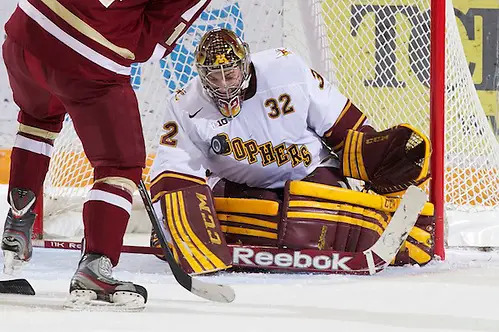 Minnesota Golden Gophers
Coach: Don Lucia, 15th season at Minnesota, 27th overall
Record: 25-6-6 (14-3-3 Big Ten, first)
How they got in: At-large bid
Regional seed: First
Last NCAA tournament appearance: 2013
Best NCAA finish: Champion, 1974, 1976, 1979, 2002 and 2003
Why they'll get to the Frozen Four: The Golden Gophers have a potentially explosive offense and one of the best goaltenders in the country in sophomore Adam Wilcox.
Why they won't get to the Frozen Four: While the Gophers can score goals, they have difficulty with consistency. This is a less-experienced Minnesota team and a team that often struggles on special teams.
From almost the beginning of the 2013-14 season, it was clear that the Minnesota Golden Gophers were the team to beat in the Big Ten.
They weren't flashy but they scored goals. They weren't dominant, as coach Don Lucia pointed out repeatedly, but they continued to win games.
Minnesota earned the first regular season Big Ten championship and was at or near the No. 1 spot in the USCHO.com Division I Men's Poll for the majority of the season, but this year's team is significantly different from teams past.
"We probably overachieved this season," said Lucia. "We're a good team with a very good goalie."
While the Gophers have five players with a dozen or more goals and the No. 8 offense in the nation (3.41 goals per game), Minnesota is a team that has scored by committee all season — and players have scored in streaks.
Top scorer Kyle Rau, a junior forward, has netted five of his 12 goals in the last seven games. Rau's classmate, forward Sam Warning, began the season on a hot streak, scoring five of his 12 goals in his first four games before hitting a 15-game drought … only to score five goals in three contests before another seven-game skid.
The team's top goal scorer, Seth Ambroz, has 13 goals but hasn't scored in his last eight contests.
In three of their last four games, the Gophers netted two goals or fewer, including their one-goal performance in a semifinal loss to Ohio State in last week's Big Ten tournament.
"We have to work harder to get at hard areas of the rink," said Lucia. "We hit posts … which reinforces how important it is to get pucks in front of the net. It's not just a matter of shooting at the net; we have to shoot more and we have to funnel the puck to the right spots.
"At this time of year, you have to be more opportunistic. You just have to play using all of your resources."
One resource upon which Minnesota has relied all season is sophomore goaltender Adam Wilcox, who is third nationally in GAA (1.91) and second for save percentage (.933).
Lucia said that the combination of Wilcox and the overall Minnesota team defense (2.03 goals allowed per game, third nationally) provides the Gophers with one of their best assets and something solid they can take with them from the Big Ten tourney.
"I was happy with the fact that we only gave up one five-on-five goal," said Lucia. "When we've given up two or less most of the time we've won."
But, he added, "Not only do you have to defend this time of year, but you have to find ways to score."
The Gophers will not underestimate Robert Morris in regional play, said Lucia.
"There's no easy game in the NCAA tournament," he said. "The depth of college hockey from the last 10 years until now is night and day. Anybody can beat anybody, literally."
If Minnesota plays an inconsistent game, it may be because of the youth of this team. The Gophers have eight freshmen who have played regularly this season.
"We're young and it will be interesting to see how the young guys play this weekend," said Lucia. "If we're going to make it to Philadelphia, we need our veterans to play."
— Paula C. Weston
Notre Dame Fighting Irish
Coach: Jeff Jackson, ninth season at Notre Dame, 15th season overall
Record: 23-14-2 (9-9-2 Hockey East, eighth)
How they got in: At-large bid
Regional seed: Second
Last NCAA tournament appearance: 2013
Best NCAA finish: Runner-up, 2008
Why they'll get to the Frozen Four: Notre Dame has offensive depth, senior leadership and excellent goaltending. That's a great postseason combination. Additionally, they're experienced at playing in tough postseason games.
Why they won't get to the Frozen Four: The Irish once again face St. Cloud State in the opener after falling 5-1 a year ago. That will be in the back of every player's mind. At the same time, you have to believe that dictating the pace and possessing the puck are two critical keys for Notre Dame and an inability to do so simply won't work.
The Notre Dame Fighting Irish need to rebound from an emotionally flat effort in the Hockey East semifinals, coach Jeff Jackson said.
It could be that the Irish put forth such an incredible effort to beat top-seeded Boston College in the best-of-three Hockey East quarterfinals that they didn't have enough left in the emotional tank to win again. That, however, is hardly an excuse but more of a concern to the veteran bench boss.
"I can't tell you why because you're playing for a championship," Jackson said, referring to his team's lack of emotional sharpness, as he put it. "It just didn't seem we had the same sharpness with the puck. When we had chances, we didn't capitalize."
Now his Irish will face a team in the second game of the NCAA West Regional in St. Paul that ended their season in the same round last year. That game, Jackson said, mirrored what happened to his team against Massachusetts-Lowell last Friday.
"The game Friday night reminded me a little bit of our game last year with St. Cloud," said Jackson. "Our guys have to be ready to play our game. You have to have some specific strategies against the teams you play and how they perform in certain situations."
Jackson said St. Cloud possesses the same dangers as a year ago. The Huskies force mistakes and capitalize, translating to the Irish needing to find ways to lower the overall number of mistakes.
"They're an opportunistic team and they transition very well. They are good on the power play and they have offensive depth," said Jackson. "We've got to find a way to generate offense. Last year, they bottled us up offensively as well. We've got the guys who can do it; they just have to get it done."
A major focus of the team will be its senior class. That class' success includes a trip to the Frozen Four as freshmen and a CCHA tournament title as juniors.
The seniors, in fact, are what Jackson considers the catalyst to his team's turnaround in Hockey East after disappointing early-season results.
"I don't think that we would've gotten to the Boston Garden, I don't think we would've made it to the NCAA tournament if it wasn't for our senior class," said Jackson. "They played their best hockey over the last two months to get us out of a big hole. This is their last kick at the can so I assume they'll be ready to lay it all on the line."
— Jim Connelly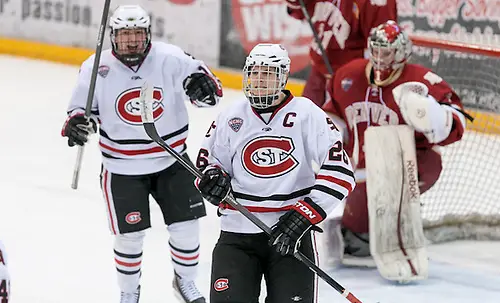 St. Cloud State Huskies
Coach: Bob Motzko, ninth season
Record: 21-10-5 (15-8-3 NCHC, first)
How they got in: At-large bid
Regional Seed: Third
Last NCAA tournament appearance: 2013
Best NCAA finish: National semifinals, 2013
Why they'll get to the Frozen Four: St. Cloud State has balanced scoring from a variety of players, including captain Nic Dowd and sophomore Jonny Brodzinski. The Huskies also displayed excellent team defense during the first half, and the combination could help them win their region.
Why they won't get to the Frozen Four: St. Cloud's defense seemed to go on walkabout at several times during the second half. If they can't get back to their smothering first-half defense, the Huskies could be in for an early exit.
The first round of the NCAA tournament brings St. Cloud State to St. Paul, Minn., two weeks after the Huskies failed to advance to the NCHC Frozen Faceoff in Minneapolis by being upset by Miami in the first round of the tournament.
However, for coach Bob Motzko and his players, that early exit may prove to be a blessing.
"We were disappointed, we wanted to be there," Motzko said. "But in the same breath, the fact that our season wasn't over, we practiced this week, and it's not that I want to say that you get over it because you're disappointed, but we know we have a great chance to be playing in two weeks.
"Our concentration was to get healthy, fine-tune a few things and recharge our battery. We use the term reboot; we needed a reboot. Just having the time off that we did and the mental time, we were able to reboot. You could see it. By midweek, we were getting sharp again and refreshed, and that's what we are hoping for.
"Some teams have proven in the past that that's a good formula, the teams that have had a little rest to get ready to play, and we hope that plays out in our favor."
Last year, St. Cloud advanced to its first Frozen Four. However, a poor start against Quinnipiac proved too much to overcome for the Huskies.
While St. Cloud felt it learned from that loss and got off to a good start in the 2013-14 season, the second half proved problematic.
After starting the season 11-2-3 in the first half, the Huskies went only 9-6-2 in the second half.
Despite those stumbles, St. Cloud State won the Penrose Cup as NCHC regular season champion on the last weekend of the year when it swept Colorado College.
St. Cloud's first-round opponent is Notre Dame, and the Huskies are hoping that they can get back to playing their best hockey at this critical time of the year.
"The one thing this tournament teaches you is that every year is different," said Motzko. "You think you want to be in a certain region and you think this region may be a better draw for you, and none of that is true. You just get there and want to be playing the best hockey at that time.
"You want to have a great weekend of hockey. It really doesn't matter who you play or where you go; that's proved out over the last handful of years. Our draw, obviously tremendous respect for Jeff Jackson and Notre Dame. They have a lot of veterans on their team. They're a battle-tested team. They were playing outstanding hockey down the stretch. We just hope we have all those ingredients too, and you just get after it when the tournament starts."
— Candace Horgan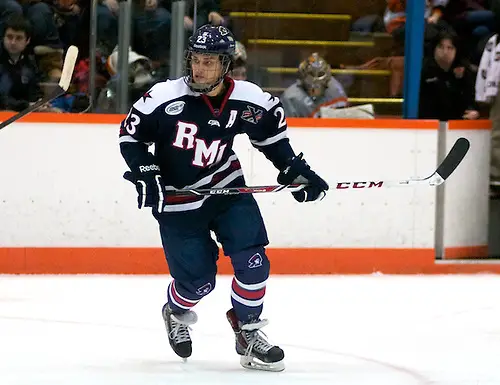 Robert Morris Colonials
Coach: Derek Schooley, 10th season
Record: 19-17-5 (13-9-5 Atlantic Hockey, fifth)
How they got in: Automatic qualifier, Atlantic Hockey playoff champion
Regional seed: Fourth
Last NCAA tournament appearance: Never
Best NCAA finish: First appearance
Why they'll get to the Frozen Four: The Colonials' offense is firing on every cylinder, and their ability to compete takes the region by surprise.
Why they won't get to the Frozen Four: They're playing top overall seed Minnesota in the Gophers' backyard, and this is a game with the potential to be over before it ever begins.
Robert Morris enters the 2014 NCAA tournament as one of only two teams in the field that has never advanced to the Frozen Four.
But where Minnesota State advanced to the Division I tournament twice before this year, the decade-old Colonials program is in its first trip.
It's a much different perspective than all the different programs. In just 10 short years, the Colonials went from upstart program to also-ran in College Hockey America.
After falling short in the single-elimination CHA playoffs, they came to 11-year-old Atlantic Hockey four years ago and were one of only two programs entering this year to never make the conference final four. To say they had a breakthrough this year is an understatement.
But it's how Robert Morris did it that's most impressive. Back at Christmas break, the team was 2-12-2, in last place of Atlantic Hockey and floundering.
"We were the best last-place team in the nation," coach Derek Schooley said of the first half of the year. "We kept losing one- or two-goal games, and it's a real credit to our guys that we never gave up."
It's a storybook ending for the program as it stands right now. Over the past decade, there have been substantial disappointments; they can easily point to their 2007 and 2009 CHA championship losses in overtime.
"I got a text from a former player who said he thought about those losses every day," Schooley said. "[Winning a championship] is for all of them."
In that regard, the championship is built on the backs of guys who fought to legitimize the second-youngest Division I hockey program in the NCAA today.
They've built a legacy on players like Adam Brace and Trevor Lewis, Nathan Longpre and Denny Urban, Brooks Ostergard and Christian Boucher.
They've built on the spirit of players like Chris Kushneriuk, who overcame cancer and is pursuing his professional career in the minor leagues. And now they've earned the right to be called champions.
But the Colonials aren't here to smile and be a token team. They've averaged more than four goals per game in the second half of the season, and they've won games on sheer grit.
They knocked off Connecticut to avenge last year's playoff defeat. They beat former CHA rival Niagara in double overtime, outlasting the Purple Eagles for just the second Robert Morris postseason win over the program.
And they answered each Canisius goal in a wild third period in the championship game to upend the defending league champions. Junior Cody Wydo reached 30 goals on the season with a hat trick in the title game.
Now they head west to St. Paul to take on Minnesota in the Gophers' backyard, an environment due to be hostile — just the way they'll want it.
"We're going to playing against the whole state," Schooley said in his AHA championship news conference. "It's the state of hockey."
But if Minnesota is the "state of hockey," then the Colonials enter the tournament with a resolve as hard as the Steel City they represent.
And they'll prepare to do what has been done in Pittsburgh for the last 10 years: battle against the odds, rise up and prove to the world that they can "do it" when others say they can't. It's that chip on the Robert Morris shoulder paving a road to St. Paul with the intentions of doing what only the 2010 Rochester Institute of Technology Tigers did before them: advance to the Frozen Four as an Atlantic Hockey team.
— Dan Rubin