The questions of which regional is the toughest or will be the hardest to get through always involve a little bit of subjectivity.
This season's Northeast Regional, however, not only has three conference postseason champions and another regular season champ, it has an objective measure in its favor: the highest number of combined wins of any regional.
Boston College, Massachusetts-Lowell, Minnesota State and Denver bring a total of 97 wins to Worcester, Mass., two more than the teams of the Midwest Regional, four more than the East and nine more than the West.
And there's this bit of trivia involving the regional's top seed, Boston College: Every time the Eagles have won the national championship during the regional era (since 1992), they have made it to the Frozen Four via Worcester (2001, 2008, 2010, 2012).
Only in 2005 was Boston College denied a Frozen Four trip when playing in Worcester; the Eagles lost to North Dakota in the regional final.
Here's a look at the teams in the 2014 NCAA tournament Northeast Regional:
Boston College Eagles
Coach: Jerry York, 20th season at Boston College, 42nd season overall
Record: 26-7-4 (16-2-2 Hockey East, first)
How they got in: At-large bid
Regional seed: First
Last NCAA tournament appearance: 2013
Best NCAA finish: Champion, 1949, 2001, 2008, 2010 and 2012
Why they'll get to the Frozen Four: BC has the nation's most potent offensive with a top line that has combined for 68 goals this season. Additionally, the Eagles have a solid goaltender in Thatcher Demko and a defensive corps that is pretty solid top to bottom. Add in the tournament experience and a coach who wins in the postseason and you have the perfect formula for victory.
Why they won't get to the Frozen Four: Notre Dame figured out the formula to beat BC, winning three times down the stretch, including twice in the Hockey East quarterfinals. If any team can duplicate that blueprint that slows down the BC offense while creating solid chances, BC can be beaten.
There is little to no doubt in anyone's mind that Boston College is one of the most dangerous teams, if not the most dangerous team, in the tournament. With the most potent line in college hockey — Johnny Gaudreau, Bill Arnold and Kevin Hayes — you would think that the 19 straight games BC went without a loss from Thanksgiving weekend until the final day of the regular season would've carried it through the NCAA tournament.
But Notre Dame got in BC's way and, in many ways, had their way, at least in the series opener. An ugly 7-2 loss caught a lot of attention around the college hockey world.
BC responded the next day with a win but lost Game 3 in a game that BC coach Jerry York said his team "played very, very well in a lot of areas."
But a 4-2 loss that Game 3 showed that BC was mortal, something many doubted for much of the second half of the season.
"Looking at the film [from Game 3], scoring chances were plentiful and we didn't give Notre Dame much," said York. "But what we gave them was incredible chances. So puck management has to be incredible through 60 minutes. In these [NCAA] games it's hard to score a lot of goals."
BC will open against a Denver team that finished sixth in the NCHC but then ran the table in what many consider a deep conference tournament. That alone gives York pause, but looking at the team a little deeper, he understand there are a lot of weapons — particularly on the blue line — on this Pioneers club.
"Clearly, [Denver's] defense is very, very skilled with high-end defensemen," said York. "The number of goals [by defensemen] is remarkable. The defensemen have scored 36 of their 110 goals. Just think about that for a sec. They're very skilled and move pucks well. We haven't played a team that has been that strong from an offensive standpoint from defenseman."
For the Eagles, the situation is a bit strange in terms of how much practice they've had in recent weeks. In addition to being absent from the Hockey East tournament last weekend, they had a week off before the quarterfinals during the newly created first round.
York said that has fostered a bit of a training camp atmosphere in his locker room and practices that you would see in the preseason. Instead, this team has had the chance to show its mettle before a second season that everyone on the team knows is winnable.
"This all reminds me of a training camp and you can work on some things you couldn't in the regular season," said York. "We're trying to utilize the practices to find out where can we polish and where can we fine-tune our game, have more reps in those areas.
"We've had to manage our time very well, but also stress a training camp type of atmosphere."
— Jim Connelly
Massachusetts-Lowell River Hawks
Coach: Norm Bazin, third season at Massachusetts-Lowell, sixth season overall
Record: 25-10-4 (11-6-3 Hockey East, second)
How they got in: Automatic qualifier, Hockey East champion
Regional seed:
Second
Last NCAA tournament appearance: 2013
Best NCAA finish: National semifinal, 2013
Why they'll get to the Frozen Four: This is about as complete a team in the field. Lowell has offensive depth, a defense that makes getting quality shots near impossible and a goaltender built for the postseason (and coming off back-to-back shutouts).
Why they won't get to the Frozen Four: Lowell is playing in probably the most difficult region with the Hockey East regular season champ and the WCHA and NCHC postseason champs. Additionally, if Lowell gets past Minnesota State, Boston College — a team that beat and tied Lowell this season — could be waiting in the wings.
A year ago, the Massachusetts-Lowell River Hawks accomplished a number of firsts. First regular season Hockey East title. First Hockey East postseason championship. First back-to-back NCAA appearances. And, of course, a first berth in the Frozen Four.
The only first that wasn't accomplished for the River Hawks was a first national championship. When you look at the story line of Lowell's senior class, maybe a national title would have been too much.
As freshmen, you wouldn't have blamed this class for having some pretty low expectations for their college careers. The team won just five games and finished dead last.
From there, the turnaround is well documented. A coaching change, the biggest single-season turnaround for a first-year coach and an NCAA bid followed. Lowell got within a game of the Frozen Four, only to be denied.
Last year, then, became the next major step. And after the River Hawks cruised to back-to-back Hockey East titles, not even surrendering a goal at the championship tournament last weekend at TD Garden, you have to believe that this program is prepared for yet another big step as it awaits Saturday's regional opener against WCHA playoff champ Minnesota State.
If a win over Minnesota State opened what would be a run to an NCAA title, that might be appropriate given two wins over the Mavericks opened the Norm Bazin era at Lowell three Octobers ago.
But that's way too far down the road for Bazin and his River Hawks to even discuss. First things first is getting past the Mavericks.
The opponent, despite playing the River Hawks three seasons ago, isn't overly familiar. And not being smug in the least, that familiarity doesn't matter, Bazin said.
"We just want to play," Bazin said. "We want to play the best possible opponents and they've had a tremendous season.
"I know [coach] Mike Hastings. His team will be prepared. They're going to have a really good team and we're expecting the best."
His captain, Josh Holmstrom, a critical member of that senior class, echoed his coach.
"I think at this point we're worried more about ourselves," said Holmstrom. "I try to focus on what we can do and worry about our game plan more than who we're playing."
There is a good reason for that. Lowell's system has proven its toughness in the postseason. The River Hawks are 12-5 in the postseason in the Bazin era, including 10-2 in the past two years. A major part of that formula is a puck-possession, defense-to-offense approach and a goaltender in Connor Hellebuyck who has a lifetime 1.14 GAA in 12 postseason games.
Goaltending alone could possibly take this River Hawks team far. But a complete approach and execution is what could make this Lowell senior class complete its epic saga as national champions.
— Jim Connelly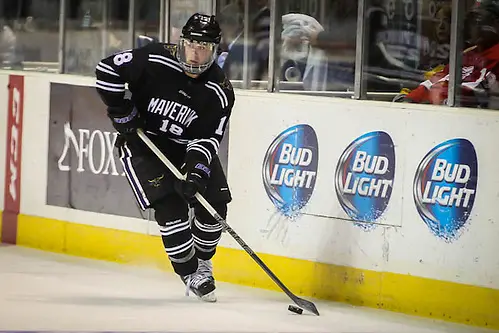 Minnesota State Mavericks
Coach: Mike Hastings, second season
Record: 26-13-1 (20-7-1 WCHA, second)
How they got in: Automatic qualifier, WCHA playoff champion
Regional seed: Third
Last NCAA tournament appearance: 2013
Best NCAA finish: First round, 2003 and 2013
Why they'll get to the Frozen Four: The Mavericks are rolling, unbeaten in their last 13 games. They have outscored opponents 50-16 over that time, showing off a scoring punch and a stingy defense backstopped by freshman goalie Cole Huggins.
Why they won't get to the Frozen Four: The Mavericks are the third-most-penalized team in the country. Although their penalty kill is ranked fourth in the nation, they'll be playing with fire if they get caught taking too many trips to the box in this tough region.
Coach Mike Hastings has turned things around pretty quickly at Minnesota State.
In his second season with the Mavericks, he has the team in the national tournament for the second time in a row. In the program's previous 16 seasons as a Division I member, Minnesota State had reached the NCAAs just once.
As much as the Mavericks have tried to separate this season from last, there are too many returning players who remember the bitter taste of losing their final two games of the season a year ago.
Those two games — a 7-2 loss to Wisconsin at the WCHA Final Five and a 4-0 loss to Miami in the first game of Midwest Regional — were abrupt endings after reaching both events for the first time in a decade.
"There were a lot of nerves last year," said senior captain Johnny McInnis, the team's leading goal scorer. "I don't know if we went into it with the gas pedal down all the way. I think we waited for them to come to us because we hadn't been there before."
Minnesota State rectified the first of those thumpings last weekend when it won its first Broadmoor Trophy, defeating Bowling Green 4-0 and Ferris State 4-1 in Grand Rapids, Mich.
Now the Mavericks hope for a better showing on the national stage.
"I think you have to [draw on last season]," Hastings said. "For our game [against Bowling Green] we drew on our experience a year ago against Wisconsin. We wanted to get a better start, and we did."
The Mavericks were reeling a bit going into last year's Midwest Regional in Toledo, Ohio, as they tried to figure out what happened in the WCHA tournament. This year, they remain one of the two hottest teams in the country (Union is also 12-0-1 in its last 13 games).
Other than dealing with injuries to two defensemen, Hastings hasn't had to change up too much over the last two months.
"I think it's important at this time of year that you don't want to hit the reset button if you don't have to," Hastings said. "That was the case last year. Wisconsin beat us up pretty good in that game. … We had a real good weekend [at the Final Five]. We've had to face some adversity, but we've stayed with the same mentality."
Sixteen players from this year's roster played in last year's regional. Thirteen of those players likely will be in the lineup on Saturday against Massachusetts-Lowell. One difference will be in goal, where freshman Cole Huggins has shined. He allowed one goal in two games at the Final Five and was that tournament's most outstanding player.
The mentality in Mankato, Minn., has been transformed in two years. No longer is Minnesota State content to have a rare surprise season or a just-happy-to-be-here attitude on big stages.
"I can't say how thankful I am to [Hastings] for coming on board and turning this around," McInnis said. "It's been a blessing. He's been a blessing to our community, and we're starting to get results we've wanted since we were little kids."
— Shane Frederick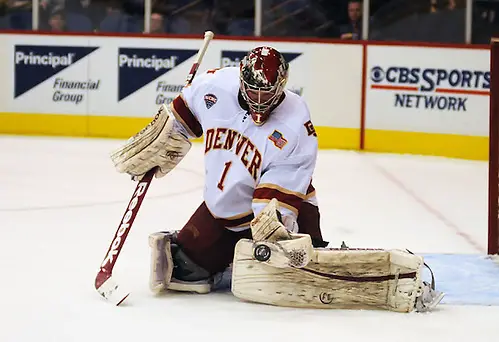 Denver Pioneers
Coach: Jim Montgomery, first season
Record: 20-15-6 (14-12-3 NCHC, sixth)
How they got in: Automatic bid, NCHC playoff champions
Regional seed: Fourth
Last NCAA tournament appearance: 2013
Best NCAA finish: Champion, 1958, 1960, 1961, 1968, 1969, 2004 and 2005
Why they'll get to the Frozen Four: Sam Brittain is one of the best goaltenders in college hockey this season and has the ability to completely shut down other teams during a weekend.
Why they won't get to the Frozen Four: Until last weekend, Denver hadn't swept a weekend since November. Additionally, the Pioneers have struggled to score at times this year, and even Sam Brittain might not be able to help if Denver can find the net only once or twice.
Two weeks ago, Denver looked like it might not make the NCAA tournament for the first time since 2007.
However, the Pioneers went on an improbable run, beating Nebraska-Omaha in three games in the first round of the NCHC tournament and then beating Western Michigan and Miami by identical 4-3 scores in the Frozen Faceoff in Minneapolis to claim the inaugural NCHC playoff championship.
For a team that had trouble scoring at times during the year, Denver picked a good weekend to play well offensively.
"Five-on-five, I thought that we were the superior team tonight," Denver coach Jim Montgomery said after the win over Miami in the championship game. "I thought that our puck possession time and our transition from defense to offense was superb tonight."
After the NCAA selection show finished, Denver briefly enjoyed its success from the weekend.
"Haven't put too much thought into it so far," Montgomery said of Denver going to Worcester, Mass. "We're enjoying the championship from yesterday. Obviously, we have our work cut out for ourselves going up against a great Boston College team that's had a phenomenal season."
While Denver didn't play Boston College this year, and as such hadn't scouted the Eagles before this week, the Pioneers may have an advantage that other teams wouldn't. Montgomery is familiar with some of BC's players thanks to coaching at Dubuque of the USHL.
"I have seen York teams play before," said Montgomery. "I've coached four of the players on the team back in Dubuque, some of their best players. I know John Gaudreau, Mike Mattheson, Teddy Doherty and their games very well, and obviously John Gaudreau will be the focal point for us."
One thing that Denver should be happy about is goaltender Sam Brittain, who is up for the first Mike Richter Award. Brittain has been solid all year in net for Denver.
However, last weekend wasn't his best, by his own admission. Brittain gave up two goals on strange bounces off the end boards, including one that went off his own skate.
"I think that the bounces took Sam out of his game," said Montgomery. "A big part of Sam's game is being able to help us break out of our own end because he's so good at playing the puck, and I think that made him a little tentative and affected his aggressiveness in the crease."
Over the course of the year, Brittain often has bounced back from subpar outings with strong play.
"I thought we did play good defensively," said Denver senior captain David Makowski. "Both games, we had unfortunate bounces; one was off the glass and one was off the boards. There's going to be bad bounces in any game, and I thought those were two goals that don't usually happen.
"I thought the way we played defensively last weekend and the last couple weeks allowed us to have the success we've had so far, so hopefully we can continue that momentum this weekend."
He and the defense will need to be sharp to stop BC's top-ranked offense, which has three players in the top 10 in points nationally in Gaudreau, Kevin Hayes and Bill Arnold.
"I think we need to be aware when they are on the ice," Makowski said of BC's top-scoring forwards. "Obviously, that line is very, very skilled, so we need to keep an eye on them. We know that they have four lines that are very capable of scoring, so they will be a good challenge for us and we are looking forward to it."
— Candace Horgan