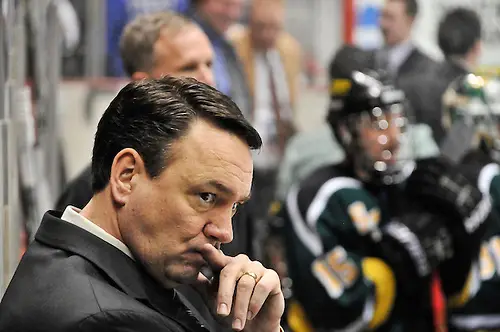 Winning a national championship along with a dominant regular season has earned St. Norbert's Tim Coghlin the USCHO.com Division III men's Coach of the Year for the third time.
Coghlin also won the honor in 2011 and 2012.
The award was voted on by the USCHO.com D-III men's columnists and editor.
Coghlin led the Green Knights to a 28-3-1 overall record and a 16-2-0 mark in the NCHA, finishing first in the conference with a playoff title to boot and the team's third national title in four years.
St. Norbert only allowed 46 goals all year (1.44 per game average), while it registered 153 goals (4.78 per game average) – both were NCAA-bests.
Junior goaltender David Jacobson was named the national D-III player of the year, while freshman defenseman Blake Thompson was selected the USCHO.com rookie of the year on Wednesday.
Jacobson posted a 24-1-1 record with a 1.26 GAA and a .936 save percentage this past season.
Coghlin, who just completed his 21st season behind the Green Knights' bench, has an overall record of 462-122-47 at St. Norbert. The 28 wins this season were a program-best since Coghlin has been at the helm.
Ironically enough, the team St. Norbert defeated for the NCAA championship was Wisconsin-Stevens Point – Coghlin's alma mater.
The USCHO.com Player of the Year will be unveiled on Friday.