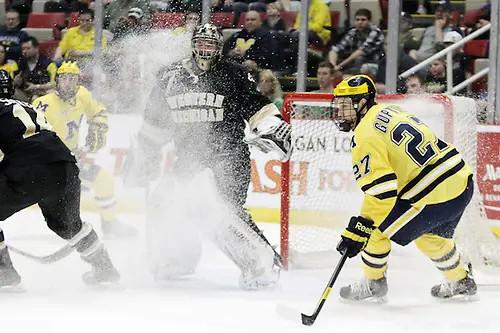 Michigan junior forward Alex Guptill has become the second Wolverines' underclassmen to leave early this offseason as he signed a two-year, entry-level contract with the Dallas Stars on Thursday.
Originally taken in the third round (77th overall) by Dallas in the 2010 NHL draft, Guptill finishes his Michigan career with 44 goals and 94 points in 110 games.
"I want to thank everyone at the University of Michigan for three incredible years," Guptill said in a statement. "Playing for Red Berenson and the University of Michigan has been more special than I could have ever imagined. Thank you to the fans and especially, the Children of Yost for making Yost Ice Arena such an amazing place to play. Thank you to my friends, family and especially, my teammates for all the support during my career thus far. Without the support I have received at this great university, I would certainly not be where I am today. I am excited to start a new chapter in professional hockey as I continue to pursue my degree."
Guptill, an All-Big Ten honorable mention selection in 2013-14, finished third on the team with 25 points (13 goals, 12 assists) in 31 games. Guptill led the team in scoring in each of his first two seasons at Michigan. In his freshman year, Guptill recorded 33 points (16 goals, 17 assists) in 41 games and was named CCHA rookie of the year. Last season, he tallied 16 goals and 36 points.
"Red Berenson and the rest of Michigan's coaching staff deserve a lot of credit for preparing Alex for the next level of hockey," said Dallas GM Jim Nill in a statement. "He's developed into a consistent scorer with a quick, hard shot and will continue to develop those skills in the years ahead."
Forward Phil Di Giuseppe signed with the Carolina Hurricanes on Wednesday, forgoing his senior season.