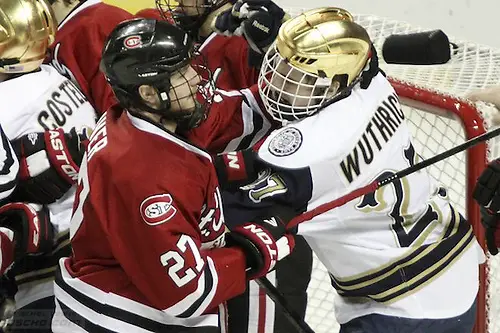 In the coming days, 12 games will decide which four teams get to Philadelphia for the 2014 Frozen Four.
Our conference columnists share thoughts and predictions on how the teams they cover will do in the NCAA regionals. (All times Eastern)
East Regional — Bridgeport, Conn.
Click here for our regional preview
Union vs. Vermont, 2 p.m. Friday, ESPNU
Jim Connelly, Hockey East Columnist: Vermont will be a tough out, but I think Union is just too hot right now. Union 3-2
Nate Owen, ECAC Hockey Columnist: The Catamounts might have the defense and top line to matchup with the Dutchmen, but Union's depth should give it the edge. Union 3-1
Quinnipiac vs. Providence, 5:30 p.m. Friday, ESPNU
Jim Connelly: The Friars need a big bounce-back game from the Hockey East semis, but Quinnipiac is the wrong opponent for that. Quinnipiac 3-1
Brian Sullivan, ECAC Hockey Columnist: I expect Quinnipiac's depth, quick-strike ability, and — last but not least — NCAA tournament experience to carry the day against the Friars … so long as Jon Gillies doesn't steal the day. Quinnipiac 4-2
East Regional final, 3 p.m. Saturday, ESPN2
Nate Owen: Quinnipiac rolled over Union 5-1 in the East regional final last year, but the Dutchmen have been on a roll and should return the favor. Union 4, Quinnipiac 3
Brian Sullivan: Last week, I predicted a Union-Quinnipiac ECAC finale, with Union winning by the slightest edge due to superior special teams play. I'll replay that hand. Union 3, Quinnipiac 2
Midwest Regional — Cincinnati
Click here for our regional preview
Ferris State vs. Colgate, 4:30 p.m. Friday, ESPN3
Nate Owen: The familiarity factor should be a wash for both teams, but the Raiders' style of play seems to match up well against the Bulldogs. Colgate 3-1
Matt Wellens, WCHA Columnist: Besides WCHA-rival Minnesota State, there may be no worse matchup in the field for the Bulldogs than the Raiders, who have just as much depth and as potent of a power play as the Mavericks, according to Ferris State coach Bob Daniels. Colgate 4-2
Wisconsin vs. North Dakota, 8 p.m. Friday, ESPNU
Matthew Semisch, NCHC Columnist: I have a feeling this could come back to bite me, but I have a hunch UND's NCHC playoff semifinal loss that nearly knocked them out of contention for a NCAA tournament spot might've been the kick up the backside coach Dave Hakstol's team needed. North Dakota 3-2
Paula C. Weston, Big Ten Columnist: While North Dakota beat Western Michigan decisively in the NCHC Frozen Faceoff, UND is 5-4 in its last nine games. The Badgers are 8-2 in their last 10, and I think Wisconsin is peaking at the right time. Wisconsin 3-2
Midwest Regional final, 6:30 p.m. Saturday, ESPNU
Nate Owen: I think Colgate's run ends against the Badgers, but the Raiders will be back in the tournament soon. Wisconsin 4, Colgate 2
Matthew Semisch: Not exactly chalk picks from me for this regional, but if we end up with North Dakota and Colgate with a chance to go to Philadelphia, I'd take UND to erase some tough memories of its regional final loss last year against Yale. North Dakota 3, Colgate 1
Matt Wellens: Wisconsin's Mike Eaves has always impressed me with his ability to get the Badgers playing their best in the postseason, and this year appears to be no different. Wisconsin 3, Colgate 2
Paula C. Weston: Yes, I think the Bulldogs will get past Colgate … but I don't think they'll play their way to Philadelphia. Ferris State was shaking off illness at the WCHA Final Five, but goaltender CJ Motte was just shaky; he looked rattled in spaces in both games. Wisconsin 2, Ferris State 1
Click here for our regional preview
Boston College vs. Denver, 4 p.m. Saturday, ESPNU
Jim Connelly: The Eagles struggled down the stretch but Denver's run-and-gun game is perfect for BC to exploit. Boston College 4-2
Candace Horgan: Denver goalie Sam Brittain will keep this game close, but BC has too many offensive weapons. Boston College 4-2
Massachusetts-Lowell vs. Minnesota State, 7:30 p.m. Saturday, ESPN3
Jim Connelly: Even suggesting Connor Hellebuyck will surrender a goal is sacrilege at this point, but I see Lowell winning regardless. Massachusetts-Lowell 3-1
Shane Frederick, WCHA Columnist: There are two hot goalies in this game (Lowell's Connor Hellebuyck and Minnesota State's Cole Huggins), but someone has to score. The Mavericks have more depth up front. Minnesota State 2-1
Northeast Regional final, 5 p.m. Sunday, ESPNU
Jim Connelly: This will be the ultimate of regional finals with the River Hawks barely prevailing. Massachusetts-Lowell 2, Boston College 1
Shane Frederick: BC seems to get it done in Worcester. The Mavericks won't go down easily, but Johnny Gaudreau will be the difference. Boston College 3, Minnesota State 2
West Regional — St. Paul, Minn.
Click here for our regional preview
Minnesota vs. Robert Morris, 5:30 p.m. Saturday, ESPN2
Drew Claussen, Big Ten Columnist: Minnesota is a top seed and is playing a team with no NCAA tournament experience, so I'm going to get the obligatory Holy Cross reference out of the way early. I say strong fan support and no travel works in the Gophers' favor this year. Minnesota 4-1
Dan Rubin, Atlantic Hockey Columnist: Robert Morris is going to hang tough in the first period, but eventually it'll be too much Gophers power. The Colonials still leave St. Paul with the respect of the State of Hockey. Minnesota 4-2
Notre Dame vs. St. Cloud State, 9 p.m. Saturday, ESPNU
Jim Connelly: The Irish avenge last year's regional loss against St. Cloud with a solid offensive and defensive performance. Notre Dame 4-2
Candace Horgan: If St. Cloud is as recharged as coach Bob Motzko says it is, I like the Huskies. St. Cloud State 4-2
West Regional final, 7:30 p.m. Sunday, ESPNU
Drew Claussen: Minnesota and Notre Dame split a series earlier this season at Compton Family Ice Arena and both are coming off of disappointing finishes in their respective conference tournaments. I want to pick Minnesota to repeat 2012 and advance to the Frozen Four through St. Paul, but I can't shake the inkling that the Irish will win. Notre Dame 3, Minnesota 2
Jim Connelly: I feel like the Irish are ready for a return to the Frozen Four and even No. 1 Minnesota can't stand in the way. Notre Dame 3, Minnesota 2
Candace Horgan: Minnesota beat St. Cloud State convincingly back in January, and while it should be closer, I think the Gophers will prevail again. Minnesota 4, St. Cloud State 2