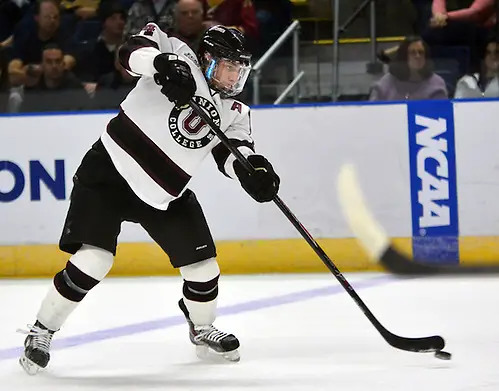 Providence coach Nate Leaman was forced to reevaluate Union defenseman Shayne Gostisbehere following the Friars' 3-1 loss to the Dutchmen in the East Regional final last Saturday.
With Union up 1-0 late in the first period, goalie Colin Stevens stumbled on the right post as a swarm of Providence skaters tried to shove the puck in the exposed net. They were denied thanks to a heads-up play by Gostisbehere, who swatted the puck away from the crease multiple times.
2014 Frozen Four
Follow all of USCHO's coverage at Frozen Four Central.
"Last night, I said he was their best forward," Leaman said. "Tonight, he might be their best goalie. He's a big-time player. I think people are going to be talking about that kid for a long time."
Gostisbehere and senior captain Mat Bodie highlight a group of defenders that get plenty of attention for their ability to jump-start Union's transition game.
But with wins over Vermont and Providence in Bridgeport, Conn., the Dutchmen showed they can match up with physical teams, an aspect of their play that might be undervalued.
"I thought we did just fine," Bodie said Saturday. "They were trying to get us and they got us a few times. But for the most part, I thought we did a good job going back hard for pucks and getting them out of the zone."
Bodie and Gostisbehere are listed as two of the smallest players on a Union team that doesn't have a excess of big-bodied skaters, but that hasn't been a problem this season.
"We know that teams are going to try to hit us but we use our speed and smarts to get us through, and it worked out in this regional," Gostisbehere said.
That speed often tempers other teams' willingness to be physical, as a missed check can suddenly lead to a chance for Union going the other way.
"If you go after them too hard, you can really get exposed and then get odd-man rushes up the ice," Leaman said.
Still, Union can play hard along the boards if needed, as Bodie laid a solid, clean hip check on Providence leading scorer Ross Mauermann, who has 20 pounds on the Dutchmen captain.
"I think that kind of describes who our team is — nobody's out for themselves, they're out for the team," forward Kevin Sullivan said of Bodie's hit. "It got guys on their feet a little bit and got us some momentum as a team."
As a forward, Sullivan can also appreciate the value that Union's defenders bring to the offense.
"Pretty much we have four forwards on the ice at all times, except they're probably our best forwards," Sullivan said. "With Shayne going up the ice, or Mat Bodie, you feel comfortable with the puck on their sticks at all time and it just makes the rush that much easier."
But just as the defensemen help get the offense going, the forwards return the favor when the Dutchmen are in their zone.
"It's a collective group back there, obviously Colin helps out tremendously and whoever is down low at that time, whatever forward that may be, is also held accountable, too," Union coach Rick Bennett said. "You're working as a unit of three down there plus your goalie."
While Gostisbehere and Bodie get most of the attention, the Dutchmen have a diverse group.
"Every D corps has something special," Bennett said. "I think we have a little bit of offense, but then you have guys like Charlie Vasaturo back there and Noah Henry, who [are more defensive-minded] but can also chip in."
Bennett added that freshman Jeff Taylor has benefited from playing with Gostisbehere this season, while Leaman was impressed with sophomore Sebastien Gingras, who skates with Bodie on the top pairing.
"They have great mobility back there," Leaman said. "The first couple shifts of the game, they threw a couple of our forwards off and put them on their heels."
That diversity — and ability to backcheck following a possession change — is what makes Union so hard to play against.
"With our 'D' jumping up, they always get back," Sullivan said. "Our team always hunts back. No matter who it is, we always come back hard. With Mat or Shayne jumping up, I think it gives us a lot of different looks and it's hard for teams to cover people."