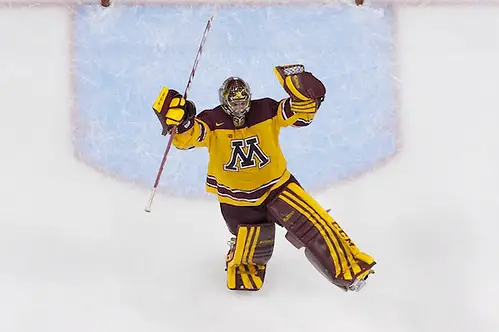 It's prediction time again! Welcome back to the USCHO Hobey Watch for our Hobey Hat Trick edition.
Where we last left our heroes, seven of the 10 Hobey Baker Award finalists were preparing for NCAA regional games, looking to secure a place in this month's Frozen Four in Philadelphia. Now, four of them have succeeded, which leads me to my first prediction of the day.
I predict that this year's Hobey Hat Trick will consist entirely of players participating in next weekend's Frozen Four.
With all due respect to Joel Rumpel, Nic Dowd and particularly CJ Motte, who turned in a valiant effort in the Bulldogs' heartbreaking regional final loss to North Dakota, I think that the players who remain alive in the tournament have the most impressive cases for those top three spots. Of course, one of those spots will go to the presumptive winner, Johnny Gaudreau, so we're really talking about two spots, and that leads me to my second prediction.
I predict that Adam Wilcox will be in the Hobey Hat Trick.
Accepting my initial premise that all three members of this year's Hat Trick will be Frozen Four participants — which would be a first in the 13-year "Hat Trick" era, by the way — we're left with three candidates from the East and one from the West.
It's not unheard of for three candidates from the same region to comprise the Hat Trick, and in fact, the 2009 Hat Trick consisted entirely of players from Hockey East, but I can't see the voters overlooking a top 10 goaltender from a team that earned the No. 1 overall seed in the tournament and advanced to the Frozen Four.
So, with Gaudreau already in, adding Wilcox leaves us with one spot left to award, and that will lead to the trickiest prediction I have to make this week. So, let's see what we have, shall we?
In Kevin Hayes, we have the nation's No. 2 scorer in terms of points per game, a senior who sits fifth in the country in goals with 27. He also turned in a seven-point weekend at the Northeast Regional in Worcester, Mass., scoring three goals and assisting on four more in the Eagles' wins over Denver and Massachusetts-Lowell.
His chemistry with Gaudreau and Bill Arnold is undeniable and has even sparked talk of the Calgary Flames finding a way to acquire his NHL rights from the Chicago Blackhawks in order to reunite him with Gaudreau and Arnold (both Calgary draftees). That, of course, is neither here nor there when it comes to the Hobey Hat Trick, but I still think it's interesting, and this is, after all, my blog.
Hayes has a lot of what Hobey voters traditionally like in terms of being a senior and a goal-scorer, but it's not necessarily a given that he'd be in the Hat Trick. Hayes and Gaudreau would be just the third pair of teammates to advance to the Hat Trick in the same year, so it can't be treated as a given.
Now, in Shayne Gostisbehere, we have a very different player. Gostisbehere wasn't on the score sheet in Bridgeport and has had just one point in the last two weeks, an assist in the Dutchmen's ECAC Hockey championship win over Colgate.
However, Gostisbehere turned in his own memorable performance in last weekend's regionals, stepping in to stop three shots while Union goalie Colin Stevens was out of position in a crucial first-period sequence against Providence.
Gostisbehere has garnered praise throughout the season for his all-around game, having built on his All-American nod as a sophomore, and it really isn't hard to see him as the third member of the Hobey Hat Trick, either.
So, which way do I go? Well, it's a tough call, and I really wouldn't be surprised either way (although I would be stunned if anyone other than these four players makes the top three). However, I think that in the end, Gostisbehere will benefit from being the lone member of his team in contention, and your 2014 Hobey Hat Trick will consist of Johnny Gaudreau, Adam Wilcox and Shayne Gostisbehere.
We'll know shortly whether I'm right or wrong. Either way, I'll see you next Friday for my final prediction (also known as the most predictable blog entry I will ever write).