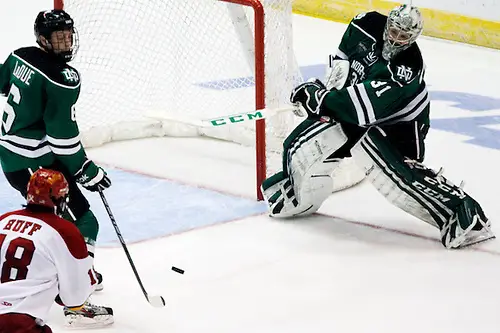 Tuesday Morning Quarterback addresses the big issues and big events in Division I men's college hockey.
Jim: This week in TMQ, let me welcome one of our Atlantic Hockey columnists, Dan Rubin, who is filling in for Todd this week as Todd helps prepare us for the Frozen Four.
With that in mind, Dan, the Frozen Four field is set with a lot of experienced teams. Boston College, North Dakota and Minnesota have all been to the national semifinals multiple times and the fourth team, Union, was there for the first time two seasons ago. Looking back at the regionals first, what was the biggest surprise to you?
Dan: I think any time you get a No. 4 seed into the Frozen Four, that's a surprise, but when you look at the last few years that's becoming more and more a trend. North Dakota also was borderline a three seed as the "highest-seeded fourth seed," so take it from where you will there.
For me, a bigger surprise was the way Boston College hustled through the Northeast Regional. The Eagles absolutely dismantled Denver in the first game, and while their game against Massachusetts-Lowell was a one-goal game, I didn't feel like they were ever really outplayed. Given the way the regular season ended for them, they look so much stronger heading into the Frozen Four.
I don't know about you, though, but the biggest surprise to me has to be Union's dominance in Bridgeport. They pretty much owned two Hockey East teams and right now have to be a favorite to hoist the trophy, even though they have to get through BC to get there. Anyone who was watching those games watched a team that has a major drive for some unfinished business.
Jim: I agree about Union. I hadn't seen the Dutchmen all season either in person or on TV. I was able to watch their 5-2 win over Vermont on Friday and have to say I was thoroughly impressed. Union is one of the better skating teams I have seen this year. They are very responsible defensively, transition to offense quickly and get the pucks to the right areas to score.
Additionally, they have a lot of players who can finish both at forward and on the blue line. I think they will present a significant challenge to Boston College a week from Thursday.
Speaking of BC, I think if there was any doubt that forward Johnny Gaudreau would win the Hobey, it was quickly erased this weekend when he factored in eight of BC's 10 goals in the Northeast Regional. Gaudreau now has 77 points in 39 games, a full 20 points ahead of any player not playing for the Eagles (linemate Kevin Hayes has 63 points).
It has been quite some time since I can remember a Hobey vote that I don't feel is even close heading into the voting deadline, which is Tuesday. How far back do you need to go to remember such a dominant player?
Dan: I think one of the only names that comes to mind is Paul Kariya when he had his 100-point season in 1992-93. He had 75 assists, but every time he was on the ice you thought Maine could score.
Every time you see Gaudreau get the puck, he makes that move or that pass that just opens things up. You know what's coming, and you can't stop it. I've never seen anyone with his skill set, and while the translation to the NHL is yet to be seen, it's OK. I'd rather sit back and enjoy the majesty every time he's on the ice. It's something really special.
Jim: I agree that Kariya comes to my mind as well, as does Kariya's line (including Jim Montgomery and Cal Ingraham) that almost single-handedly won the 1993 national title game with three late goals against Lake Superior State.
As I watched Gaudreau dangle around the ice last Saturday afternoon against Denver, I wondered if Montgomery, now the Pioneers coach, was thinking of his line's dominance as well.
Looking further back on this weekend's regionals, one thing that was on display was the ability for neutral-site regionals to still work. All four regions had decent attendances, with St. Paul leading the way.
I maybe expected a better turnout at Sunday's Northeast Regional final given that Lowell and BC are less than 60 minutes away from Worcester. But other than that, I thought all eight regional gates were solid enough for the NCAA to make a case to stick with holding regionals at neutral sites. Your thoughts?
Dan: I have never been a fan of the regionals at neutral sites, but I understand the positives behind it. It's a lot easier for the NCAA to plan ahead and plan a decent scale of the NCAA tournament. Being able to plan a year in advance gives fans easier accessibility to the games, and while I think it sometimes robs teams of wild atmosphere, I think the case is there to keep pushing forward. That's enough for the NCAA, which is unlikely to revert back to campus sites with empty arenas.
If I had one major criticism of the whole structure, it's a lack of cost standardization. BC and Lowell played each other, but it's an expensive ticket in Worcester, and you'd be hard pressed to find someone shell out the money to go to see the tournament for the same money it might cost to go to a Boston Bruins game.
I think with the accessibility of games thanks to the Internet and ESPN, you'll see the discussion come up more and more about attendance. I also think there will be a substantial amount of discussion as to which schools are awarded host status because a school like Minnesota can do so well at home, and a place like Union ends up as the No. 1 seed with almost half the people in Bridgeport.
Personally, I'd love to see a happy medium where teams have the option of hosting on campus or moving to a neutral site. That would allow a team like Minnesota to move to St. Paul if it can guarantee the seats, or a school like Rochester Institute of Technology could flex to the Blue Cross Arena. Robert Morris could always flex to the Consol Energy Center, but North Dakota would stay at the Ralph. Boston College could go to Worcester or stay at Conte Forum. It's complicated, and the solution cannot be cut and dried, especially given contracts and timing.
For the immediate future, though, I think we stay with neutral sites. It's not the best solution, but at least it's working enough.
Jim: Personally, I like the neutral-site regionals as the home-ice advantage is removed for almost every team. I think with it being a national tournament, allowing any team to have home ice is unfair, particularly if said home ice is on an Olympic sheet that most teams aren't used to using.
I'm not sure when the NCAA will decide the future of the neutral sites, but I think we both agree neutral sites are likely to stay.
OK, let's get to the nitty gritty. I assume you're like me and your actual bracket is busted. So with a chance to redeem ourselves, who do you have winning in Philly? I think BC and North Dakota will have what it takes to get to the title game with the Eagles winning for the fourth time in seven years.
Then again, I wouldn't be an ounce surprised to see Minnesota and Union in the final. These are four evenly matched teams. What are your thoughts?
Dan: If there's one thing I learned in Atlantic Hockey, it's that anybody can win on any given day. I had Notre Dame and Quinnipiac in the national championship game in my bracket, and that's clearly not happening. But if you look back at the AHA over the past few years, the seventh-seeded team won last year and advanced to the championship game this year.
Yale won the national title game as the last at-large team in last year. So by no means is anything I'm about to say going to mean anything in regard to what will actually happen.
Minnesota is the No. 1 overall seed, and that's not by accident. I feared the Gophers getting out of their regional, but since they've done that, I'm taking them to win it all. I'm taking them over Union because they're playing fearsome hockey.
And I'm still among the ones skeptical about Thatcher Demko for BC. I fear his age will rear its ugly head at the worst possible time, and I still think that defense has the potential to be suspect. So I'm going with Union-Minnesota, and in the process, the Gophers throw a little revenge in there for the women's team's loss to the ECAC's Clarkson in the national championship game.