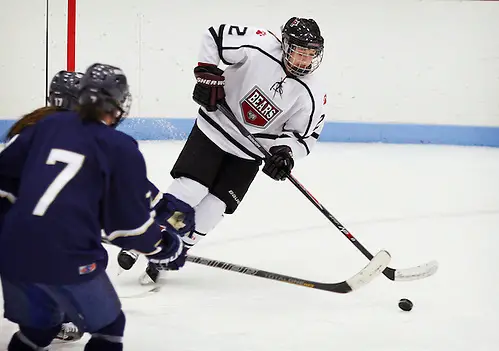 Under the far-reaching shadow of both Plattsburgh and Elmira, postseason accolades are a tough go in the competitive ECAC West. For Potsdam's Jordan Ott, however, a season of high-level consistency, coupled with a cadre of impressive offensive numbers, made her selection as USCHO D-III rookie of the year a cogent choice.
Ott, a 5-foot-9-inch forward from Hilton, N.Y., led the nation's first-year players with 22 goals, which proved to be 10 more than the Bears' next leading goal scorer. Ott paced her club with nine power-play goals, to go along with a quartet of game-winners. Ott registered seven points against teams that had resided among the top 10, and collected 12 multi-point outings along the way.
Her 36 points now stand as a program record. The former Rochester Edge standout had 92 shots on goal and led the Bears with a plus-15 rating. Ott led her club in trips to the penalty box as well, taking 19 for 38 minutes.
A season ago, coach Jay Green's Bears trudged to a 10-14-2 record. Three players tied for the goal scoring lead with three apiece. Ott, a palatable upgrade to the Bears offense, helped the club eclipse the break-even mark with a .538 win percentage and enjoy a 34 percent upgrade in offensive output.