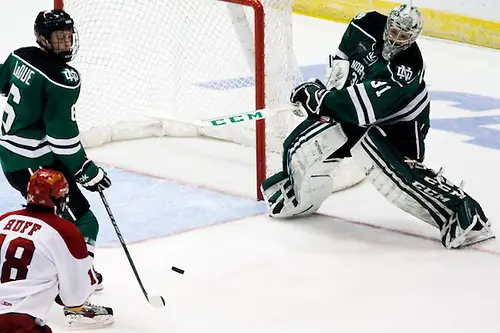 This season's North Dakota team isn't the showiest bunch that coach Dave Hakstol has ever stood behind on the team's bench, but that's something he's come to embrace.
It was always going to be that way, as UND's seniors from last season supplied 43 percent of the team's goals in the 2012-13 campaign. Once preparations for this season began, though, Hakstol took stock and started looking at how to succeed with a team not as packed with stars as last season's was.
2014 Frozen Four
Follow all of USCHO's coverage at Frozen Four Central.
"That's the way it has to be with this team," Hakstol said. "There's no other real avenue for us, and I think we've known that since day one.
"We've got to have everyone chipping in, and that's going to mean someone different on any given night is going to be scoring a goal or two, and that's just the makeup of this team. I think that's just a personality trait that this group has embraced, and we know that's part of our formula for success any night."
That's certainly been the case lately, as it's not just one or two leading lights that have put UND on their backs and carried this season's team to UND's first Frozen Four since 2011.
It's been a fairly lengthy cast of characters who have done that, and that's been particularly evident in UND's last three games. Between a 5-0 NCHC third-place game win over Western Michigan and then victories over Wisconsin and Ferris State in the Midwest Regional, seven UND players have scored the team's 12 goals in those three outings.
Sophomore goaltender Zane Gothberg also has played a big role lately. He came up especially huge in the regional final against Ferris State, a 2-1 win for UND in which Gothberg made 44 saves — 20 more than Hobey Baker Award finalist CJ Motte in the Bulldogs' net — in over 82 minutes of play.
About North Dakota
Coach: Dave Hakstol, 10th season
Record: 25-13-3 (15-9 NCHC, second)
How they got to the Frozen Four: Beat Wisconsin 5-2 and Ferris State 2-1 in double overtime in the Midwest Regional
Regional seed: Fourth
Last Frozen Four appearance: 2011
Best NCAA finish: Champions in 1959, 1963, 1980, 1982, 1987, 1997 and 2000
Why they'll win the national championship: Seven different UND skaters came together to net the team's 12 goals over its last three games, so there are many threats for opposing teams to have to neutralize. Also, goaltender Zane Gothberg is fresh off shining in the biggest game of his collegiate career thus far.
Why they won't win the national championship: Boston College, Minnesota and Union have all executed more effectively on both offense and defense over the full course of this season than UND has.
Come Thursday, however, UND will take on archrival and former WCHA foe Minnesota for a shot to play in Saturday's national championship game. The buzz in Grand Forks, N.D., and the Twin Cities about this semifinal matchup has been almost deafening, and it's something to which Hakstol isn't ignorant.
First things first, though, and Hakstol's focusing more on his own team before he turns his attention to the Golden Gophers.
"From a coaching standpoint, we're focused on our team, and that's going to sound a bit like a cliché, but right now we're focused on our team," Hakstol said. "As we turn toward next week, we'll start to focus on our opponent.
"Obviously the excitement of the Minnesota-North Dakota rivalry was there right from square one [when the tournament selections were announced] as both teams earned their way into the game, so nobody's hiding that. I think everybody embraces that and will be excited for it, but I haven't seen a whole lot different in the demeanor of our team right now."
That isn't all to say UND isn't aware of the resume the Gophers have built over this season, though. Hakstol and his team know what's going to be standing in front of them Thursday night in Philadelphia.
"You take a look at the other three teams here [in the Frozen Four], most importantly the team that we play [Thursday], they've been the best team from start to finish, and from October they've been one of the top one or two teams ranking-wise in the nation," Hakstol said. "They lead the nation in a lot of different categories. They're anchored by a Hobey Baker finalist goaltender. It goes top-to-bottom.
"They're fully justified in that No. 1 spot. They've earned it, and for us, we're going to go in and we know that nobody's going to pick us to win that game, yet we're going to prepare real well to go in and play our game."
Sophomore forward Rocco Grimaldi leads the team in scoring this season with 17 goals and 22 assists, and he's been particularly big lately. He bagged a hat trick in UND's 5-3 regional semifinal win over Wisconsin on March 29 after having scored his team's fourth goal against Western Michigan a week earlier.
When asked about his team's next test, however, Grimaldi echoed Hakstol's sentiments about UND focusing on sticking to its systems against the Gophers and not letting the emotions of the circumstance take over.
"They're our biggest rival and it's an exciting time, and we weren't sure if we were going to see them at all this year," Grimaldi said. "So guys that are heading out this year and next year, I know they want another piece of these guys one more time, but we can't let the rivalry play into too much of a role.
"We're in this thing for one reason and one reason only, and that's not just to have this rivalry battled out. It's to win a championship, so we have to win on Thursday night if we want to keep that dream alive."