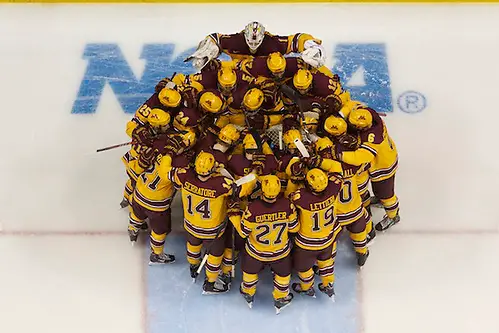 This is Minnesota's 21st Frozen Four appearance and the team's second in three seasons, but collective experience doesn't equal actual experience for a team that regularly plays half a dozen freshman forwards and a total of a dozen freshmen and sophomores, including second-year goaltender Adam Wilcox.
"I don't care how many times you go to a Frozen Four," said coach Don Lucia. "It's always new and exciting."
2014 Frozen Four
Follow all of USCHO's coverage at Frozen Four Central.
Much has been made this season about how different this Minnesota team looks from past teams with its youth and balanced scoring. Lucia has characterized the Gophers as far from dominant in spite of their position at or near the top of the polls all season and their capturing of the first Big Ten regular season championship.
But heading into Philadelphia, what sets this team apart from teams past is its streakiness in scoring.
In 2013-14, there were weekends when the Gophers played well and yet had difficulty scoring goals. Minnesota is averaging 3.51 goals per game, sixth in the nation, but Lucia cautioned that even an excellent overall team effort doesn't translate into wins.
To illustrate, he pointed to Minnesota's weekend against Wisconsin Feb. 6-7, a pair of 2-1 losses and the only time the Gophers were swept this season.
"From our standpoint, even though we lost, we played well and I think sometimes that's how you judge your team," said Lucia. "You can play bad and win but you can play well and lose in this game when every goal matters. We were disappointed obviously to lose two games to Wisconsin but to go on the road and give up two goals each night, we just didn't score and that can be our team at times.
About Minnesota
Coach: Don Lucia, 15th season at Minnesota, 27th overall
Record: 27-6-6 (14-4-3 Big Ten, first)
How they got to the Frozen Four: Beat Robert Morris 7-3 and St. Cloud State 4-0 at the West Regional
Regional seed: First
Last Frozen Four appearance: 2012
Best NCAA finish: Champion in 1974, 1976, 1979, 2002 and 2003
Why they'll win the national championship: Minnesota has balanced offense, youthful enthusiasm, veterans peaking at the right time and Adam Wilcox in net.
Why they won't win the national championship: Minnesota's balanced offense can be inconsistent and sometimes comes up short, and inexperience won't help if the Golden Gophers find themselves behind.
"We can go through stretches where it is a struggle to score goals, especially when you have six freshman forwards playing most nights."
That Wisconsin weekend followed a road weekend against Michigan State during which the Gophers netted three goals, for a total of five goals in four games. Then there were weekends in which the Gophers netted five on a Friday and two on a Saturday.
In their loss to Ohio State in the Big Ten tournament, the Gophers managed one second-period power-play goal and nothing more.
That offensive inconsistency translates into players that have scored in batches. Fortunately for Minnesota, said Lucia, the upperclassmen on whom the team relies have played their best hockey in recent games.
Senior captains Nate Condon and Kyle Rau led by example in St. Paul. Condon had two goals in Minnesota's 7-3 win over Robert Morris and two assists in the Gophers' 4-0 win over St. Cloud State. Rau has a three-game goal-scoring streak entering the Frozen Four and has netted seven of his 14 goals for the season in his last nine games.
"Both Nate Condon and Kyle Rau were outstanding, and as we all know, this is the time of year where you have to have your leadership really step forward," Lucia said. "They were able to do that and guide a group of young kids throughout the season and past a very good Robert Morris and St. Cloud State team."
Condon said that even though he's a veteran of the Frozen Four, this year will feel different for him and his classmates. He added that the combination of experience and youthful enthusiasm is a big plus heading into the weekend.
"The last time, being a sophomore [there were] a lot of older guys, a lot of guys to look up to," said Condon. "We really are led by a really good senior class. I think this time it's a little bit different for me this time around because I'm in one of those leadership roles and I'm kind of expected to produce and really bring my 'A' game every night.
"It's a little bit of a different experience for me, but it's also a lot more fun working with the younger guys. Really seeing them grow this year … had a really good effect on our team here at the end."
Lucia said that the job he and his coaching staff face is to keep the Gophers "fresh" and "excited" as they play for a national championship.
"You've got to enjoy this experience," said Lucia. "I don't care how many times you go, it's an amazing experience. For our kids, we have some kids who were there a couple of years ago but for our freshmen and sophomores, it'll be a whole new experience and we want them to enjoy this. We're going to do everything we can to get them as ready physically and mentally as we can for next Thursday."