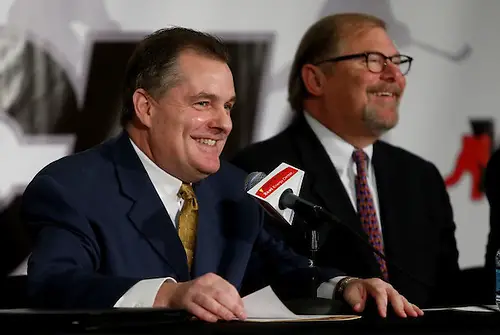 ST. PAUL, Minn. — Bill Robertson will take over as WCHA commissioner a year after landmark changes in the league's makeup and with the potential for more shakeups down the road.
So he knows a key part of his role leading the league will have to do with not only being a part of shaping the future but marketing to a wider audience what the current group brings to college hockey.
Robertson, 53, was introduced Tuesday as the successor to Bruce McLeod, who is resigning after 20 years leading the league when his contract expires this summer.
"I don't think we're done with changes in college hockey as far as alignment's concerned so I'll be keeping a keen eye on that as I go forward," Robertson said at a news conference.
"I think we're going to build on it; we're going to be aggressive in that approach as I set forward on that task of trying to understand where these teams are at. But I think it's a great conference. All these teams are passionate about wanting to stay in the WCHA from what I've talked to them. So I'm hoping we're going to push that forward."
Robertson's hire was made official Tuesday at the Xcel Energy Center, where from 1999 to 2011 he was the vice president of communications and broadcasting for the Minnesota Wild and parent company Minnesota Sports & Entertainment.
A longtime hockey public relations executive, Robertson will be just the third WCHA commissioner in the last 30 years, following McLeod (1994-2014) and Otto Breitenbach (1984-94).
His hire was lauded by those around the WCHA.
"He is an incredibly intelligent guy that has a vast degree of experience working at a very high level in a big-time environment," Northern Michigan coach Walt Kyle said. "His experience is a major coup for our league and he will be a catalyst toward league growth and development."
Said Minnesota State athletic director Kevin Buisman: "He'll provide an injection of energy the league needs right now."
A year ago, the WCHA lost longtime college hockey powerhouses like Minnesota, North Dakota and Wisconsin to new leagues, significantly changing the landscape for the 62-year-old conference.
[youtube_sc url=https://www.youtube.com/watch?v=h4vMUpUdwNk]
Part of the challenge for Robertson, some around the league suggested, is to get more of a spotlight focused on the WCHA and its teams.
"The business of college is changing, with the conference realignments, promotion of the game, television, the digital content that goes on and all the revenue streams that are possibilities for the future," Robertson said. "I will do my best as commissioner of the WCHA to stay on top of these trends in college hockey and use my vast relationships to help continue to build this conference over the years."
In his time with the Wild, Robertson led the media relations and community relations efforts. He also negotiated TV agreements for the WCHA from 2001 to 2011.
He also has worked in communications with the then-Anaheim Angels of Major League Baseball, the Anaheim Ducks of the NHL and the Minnesota Timberwolves of the NBA and its arena, the Target Center.
Since parting ways with the Wild in 2011, he has been a sports and entertainment consultant for strategic communications firm Tunheim.
"He is a hockey guy," Kyle said. "People may say that because he's not a former coach or a player, but this guy has worked in hockey for I can't tell you how many years. He was there with the Ducks when they were an expansion team. Then he went to the Wild for a number of years through their expansion. You're a hockey guy when you spent over 20 years working in the National Hockey League.
"I know Billy, and we'll be able to talk to him and he will understand things from a hockey perspective."
The WCHA Final Five returns to St. Paul in 2015, and Robertson said he can't wait for the experience.
"The hope is to make this tournament even grander on so many different scales," he said. "And my job will be to help lead those efforts with the staff of the WCHA."