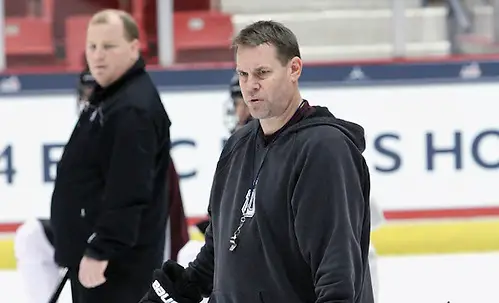 During last month's East Regional in Bridgeport, Conn., Providence coach Nate Leaman said that "there is no such thing as a perfect coach, but there can be perfect staffs."
Leaman knows a thing or two about putting together winning teams both on and behind the bench, with a career .523 winning percentage and two NCAA appearances with two different programs.
2014 Frozen Four
Follow all of USCHO's coverage at Frozen Four Central.
One of those programs was Union, where Leaman coached for eight years before moving on to Providence. His run in Schenectady, N.Y., culminated with the program's first Division I NCAA appearance in 2011. When he departed, he left the program in the able hands of his observant and diligent associate head coach, Rick Bennett.
Bennett stepped in after Leaman's 26-10-4 final season with the proverbial big shoes to fill. Bennett and his team responded with a 26-8-7 record and the program's first Frozen Four appearance in 2012. A 22-win season followed and the Dutchmen have posted a program-best 30 wins so far this season.
This isn't an article about Nate Leaman, nor is it about drawing comparisons between what he built and accomplished at Union versus what Bennett has been able to do in his wake. This is about Union's brief but remarkable success under Bennett's watch, and how the assistant under Union's first truly successful Division I coach stepped up and delivered in a way that would make any big-time program envious.
Just say 'no'
"We have an open dialogue as a coaching staff," Bennett said. "The first thing I basically said to them during the [hiring] process was, 'You're not working for me, you're working with me.'"
That commitment to teamwork and equality at all levels of the program rings loudly with players and assistant coaches.
"Rick does a great job at just letting us be ourselves," said Jason Tapp, who, as the longest-tenured assistant, has been with the program for five years. "He's great at just listening, taking everything in and seeing what works."
Tapp began his collegiate coaching career as a volunteer goaltending coach under Leaman, to whom Tapp expresses sincere gratitude and appreciation. The former Boston University goaltender was elevated to a full assistant position with Bennett's promotion and now is responsible for the goalies, defense and penalty kill.
"The one thing Rick doesn't want is a yes-man, so we're able to say if we don't like something," Tapp said. "He asks for everybody's opinion every day, even practice plans. If you disagree with something, you'd better have some reasons why and you've got to back it up, but he listens. It's awesome for us to not have to worry about saying anything that might upset him."
"I was trying to feel them out and they were trying to feel me out early on," Bennett said about his young staff. "It took a few games. Then when we started watching video and talking about lineups, that's when it started to come out: the blatant honesty. These guys don't hold back.
"They're going to speak their minds whether they agree with you or they don't agree with you, and that's what I respect the most from these guys."
Assistant Joe Dumais — a forward for Quinnipiac during the MAAC-Atlantic Hockey-ECAC Hockey transition years — earned his first coaching stripes at Connecticut under Bruce Marshall.
He sees his staff at Union as an accumulation of insight, experience and talent that blends into an extremely successful and effective unit.
"Everybody has so much knowledge," Dumais said. "[Former Maine forward] John Ronan's been to two Frozen Fours and four NCAA tournaments. Jason's played at Boston University and seven years as a pro, and obviously Rick's played in the NHL and was an All-American. There's just a ton of knowledge with the staff. We're always bouncing ideas off each other, and it's a lot of fun to be a part of."
Volunteer assistant Ronan played for Tim Whitehead in the coach's first four seasons in Orono and played seven seasons of professional hockey before hanging 'em up.
"Rick's good at delegating responsibilities," Ronan said. "He lets people do their job and he has confidence in them to do their jobs. For someone like me, a newcomer just looking to learn, it's been unbelievable."
Bennett acknowledges his assistants' experience, diligence and passion, though he admits that it's not all sunshine and lollipops in the office.
"Each guy takes pride in what he's doing, so sometimes when I comment on a certain area, whoever's in that area, it's not easy to hear someone say, 'That needs to be picked up, this needs to be picked up.' It's not easy to hear, but at the end of the day, we're all trying to get better."
The ingredients
The staff is a distinct blend of complementing personalities and specialties. Just as Bennett has no interest in sycophants, he doesn't need any more mirrors, either.
"I don't want three other guys with my personality," Bennett said. "Joe comes across like a teacher: He's up front, but he's got a little more of a softer side, I guess I'd say. He gets his point across, and he gets his point across well.
"Jason is a little more like myself, a little more blunt in his approach, but the guys know that that's how we're built. John is similar to Joe in that regard; it's a nice mix."
Dumais "is a tactician; he's dynamite with X's and O's, reading the play. He's very sharp that way," Bennett said.
"I think [Tapp] has been pigeonholed with the goaltending and defensive game — he's very good at that — and in just three years working with the D, people can do their homework there. But he's picked up stuff … on the offensive side. As a goalie, he picked up all three zones, and that's what makes him special, too: He sees the game not just from the defensive side. He's very well-rounded.
"John, since coming on staff in his first year, has jumped right in. He has an excellent relationship with our guys. When he walks in that locker room, he garners instant respect just from his resume, and also from the way that he does video with each guy and his overall demeanor. It's very special.
"Everyone brings a different element, but the one thing that every player will tell you is that every guy brings honesty. Whether you like it or not, we're gonna tell you, and that's the way we coach."
At the end of the day, it's the devotion of each of the four men that matters most.
"It's a bunch of guys who care about each other, and that's what makes it special," Bennett said.
A player's staff
Clearly, a coaching staff is only as good as the team it leads … and that requires keeping innumerable variables in balance. That includes a little perspective.
Dumais, for one, can relate to some players' need to diversify their pursuits. One of his proudest accomplishments, he said, was winning the Quinnipiac intramural softball title three years running.
"We kind of hang our hats more on that than on anything else, being intramural softball champs," he said of his former Bobcats teammates, which include ex-roommate and current Quinnipiac assistant Reid Cashman.
For better or worse, Dumais also knows that just as coaches can't do much to protect their players on the ice, there's little point in trying to bubble-wrap them outside the rink, either. Dumais broke his wrist on the way to one of those prized softball crowns.
"[Quinnipiac coach Rand] Pecknold wasn't too happy with me," Dumais said. "It was along the lines of, 'What the heck are you guys doing playing softball?' But at the end of the day, I think you can [get injured] doing anything. During the offseason our guys are playing different sports, and I think it helps with their athleticism, hand-eye coordination and overall athletic ability."
On a more hockey-related front, the assistants each singled out Bennett's no-nonsense approach to communication as a pivotal contributor to the team's morale and success.
"As a player, all you ever really want to know is where you stand, good, bad, or indifferent," Tapp said. "They really respect it. 'I may not like what he's saying, but it is what it is, and this is what I have to do to get better and get more ice time or get in the lineup.' That goes a long way with the players. When I was playing, that's all I wanted, just to know where you stood, and why you weren't playing, or what you were doing. That's huge."
"Something that even the players have mentioned about Rick is he's tough, but he's fair," Ronan said. "That's one of the things that really sets him apart, and why the guys enjoy playing for him. He'll be hard on you, he'll push you to be better, but at the same time he can pick you up when you're down. He's a great communicator; there's not really a gray area with Rick. Guys know what they need to do and what to expect from him.
"Coming from a player's perspective … that's the way you want it. You don't want to be guessing, 'Is the coach thinking this? Should I be doing that?' When it's laid out right in front of you, it's black and white, it takes away the guesswork and the players have a clear idea of what they need to do."
Building for sustainable success
Some programs succeed briefly on the backs of a special class or two, burning onto the national scene before flaming out just as quickly with the departure of those generational talents. Union is working hard to prove its success has a long, slow fuse.
"I just remember they were a very hard team to play against, especially at Union," Dumais said. "I think Union has always been a very good team at home; I remember coming here and it was really tough to play in this rink. Union played hard and physical."
He now uses the rink to his advantage as both a strategist and a recruiter.
"When you come to the Union rink, you've got the wooden roof, wooden bleachers, and we can fit — on a good night — about 2,500," Dumais said. "For the most part, we're selling out. It's extremely loud in here. You're never going to have a quiet night; the fans are right on top of you and it's just a lot of fun to play here. We sell our atmosphere here.
"We bring our kids to games, and once kids see a game in our rink, they love it. As far as our locker room and our lounge and our weight room and our video room and our training room, it's all brand new and state-of-the-art. All the stuff our players see is brand new; all the stuff the visiting teams and our fans see is a little bit older, but it has a lot of character. It's very unique, and it's a very loud place to play."
Furthermore, Tapp added, "There's no Division I football or basketball on campus, so hockey's it."
Union tends to challenge Ivy League and other small-school programs for players, rarely going head to head with the Boston Colleges, Minnesotas or North Dakotas for talent … but maybe someday.
Dumais, who splits recruiting duties "50/50" with Tapp, said Union's recent success is built on recruiting "late bloomers" — players whose games mature later than your typical blue-chip recruit — and mixing in younger players with high potential.
Some of the older players who have played big minutes this year include freshman forward Eli Lichtenwald (21), junior forwards Sam Coatta (23), and senior defender Mat Bodie (24).
Younger talent like junior defenseman Shayne Gostisbehere (20) and senior sniper Daniel Carr (22) has clearly excelled in Schenectady, proving that the Dutchmen are more than simply overage opportunists.
Priorities aligned
A program rests in the hands of countless groups and individuals. Students own a portion. School administrators have a hand in the matter, as does the athletic department.
Players obviously carry the crest but in the end, those with the greatest influence on the direction of any given program are those entrusted with its every macro and micro decision: the coaches.
Union couldn't be happier with the direction of its men's hockey program, or with those who guide it.
"This staff is a lot of fun, and it's just a joy to come to the rink each day with these guys," Tapp said.
Ronan had the freshest approach, coming in most recently.
"It's been really amazing, especially as the new guy here," he said. "I knew that Union was on the rise, but once you come in and get an up-close-and-personal look, you see why. …
"Just having the opportunity to work with those guys — it's a culture shift, if anything. These guys are winners. They work hard every day."