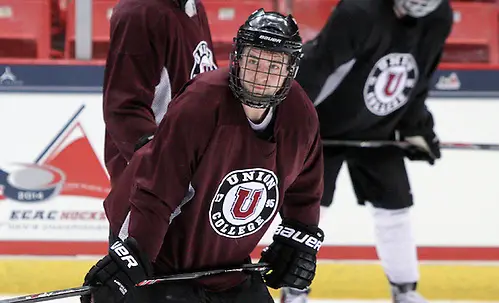 Think of No. 1 Union and several key names come to mind. There's leading scorer Daniel Carr, All-America defenseman Shayne Gostisbehere and All-ECAC Hockey goaltender Colin Stevens.
Now you can add junior forward Max Novak to that mix.
2014 Frozen Four
Follow all of USCHO's coverage at Frozen Four Central.
A native of Oak Ridge, N.J., Novak will be just two hours from his hometown at the Frozen Four this week in Philadelphia. The rising Dutchmen will take on third-ranked Boston College in a semifinal on Thursday, with the opportunity to play for a national title on the line.
You can also count on Union's No. 18 having his own rooting section at the Wells Fargo Center.
"I wouldn't consider Philly my backyard, but it's pretty close," Novak said last week. "I will have a good amount of family and friends there supporting me. Just having the chance to win a national title in the area I grew up is really special and something I am looking forward to."
A 2010 graduate of The Hill School in Pennsylvania, Novak made the jump to the NCAA Division I ranks from the Eastern Junior Hockey League's Jersey Hitmen. In his lone EJHL campaign in 2010-11, he notched 25 goals and 36 assists for 61 points and helped the Hitmen to the league regular season title.
The 6-foot, 190-pound center has put together a solid scoring scroll this season with career highs of 14 goals and 15 assists for 29 points through 30 games, having missed 10 outings with various injuries earlier on.
It's when he's chipped in, though, as opposed to how much, that's really counted.
Half of Novak's goals have been game-winners, while Union has also gone 12-0 this season when he's lit the lamp.
He had the game-winner against Cornell in an ECAC semifinal on March 21 in Lake Placid, N.Y., and then added a goal and an assist in another 5-2 win over Colgate that clinched Union's third straight Whitelaw Cup.
At the NCAA East Regional at Webster Bank Arena in Bridgeport, Conn., a week later, Novak not only scored three goals and set up another, but garnered most outstanding player accolades after tallying both game-winning goals. The Dutchmen ousted Vermont and Providence to secure their second Frozen Four berth in three seasons.
"Beside good luck, I've been fortunate to play with [linemates] Matt Hatch and Kevin Sullivan," said Novak. "They've put me in great situations during the second half of the year, and I've just been fortunate the past couple of weekends to put the puck in the back of the net."
Novak scored twice against Vermont, both on power plays. His first goal actually earned him the No. 1 spot on the top 10 plays on ESPN's "SportsCenter," as he corralled a cross-slot pass with his left skate before chipping in a backhander while tumbling to the ice.
"We were moving the puck well, but more importantly we were winning the battles down low," said Novak. "That's a huge component to the power play, and those goals came off of hard work down low."
His second score versus Vermont came off the rush, as he wristed the puck home from the right circle to put Union up 3-1.
Against Providence the following day, Novak scored an early-second-period goal on a backhand shot that squirted through Friars' netminder Jon Gillies and stood up as the game-winner. He also assisted on Hatch's third-period insurance goal to gain MOP honors.
"It's a great award, but I wasn't sure I'd won it," Novak quipped before again deferring to his teammates. "The guys put me in a good situation."
If Novak didn't praise his own accomplishments, his coach did.
"He's so humble," Union coach Rick Bennett said. "He's special to see. He's a clutch player."
Novak had an assist in Union's 5-1 thrashing of Boston College last year in an NCAA East Regional semifinal, but last spring's success doesn't automatically translate into victory this season.
"We're not looking past that first game yet," said Novak.
Should the Dutchmen skate past the Eagles and into the NCAA title game, they'll have gone where no one from the small school from Schenectady, N.Y., has gone before.
Chances are they'll have a Jersey boy to thank.