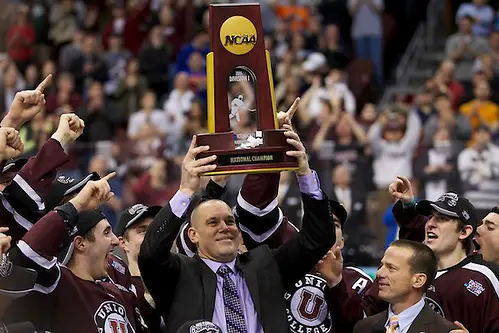 Of the six teams that won regular season championships in Division I men's college hockey this season, only one also claimed its league's postseason crown.
For good measure, coach Rick Bennett and Union added the big hardware at the end of the season.
In three seasons in charge at Union, Bennett has twice guided his teams to a sweep of the ECAC championships twice; last season, the Dutchmen finished fourth in the regular season but still won the playoff title.
Bennett and the Dutchmen posted 32 wins this season, a national high and the most in program history. The last of those wins was over Minnesota for the national championship, the first in Union's history.
Those additions to Bennett's resume were enough to earn USCHO's coach of the year award.
In the last five seasons, only the 2011-12 Boston College team has posted more wins in a season (33) than the Dutchmen did this season.
It has to be noted that Bennett missed three of those wins and one of the team's six losses after being suspended for a total of four games — two from his school and two more from ECAC Hockey. That followed an on-ice incident after a loss to Rensselaer in which Bennett shoved Engineers coach Seth Appert.
The Dutchmen's loss on Jan. 31 at St. Lawrence — the first of the four games Bennett missed — was Union's last of the season.
Union went 16-0-1 to close the season, at one point earning three straight shutouts and averaging 4.35 goals of offense per game.
USCHO's awards were selected by staff writers at the Frozen Four. The All-USCHO teams and rookie of the year were unveiled earlier this week; the player of the year will be announced later Friday.