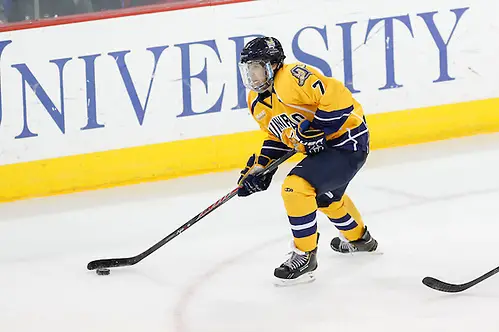 When Quinnipiac spent much of the 2012-13 season at No. 1 and finished as national runner-up, no Bobcats player had more than 17 goals or 31 points.
A year later, rookie Sam Anas had blown past the points threshold in January and recorded his 18th goal in February.
It was part of a tremendous debut season for Anas, who has been named the USCHO national rookie of the year.
He finished with 22 goals and 43 points, leading both Quinnipiac and the nation's freshmen in both categories.
He had four two-goal games, the last one coming March 15 to help the Bobcats knock Yale out of the ECAC Hockey playoffs.
That was also the last of his 13 multiple-point games, a list that included a four-point night at Colgate on Nov. 1.
Anas' point total this season compares favorably with players that went on to successful collegiate careers. Two years ago, Boston College's Johnny Gaudreau recorded 44 points as a freshman and Minnesota's Kyle Rau posted 43. Gaudreau was this season's Hobey Baker Award winner after an 80-point season, while Rau was a third-team All-USCHO selection.
USCHO's awards were selected by staff writers at the Frozen Four. The All-USCHO teams were named Wednesday; awards for coach and player of the year will be announced later this week.