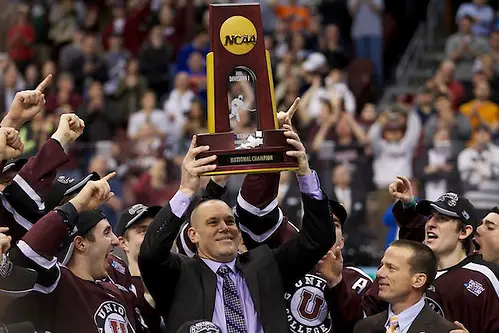 Union coach Rick Bennett, who led the Dutchmen to the 2014 NCAA national championship, has signed a two-year contract extension through the 2021-22 season.
Bennett owns a career record of 80-27-16 in three seasons at Union, including a postseason mark of 19-2. He has guided the Dutchmen to a pair of Frozen Fours, three NCAA tournaments, three ECAC Hockey tournament titles and two ECAC Hockey regular-season crowns.
"I could not be prouder of the accomplishments of this team both on and off the ice under Rick's leadership along with his staff," Union athletic director Jim McLaughlin said in a statement. "The success on the ice throughout his tenure has been remarkable and the student-athletes' achievements in the classroom and within the community have been equally impressive. His leadership goes far beyond the rink and we are very fortunate to have him at Union leading this program."
In 2013-14, Bennett led Union to the most wins (32) and the top winning percentage (.810) in all of Division I. The 32 wins set a new school record and matched the third-most wins in ECAC Hockey's 53-year history. .
The Dutchmen were the only team in NCAA Division I to win its league regular-season and tournament championships.