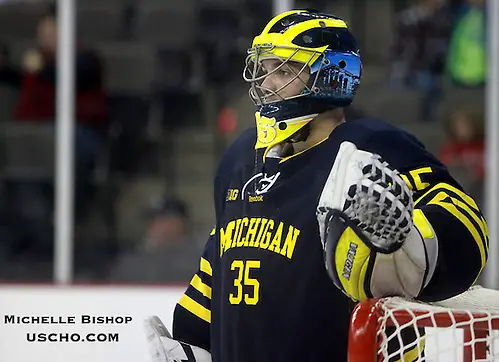 A total of 20 goaltenders were named to the first Mike Richter Award watch list on Friday.
The award, which was presented for the first time last season to Massachusetts-Lowell's Connor Hellebuyck, honors the top netminder in NCAA Division I hockey.
The list does not include freshman and according to a press release, additions and deletions will be made to the list as the season plays out.
The original release Friday included New Hampshire senior Casey DeSmith, who last month was arrested and suspended for an alleged domestic dispute.
Later Friday, DeSmith was deleted from the list and replaced with Colgate's Charlie Finn.
The 2015 award will be presented at the Frozen Four in Boston.
| Player | Class | School |
| --- | --- | --- |
| Thatcher Demko | So. | Boston College |
| Charlie Finn | So. | Colgate |
| Christian Frey | So. | Ohio State |
| Michael Garteig | Jr. | Quinnipiac |
| Jon Gillies | Jr. | Providence |
| Lukas Hafner | Jr. | Western Michigan |
| Jake Hildebrand | Jr. | Michigan State |
| Brody Hoffman | Jr. | Vermont |
| Cole Huggins | So. | Minnesota State |
| Zane McIntyre | Jr. | North Dakota |
| Steve Michalek | Sr. | Harvard |
| C.J. Motte | Sr. | Ferris State |
| Zach Nagelvoort | So. | Michigan |
| Matt O'Connor | Jr. | Boston University |
| Steve Perry | So. | Clarkson |
| Joel Rumpel | Sr. | Wisconsin |
| Jimmy Sarjeant | Sr. | Mercyhurst |
| Colin Stevens | Sr. | Union |
| Adam Wilcox | Jr. | Minnesota |
| Clay Witt | Sr. | Northeastern |