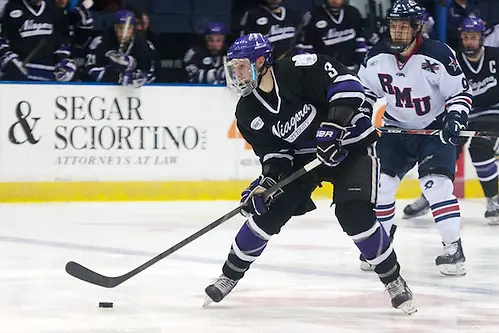 Niagara came into Atlantic Hockey in 2010 with a track record of success in now-defunct College Hockey America. That's continued in the AHA, with a regular season title and an at-large berth in the NCAA tournament in 2013, the first and only for an Atlantic Hockey team.
So last year's 15-20-5 record was a step backward for a team that had won 23 games and claimed the regular season title the year before. Injuries plagued the Purple Eagles, and key forward Ryan Murphy was suspended for driving while intoxicated and missed the entire season.
Combine that with a lineup that included 10 freshmen that played regularly, and you have the makings of a setback season.
But adversity can make you stronger, and Dave Burkholder's team still made it to Rochester after a quarterfinal series upset at Air Force that saw the Purple Eagles lose Game 1 but come back to win the next two games, the third in overtime.
An overtime semifinal loss to eventual champion Robert Morris was a disappointment, but something to build on.
"[Last year] was a baptism by fire for us in many ways," said Burkholder. "It's paying dividends now. We were playing our best hockey of the season at the end, and that shows how we fought through some things."
One of the toughest adjustments for Niagara in 2013-14 was the loss of Hobey Baker Award finalist Carsen Chubak, a goaltender who passed on his senior season to sign a pro deal. Burkholder had brought in two freshmen to apprentice under Chubak, and both were thrust into the spotlight after his early departure.
Jackson Teichroeb and Adrian Ignagni each saw significant time in net last year, with Teichroeb getting the nod in the postseason.
"They came in [to a starting role] not having played a minute of college hockey," said Burkholder. "They had to replace a Hobey Baker finalist. Talk about being under a microscope from the first day of practice.
"Jackson was our No. 1 down the stretch. He had only nine wins all season but four were in the playoffs. Ignagni is a Division I starter anywhere. I'm not adverse to the 'hot hand' theory, but both will be given chances early in the season."
Teichroeb may have to wait a while to get back into the rotation. He suffered an injury in a scrimmage and will be out of action for a couple of weeks.
Also out for an extended period is sophomore TJ Sarcona, one of the league's top freshman forwards last season. His broken wrist means four or five weeks on the bench to open the season.
Another freshman that shined at Niagara last year was defenseman Vince Muto, who looks to step into even bigger roles in his sophomore campaign. "Vince had a phenomenal year for a freshman," said Burkholder. "He has a bright future."
Up front, the Purple Eagles return their top two scorers, Hugo Turcotte (13 goals last season) and Isaac Kohls, who has missed time the past two seasons due to injury, including all of last year's postseason.
"Isaac is our senior captain," said Burkholder. "We need him to be one of our better players. You want their final year to be their best year. If he's healthy, he's an all-league player."
The Purple Eagles have a rough non-conference schedule that sees them traveling to series at Notre Dame and North Dakota. Their first league action is a home-and-home series with Robert Morris on Oct. 17-18, a rematch of last year's semifinal.
"Our goal is to get back to Blue Cross [Arena]," said Burkholder. "We've made it three of the four years we've been in the league. We haven't had any success there but we want to get back there and get to the NCAA tournament."
About the Purple Eagles
2013-14 overall record: 15-20-5
2013-14 AHA record: 11-11-5 (sixth)
2014-15 projected finish (coaches poll): Tie, fourth
Key losses: F Ryan Rashid, D Kevin Ryan, F Patrick Divjak
Players to watch: F Hugo Turcotte, F Isaac Kohls, D Vince Muto
Impact rookie: Derian Plouffe had 153 points in three seasons in the CCHL.
Why the Purple Eagles will finish higher than the coaches poll: Most of the key pieces are back, so expect the Purps to improve on their record.
Why the Purple Eagles will finish lower than the coaches poll:Niagara will start out against teams picked to be near the bottom of the standings, and needs to take advantage of that going into a killer January-February. Otherwise, getting to the top will be a tall order.