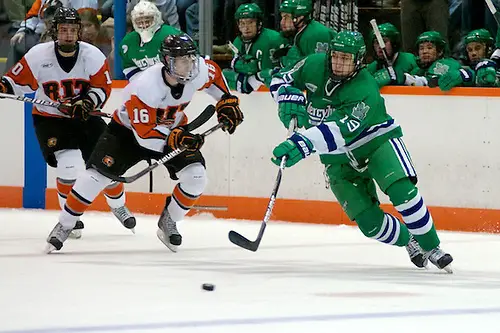 Mercyhurst coach Rick Gotkin, entering his 27th season behind the Lakers bench, likes to talk about his players. But he also likes to talk about his league.
"Atlantic Hockey has gotten stronger and stronger every year, and every team has to prove it night in and night out," he said. "It's an ultra-competitive league and you have to bring it every night."
The league's coaches have predicted that Mercyhurst will be the team to do that best, awarding the Lakers the top position in the preseason poll.
"It's great that the other coaches in the league have given us that honor," said Gotkin, whose squad claimed the regular season title in 2013-14. "Polls are polls, just that. They're for the fans."
The Lakers earned that respect by leading Atlantic Hockey from wire to wire and eliminating Holy Cross in the playoff quarterfinals before falling to rival Canisius in the semifinals in Rochester.
"Obviously, we got on a bit of a roll last season and things fell into place for us," said Gotkin. "We have been a pretty good young team the last couple of seasons, and now we're a very good old team."
Mercyhurst has 12 seniors on its roster, and coming off a 21-win season looks poised to make a return to the NCAA tournament for the first time since 2005.
"We've got a lot of seniors, but we're starting over," said Gotkin. "Seniors can be your best players or your worst players."
The Lakers lost only a small contingent to graduation, but it included all-stars Dan O'Donoghue and Nick Jones, as well as goaltender Jordan Tibbett.
"We lost some great players, and the effect of that remains to be seen," said Gotkin. "We think we have four or five guys that can match that in effort and skill."
Back is senior Matthew Zay, who led the Lakers in goals (17) and tied for points (43) last season and was an AHA first-team all-star. He leads a talented group of senior forwards that includes Ryan Misiak (13 goals last season), Daniel Bahntge (15 goals) and Nardo Nagtzaam (11).
The departed Jones logged huge minutes on the blue line, but look for senior Tyler Shiplo to step up, as well as junior Anthony Mastrodicasa. Both were key parts of the Mercyhurst power play last season.
In net, senior Jimmy Sarjeant is the reigning player of the year in Atlantic Hockey, coming off a season that saw him post 18 wins and a .930 save percentage.
Things are looking good for another finish at or near the top of the standings, but, as Gotkin will tell you, consistency is key in a league known for its parity.
"It's so competitive every night," he said. "We have a chance to play some great hockey. We've got a lot of confidence right now."
About the Lakers
2013-14 overall record: 21-13-7
2013-14 AHA record: 12-11-4 (first)
2014-15 projected finish (coaches poll): First
Key losses: F Danny O'Donoghue, D Nick Jones, G Jordan Tibbett
Players to watch: G Jimmy Sarjeant, F Matthew Zay, F Ryan Misiak
Impact rookie: Forward Kane Elliot had 59 points in 51 games for the Milton Icehawks of the OJHL last season.
Why the Lakers will finish higher than the coaches poll: You can't finish higher than first, and the Lakers have all the tools to repeat.
Why the Lakers will finish lower than the coaches poll: It's always tough to repeat. The Lakers certainly didn't sneak up on anyone last season, but they'll have a target on their backs every game.