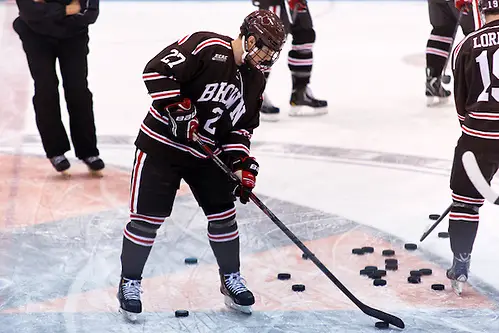 Last season consisted of five and a half months of stop-and-start hockey for Brown. The optimism born of two season-opening wins quickly disappeared in the fog of a 1-6-1 November; the Bears then streaked to a 6-2-2 record over their next 10 games but fizzled out on Feb. 1 and never refueled during a 2-9 season-ending skid.
Obviously, there were nearly as many positives on which to reflect as negatives … or vice-versa, if you're of a pessimistic mentality.
Three of Brown's greatest attributes in 2013-14 are back for another ride this fall, as top scorers Matt Lorito (senior, 10 goals, 29 points), Mark Naclerio (junior, 16 goals, 35 points) and Nick Lappin (junior, 13 goals, 32 points) aim to wreak havoc on ECAC Hockey goaltending. Overall, Brown returns nearly 80 percent of its 2013-14 goal production and three-quarters of its scoring.
"That's the positives," said coach Brendan Whittet, but overall "there was not a great margin for error" last season.
"We need more goals," he said.
One of the big questions facing Whittet this year is what to do with his sniper trio: Split them up, or build a super-line?
"That's what will make it interesting. … I don't know the answer to that," he said, though he did indicate a desire to keep them on a single power-play line. "We split them up last year because we didn't have that depth [of scoring]."
Another area of concern will be on the Bears' blue line, as three starting defensemen walked off campus with diplomas and 343 games of combined experience.
Dennis Robertson leaves especially big boots to fill, as the dynamic defenseman compiled six goals and 17 points last year and 17 goals and 70 points during his 128-game tenure in Providence.
In goal, electric Italian Marco DeFilippo has graduated, but upcoming sophomore Tyler Steel ended last spring as the de facto No. 1 goalie, and he will look to improve on his .991 save percentage and 2.67 overall GAA.
Brown has a lot of material to learn from last season, and with a little more luck — and health — players like junior defenseman Brandon Pfeil, senior forward Massimo Lamacchia and others will be able to step forward and fulfill their full-season potentials.
About the Bears
2013-14 overall record: 11-17-3
2013-14 ECAC Hockey record: 8-13-1 (ninth)
2014-15 predicted finish: Seventh in both the coaches and media polls
Key losses: D Dennis Robertson, F Garnet Hathaway
Players to watch: F Matt Lorito, F Nick Lappin, F Mark Naclerio
Impact rookies: F Tyler Bird, F Sam Lafferty, F Max Willman
Why the Bears will finish higher than predicted: Bruno will discover the missing link between temporary and sustained success, built on a consistently healthy roster and newly discovered scoring depth.
Why the Bears will finish lower than predicted: The loss of Robertson and others will bare critical vulnerabilities of defense and depth of scoring, and Steel will fail to improve on last season's average overall performance in net.