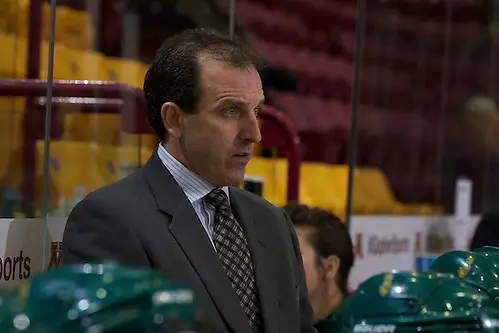 Clarkson's fifth-place finish last season constituted the program's best postseason seed in six years and its most successful season under third-year coach Casey Jones. Jones and Clarkson have sufficient cause for optimism this year as well, as the Golden Knights seek their first Cleary Cup since March 2008.
Clarkson's greatest attributes entering the new season are from the blue line back. Jones looks forward to working with five familiar defensemen and all three of last year's goaltenders; the Knights lost only two blueliners from last year's corps, which ranked 15th nationally in GAA (2.43).
Junior defender Paul Geiger (42 games played, 17 points) will wear the captain's "C" and anchor a unit that Jones is relying on to set the tone.
"We're young up front," Jones said. "We lost a lot of guys who played a lot of minutes … but we've endured a few years of youth in the back end and in net. That's not the case this year."
There will be a lot of opportunity for upward mobility among the forwards: Four of Clarkson's top five 2013-14 scorers graduated, along with another 32-game staple in Matt Zarbo. Junior Jeff DiNallo is the only 20-point player to return from last year's team, and Jones expects nothing but improvement from his top offensive threat.
"We feel real strongly that Jeff DiNallo … is going to be a big presence up front," he said.
Clarkson's greatest question mark is pretty obvious: Where will the goals come from this year? Jones ponders on the issue quite a bit and is holding the door wide open for any player who wants to pick up where Ben Sexton, Allan McPherson or Jarrett Burton left off.
Jones, and all of the Clarkson hockey community, wonders: Are they ready for the major roles?
About the Golden Knights
2013-14 overall record: 21-17-4
2013-14 ECAC Hockey record: 11-9-2 (tie, fifth)
2014-15 predicted finish: Eighth in both the coaches and media polls
Key losses: D Alex Boak, F Jarrett Burton, F Will Frederick, F Allan McPherson, F Ben Sexton
Players to watch: F Joe Zarbo, F Jeff DiNallo, D Paul Geiger, G Steve Perry
Impact rookies: D Terrence Amorosa, D Kelly Summers
Why the Golden Knights will finish higher than predicted: Youth will win the day, producing timely scoring and responsible team defense in front of better-than-average goaltending.
Why the Golden Knights will finish lower than predicted: A steep learning curve will sink these young Knights before the holiday break, leading to the ever-present specter of "confidence issues" down the stretch.